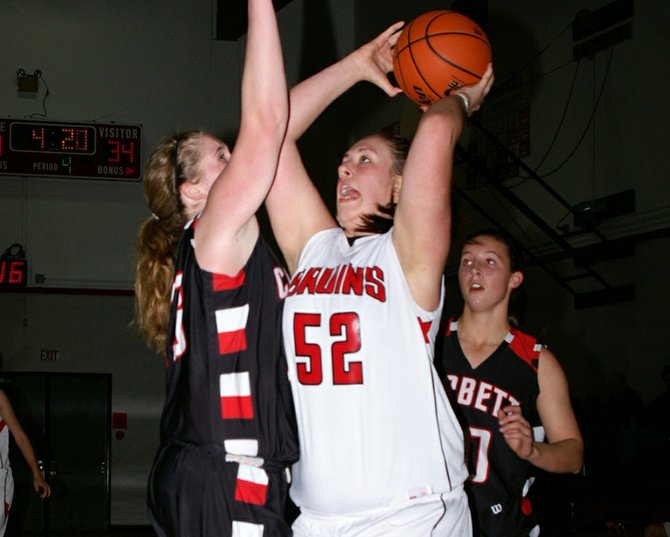 The Columbia High girls basketball team got back on the winning track last Sat-urday with a 45-37 non-league victory over the visiting Corbett (Ore.) Cardinals.
Jaleh Kermani scored 12 points, Cheryl Reetz had seven, and Kirstin Hylton and Corrie Brending each chipped in six for the Bruins, who snapped a three-game losing streak and moved their overall record to 4-3.
The Bruins got on the scoreboard first and took a 10-6 lead in the first quarter as Reetz tallied five of her seven points and Kermani had three of her 12. Colum-bia helped itself by sinking 5-of-8 free throws and controlling both backboards in the opening eight minutes of action.
In the second stanza, CHS scored eight of the first 10 points to boost its lead to double digits at 18-8.
Corbett, though, came back behind its pressure defense. The Cardinals converted four steals into layins and pulled within 20-18 with just over a minute remaining in the half. Corbett took its first lead of the game with 20 seconds left on a pair of free throws by Simone Ballard.
Corbett's lead lasted until Reetz scored on a putback at the outset of the third quarter. That started a 9-2 run for the Bruins, who took a 35-30 edge into the final frame.
Columbia led in the fourth quarter by as many as eight points and by as few as four, but never relinquished the lead.
Brending had four points in the fourth quarter. Savan-nah Story closed out the win with a pair of free throws with 16 seconds left. Story finished with four points, Morgan Vasquez scored five, Kayla McClain had three (on the team's only 3-pointer of the night), and Olivia Grim tallied two.
For the game, the Bruins outrebounded the Cardinals, 38-32 overall, and 16-11 on the offensive backboard. The Bruins also had six steals versus 24 turnovers, while the Cardinals made nine steals and 29 turnovers.
From the foul line, CHS converted 9-of-16 attempts, while Corbett was 10 for 21. Columbia was whistled for 16 fouls, Corbett 14.
Coming up: Columbia (2-3 in Trico League) hosts Trico opponent La Center tomorrow night in Miller Gym. The jayvee game tips off at 5:45 p.m.
Next Tuesday, Jan. 7, the Bruins visit the Stevenson Bulldogs. On the 9th they travel to Vancouver for their rematch with the King's Way Knights. CHS won the first meeting, 62-25.