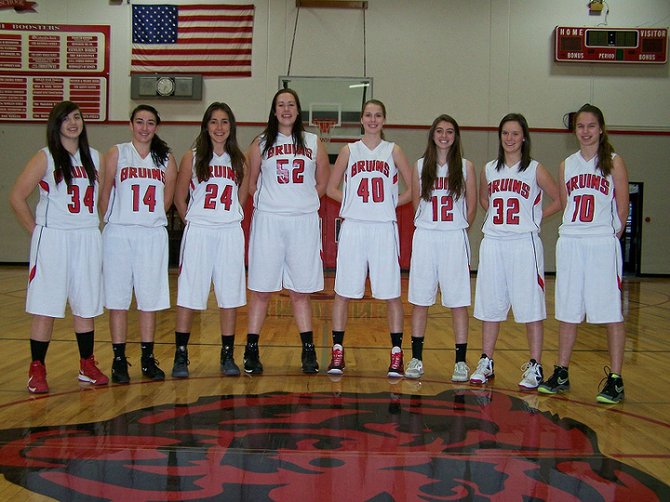 December was a tale of two months for Columbia High's girls basketball team.
The Bruins won their first three games of the 2013-14 season, including Trico victories over King's Way and Castle Rock. Then, Ilwaco came to town on Dec. 16. As he sat on a bleacher in Miller Gym, awaiting Ilwaco's arrival for a Trico game that was scheduled to tip off at 7 p.m., Bruins Coach How-ard Kreps thought about his 3-0 team's match-up with the traditionally difficult Fishermen. His brow was furrowed, the first sign of concern to reveal itself in the veteran coach's usually unreadable face. Then he voiced it. "Tonight we're going to find out how good a basketball team we are."
Columbia lost that game, rallying but falling short in the fourth quarter. It lost two more Trico games (to Trico favorites Kalama and Woodland) before ending December with a hard-fought, non-league win at home over an Ilwaco-like Corbett, Ore., team.
After losing a Trico game against La Center here on Jan. 3, the Bruins once again are back at square one overall with a 4-4 record. Their 2-4 mark in Trico play currently is good for fifth place in the standings, which means they need to extract from their losses and victories those lessons learned that will help them get off the post-season bubble and compete at a high level, game in, game out.
"I'd grade our performance in December a C+," Kreps said. "We should have beaten Ilwaco. Our defense against La Center could have been better, but when three girls hit 12 3s...?"
Through eight games, Kreps has started more often than not with a lineup of 6-foot-2 senior center Kirstin Hylton, 6-1 senior forward Corrie Brending, 5-7 senior forward Cheryl Reetz, 5-7 junior point guard Savannah Story, and 5-7 sophomore guard Kayla McClain. All are returning varsity players.
The first player off the bench for Kreps is 5-10 senior forward Jaleh Ker-mani, who went on a foreign student exchange last year and did not play. Back-up minutes on the front line and in the back court are being shared by 5-6 senior forward Kylene Olin and a trio of 5-7ish sophomores: Morgan Vas-quez, a returning player, and rookies Olivia Grim and Michaela Enyart.
Kermani has been one of the team's most productive offensive players so far. Her season-high in points is 12, against Corbett — a total she amassed as the result of pounding the offensive backboard for putbacks and free-throw opportunities.
Hylton, one of three CHS captains, is the Bruins' first option in the low post in half-court sets. She enjoyed a season-high 14-point effort in a win over King's Way on Dec. 3 and in a Dec. 20 home loss to unbeaten Woodland.
Brending, also a captain, worked hard last summer to improve her shooting. She complements Reetz, who is a tough inside defender and aggressive defensive rebounder.
Story, the third captain, handles the ball 80 percent of the time for the Bruins' offense, while McClain is the team's top threat from the 3-point line. Enyart is their back-up.
Vasquez and Grim, hard-charging players with similar offensive skills, also have scored in double digits or close to it at least once this season to give Kreps hope that the team can develop multiple scoring options and diversify its offensive attack.
If that and other positive things happen, the Colum-bia High story line could become the tale of two seasons.
"We will continue to try and get the ball inside and keep the floor spread," Kreps said. "We still have a weakness handling the ball but we're better than last year. More than anything, we need consistency. We'll look good for four minutes, then lousy for three."
Time is an element that is on CHS's side. The Bruins have 12 games remaining in the regular season — all against Trico competition — to write a fitting ending to their season, including two games scheduled for December that were postponed due to winter weather conditions and travel concerns. And, because it's the Trico League, nothing should ever be expected or taken for granted.
Already this season, CHS went into Castle Rock and beat the Rockets for the first time in a long time. The Bruins played well enough at times to compete equally with Woodland and Ilwaco. With eight games left against fellow second-tier teams Toledo, Stevenson, Seton Catholic, Castle Rock, and King's Way (a combined 6-19 in December Trico games), and four of those at home, the schedule offers the Bruins an opportunity to separate from the pack and move into contention for an automatic Southwest District Tour-nament berth. At the very least, they should keep an eraser handy and be prepared to revise the plot until there's nothing more to say.