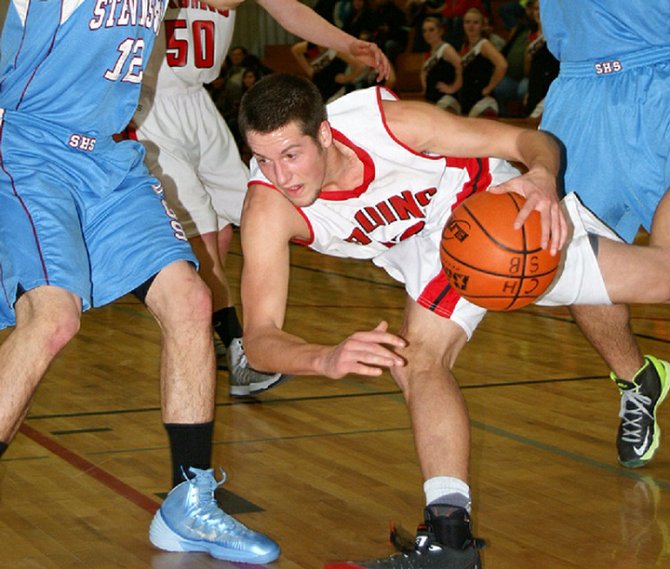 The home-court advantage again played to Columbia High's favor Monday night.
The Bruins scored their second Trico League boys basketball victory of the 2013-14 season, 59-50, over Stevenson in a game they led at every quarter break. Co-lumbia's first Trico win — a 73-37 rout of Ilwaco — also came at home on a Monday night.
Additional game details were unavailable at press time.
Columbia (2-5 in Trico, 2-7 overall) resumed its schedule last Thursday at La Center. The Trico-leading Wildcats rang up 29 points in the opening quarter on their way to a 74-30 win.
"Going into the game we knew we would have our hands full," Bruins Coach Dave Garwood said. "The first quarter was our demise, with multiple turnovers against their 1-3-1 trap defense. We basically gave the game away within the first four minutes, falling behind 16-3. All facets of the game were just awful and I think we weren't ready for the amount of pressure they put on us."
Ryan Lockman led the Bruins with seven points, Jared Garwood and Blake Walker both scored five, Hayden Gibson and Jabal Gilbert each had four, Tristan Bond added three, and Jordan McClain chipped in two.
The Bruins made 10 shots from the field (two from the 3-point line) and sank 8 of 14 from the foul line.
Will Rice paced a balanced La Center attack, finishing with 22 points. Wyatt Aguirre scored 17 and Chase Davison had 14 for the Wildcats, who tallied nine 3-pointers among their 27 field goals and converted 7-of-13 free throws.
"Looking forward, we've got a part of our schedule against teams that are our equals or just a bit better, so it will be interesting to see how we will respond," Garwood noted. "We are not out of a playoff spot but we certainly have a foot in the ground."