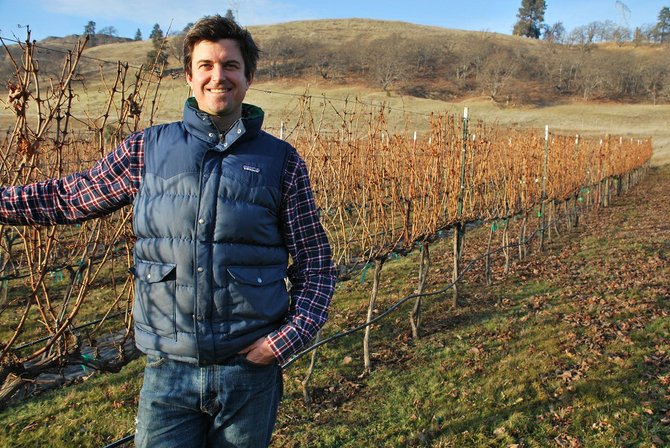 Luke Bradford has poured his heart into the making of wine.
Since 2003, Bradford has operated COR Cellars and in 2005 opened his tasting room and small vineyard in the vicinity of the other wineries situated in the countryside of Lyle.
With a focus on wines with lower alcohol content that are softer on the palate, Bradford hoped to serve up a product that lives up to the phrase from which his vineyard gets its name: vinum bonum laetificat cor humanum, or "good wine pleases the human heart."
"It's more of an old-school style of wine with higher acidity and lower alcohol that's meant to be paired with food, rather than dominate food and overwhelm your palate," Bradford said.
Now his approach has paid off. Stan Reitan, the wine critic behind The Seattle Post-Intelligencer's Blue Collar Wine Guy blog, recently named COR Cellars Washington winery of the year for 2013.
Bradford, who has sold wine to Reitan in the past, was pleased that the wine that first got his attention was the 2009 Malbec, which is grown at Hogback Ridge Vineyard in The Dalles. The connection to that vineyard is strong for Bradford, who met Richard Lynch, who owns Hogback Ridge, when he was a UPS driver and delivered to COR in the early days.
"Out of all of our production, only about 30 percent comes from grapes grown in the Gorge, but it was important to me and certainly important to Richard that the one wine he focused on was from here and that he was a real proponent of the Gorge in general," Bradford said.
The path to grow and make wine was not always a clear one for Bradford, but the urge to be outside and avoid being locked to a desk was always strong. After growing up in Manhattan and spending time on his family's dairy farm in Pennsylvania as a kid, he knew he wanted to end up doing something that kept both his mind and body outdoors and occupied.
After studying political science and sustainable architecture at Evergreen State College in Olympia, Bradford spent some time in Italy with his mother's cousin, who coincidentally worked at Tenuta di Trinoro, a vineyard in southern Tuscany. He would end up spending eight months there helping out with the harvest and returning after his next semester in college for another six months for similar work.
When he got back, he switched to a program that allowed him to take as many business and chemistry classes as possible.
"Like any college kid I had a lot of enthusiasm and I wasn't really sure what I was going to be up to, but it just kind of clicked. This was fun work, it was hard work, and I enjoyed being outside and working with my hands. I could never be a desk-job kind of person, so it was a great way to get into a career that kept me outside," Bradford said.
After graduating from Evergreen, he began applying to wineries all over Washington. As an avid kayaker, Bradford knew about the Columbia River Gorge and got a job at Wind River Cellars in Husum and later at Syncline Winery in Lyle.
He was able to learn more along the way and was eventually able to branch off and launch COR Cellars in 2003. COR now buys fruit from Jewett Creek Vineyard in White Salmon up to Elephant Mountain Vineyard in the Yakima Valley. Grapes also come from Alder Ridge Vineyard, McKinley Springs, Celilo Vineyard, Hogback Ridge, and Underwood Mountain Vineyards.
Bradford finds his white wines to be the most interesting, but the 2009 Malbec that got COR its recent attention follows along with the philosophy of lower alcohol, higher acidity wines.
"In general what we're trying to do that would set us apart is trying to make wines that are a little lower alcohol and lighter bodied. Instead of trying to pick the ripest, densest, richest fruit we can, we're trying to pick it a little earlier. Most Malbecs tend to be almost jammy, very ripe, and this one from a slightly colder site still has all the fruit, but also has those nice, peppery, herbal characters that make it a little bit different," Bradford said.