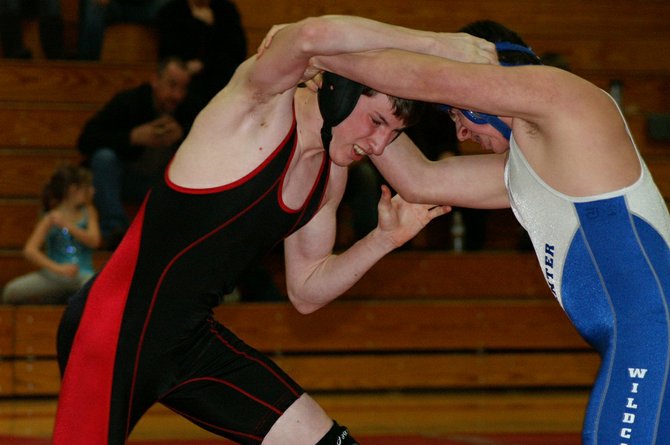 Columbia High wrestlers put on quite a show during a Trico League double dual meet here last Thursday.
The Bruins won nine of the 10 matches they wrestled against La Center and Ste-venson and tallied five pins overall.
Columbia beat La Center, 23-21, but lost to Stevenson, 36-27.
Nathan Bell got CHS go-ing against La Center. He defeated Blain Blakeslee by technical fall, 16-1, in the bout at 160 pounds.
Austin Walker, competing at 182, followed with a pin of Zack Jacobson at 1:19 of the first period. Walker led 15-2 before the fall.
Matt Bergstrom was leading Matthew Lincoln, 7-0, in the 220-pound match before lowering the boom at 1:52 of the first period.
Regina Bell led 4-0 before winning her match at 126 pounds against Catelyn Big-ley with a second-period pin.
Michael Waldron, at 132, battled Walker Wright before losing, 7-5, on a third-period reversal by Wright.
Against Stevenson, Nath-an Bell pinned Jaylin Waymire 41 seconds into the second period after leading 7-0.
Regina Bell scored her second pin of the meet with one second left on the clock in the third period. She was ahead 5-2 before putting Bradon Hegewald down for the count.
Waldron evened his meet record at 1-1 with a 5-3 decision over Nick Heuker. Waldron was behind 3-2 midway through the third period but scored a penalty point and a 2-point reversal to claim the victory.
In exhibition matches, Walker held a 16-4 on Carson Thies of King's Way before finishing him off with a pin with four seconds left in the second period.
Bergstrom scored his second pin of the evening against King's Way's Ben Patte. The match ended at 1:15 with Bergstrom ahead on the scoreboard, 4-2.
On Jan. 7, the Bruins traveled to Goldendale for an evening of round-robin wrestling. The eight CHS wrestlers who competed managed to win nine of 11 matches, including seven by pin.
Regina Bell won two matches against Toppenish girls by fall. She pinned Claudia Torrez at 1:59 and Kelly Evans at 3:15. Bell was ahead in both matches.
Fletcher Andrews also picked up a couple of victories. He pinned Jose Arre-llano of Toppenish at 2:46 of his first bout, then finished with a 17-1 victory by technical fall over Toppenish's Elizabeth Galvez.
Austin Morris defeated Giver Juarez of Toppenish, 15-12, in one of the more competitive matches. Both wrestlers received sportsmanship pins from Golden-dale's Purple and Gold Booster Club in recognition of their efforts.
In other results, Nathan Bell built an 11-0 lead before pinning Goldendale's Bryce Wilkins at 4:57; Miguel Lem-mon overcame a 5-0 deficit to pin Michael Jagelski of Goldendale at 2:35; Walker pinned Kyle Wilkins of Gold-endale, ranked fourth at 182, at 1:43; and Bergstrom led 4-0 before pinning Goldendale's Reggie Sargeant at 2:20.
Waldron wrestled twice for the Bruins but lost his first outing by blood time disqualification in the third period to Christian Alfaro of Top-penish. Waldron fell to Mar-co Escareno of Toppenish at 1:01 of his second bout.