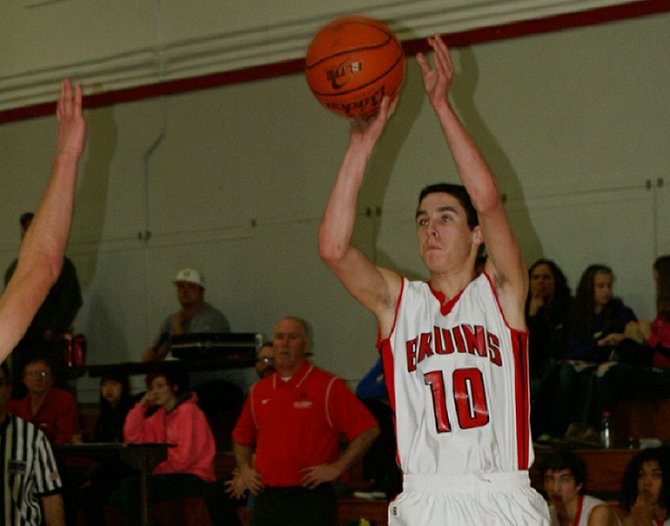 Toledo snapped Columbia High's two-game win streak with a 66-39 Trico League boys basketball victory there Monday night.
The Indians used defensive pressure to break the game open in the second quarter. They outscored the Bruins, 26-4, in the quarter to take a 46-16 halftime lead.
CHS committed 26 turn-overs in the game, which was a make-up of a contest postponed in December due to winter weather.
Miguel Perez-Gomez led the Bruins (3-6 in Trico, 3-8 overall) with 11 points. Jared Garwood scored nine and Ryan Lockman had seven.
At Columbia 38, King's Way 34: Six weeks ago, the Bruins lost to the Knights by 35 points. Last Friday they avenged that loss with a shutdown defensive effort in a game played at a deliberately slower pace.
"The only way I thought we could win was to keep the game at a slower pace and the team did an excellent job of mentally doing that throughout the game, hence, the low score," Bruins Coach Dave Garwood said.
Playing with confidence gained from its Jan. 6 game against Stevenson, Columbia made a plan to shut down one of the top scorers in the Trico League in the form of 6-foot-7 Knights center Keenan Walters.
CHS put 6-2 Jared Gar-wood on Walters and swit-ched on every screen the Knights set for their big man. The Bruins also went right at Walters on offense to force him to play defense or foul. In the final issue, Walters did not score and fouled out in the fourth quarter.
Columbia sealed the win by sinking its free throws in the fourth quarter. Garwood made 4 of 5 from the line and Ryan Lockman converted one with six seconds left for the final margin of victory.
"This was probably one of our best wins for our senior group to date," Coach Gar-wood noted. "It kept us in the playoff hunt, and we are certainly playing much better with some good matchups ahead of us."
Lockman led CHS with 13 points, Jordan McClain tallied 10, and Garwood had six.
At Columbia 59, Steven-son 50: Jared Garwood scor-ed a season-high 20 points and sank 8-of-9 free throws in the fourth quarter to lead the Bruins to their second Trico victory.
Clayton Gross had 11 points, and Blake Walker and Ryan Lockman chipped in 10 each.