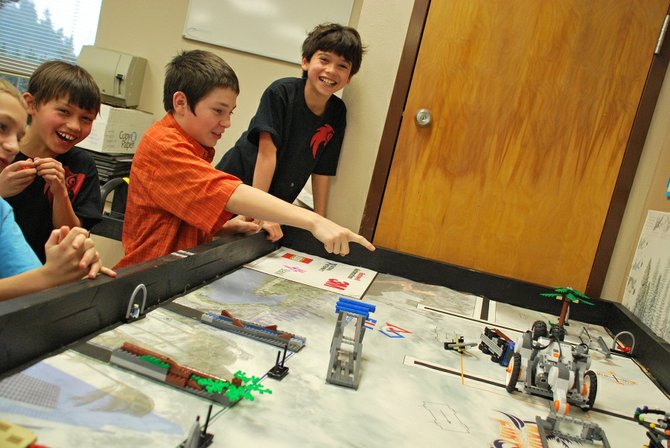 For the first time this year the youngest Lego-leaguers at Henkle Middle School will join their older counterparts at the state competition.
The Henkle Middle School seventh- and eighth-grade Lego League teams will send three teams of five members to the Intel Oregon FIRST Lego League Championship in Hillsboro this Saturday, Jan. 18, and the next day the fourth-, fifth-, and sixth-grade team will compete, as well.
This year's Lego League theme is "Nature's Fury," meaning groups of students had to identify a natural disaster and figure out an innovative way to respond to it as part of the project portion of the competition. "The Robot Game," where students navigate a natural disaster with a robot they built with Legos and programmed themselves is the second portion and meeting the FIRST Lego League Core Values is the third.
Michael Hannigan, who teaches the robotics elective along with eighth-grade science and US history at Henkle, said three of his teams of seventh- and eighth-graders qualified for the state competition during regionals at Wy'East Middle School in December.
The older team also took home the Rising Star award, which is given to the up-and-coming team. They also received trophies for best project, based on a team's research; innovative solutions; and presentation, and the Core Values award.
"I was really psyched this year. We really knocked it out of the park," Hannigan said.
The qualifying projects by the seventh- and eighth-grade teams included one focusing on how skyscrapers stay intact during an earthquake.
"They had a pretty innovative idea because they're already using harmonic dampeners to control the sway of buildings in high winds, so they extended that idea to control the sway of a building during an earthquake, so that was really kind of cool and innovative," Hannigan said.
Another qualifying group's project developed a robot that would be used to dig fire lines and the final seventh- and eighth-grade group took a leaf out of Insitu's book by envisioning an unmanned aircraft that could bring fire retardant chemicals to firefighters who find themselves in danger.
The seventh- and eighth-grade robotics teams have gone to the state competition in years past, but this is the first time the younger team will also get to compete. Lia Davidson, who volunteers as the younger team's mentor, was pleased when her team took home the Core Values award from the regional competition.
The Core Values award is presented to the team that exhibits inspiration, teamwork, and gracious professionalism.
"I'm so amazed by them. I just love seeing this from the kids," Davidson said.
The younger team's project focuses on how communities can better respond to a volcanic eruption. Like others, the younger team will also have to work on completing missions with the robot they designed, which has to navigate a disaster area made of Legos and pick up supplies, launch airplanes, and unleash "water" to a specific point on the board.
The fourth-, fifth-, and sixth-grade Lego League team will compete this Sunday, Jan. 19, but the younger team will also be at the White Salmon Community Library on Saturday, Jan. 18, from 11 a.m. to noon, conducting a Lego League demonstration for anyone who is interested in participating in the future.
"It's pretty awesome. Last year we only got one trophy and I'm really excited we made it farther this year," said Eileen Wendell, 11, a Lego League team member.