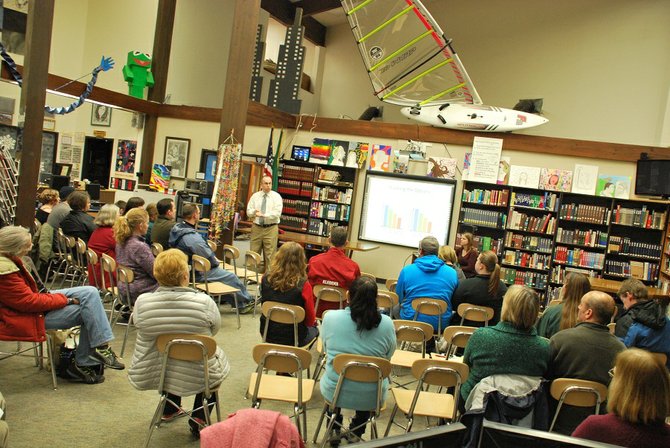 The fate of Columbia High School's schedule will be in the hands of the school board at their Jan. 23 meeting.
For the last three years CHS Principal Troy Whittle and Guidance Counselor Jenny Vint have conducted research on changing the high school schedule and next Thursday the White Salmon Valley School District Board of Directors will make the final decision between keeping the current seven-period day or making the switch to a five-period trimester schedule.
Whittle has presented to the board, parents, students, and teachers regarding the potential change, but the community will have the chance to voice their support or opposition one more time before the vote at a public hearing during the regular school board meeting on Jan. 23 at 7 p.m. in the Whitson Elementary School library.
During the most recent presentation specifically for parents of current CHS students and those who will be starting at the high school next year, Whittle explained what the five-period day would mean for students as they plan their schedules for next year.
"I really feel in my heart of hearts that this will be better for students," Whittle said.
A five-period day would lengthen class time from 50 minutes to 72 minutes and go from two, seven-period semesters to three, five-period trimesters.
The change would increase the amount of class time for students, but it would also increase cost to the district. Sticking with the seven-period day would cost a little less than $50,000, but changing to a five-period day would cause more staffing needs, bringing the cost up to around $120,000 in the first year alone, according to Whittle's presentation.
But Whittle says the benefits of change outweigh the cost and that the district's growing enrollment could compensate for part of that cost. With the upcoming Common Core State Standards and Next Generation Science Standards, students will need all the time they can get inside the classroom with teachers who will have more time for individual attention.
"These standards are really calling for students to get more in-depth and not just be able to say what they know, but to show how they know it and apply it. So having more time in the classroom to be able to work through those things I think will be very beneficial to the kids," Whittle said.
That logic falls in line with another reason Whittle and Vint decided to go with a five-period day instead of a six- or seven-period day. More instructional time and less time spent transitioning between classes leads to better continuity, according to studies cited by Whittle during his presentation.
"The thing that probably is the most difficult from my perspective about the seven-period day is the hamster wheel effect, as we call it. It's just go, go, go. The kids are in one class, then they're up and moving to another and if they're in PE or metal shop or a class where they're doing a lab by the time they get through set up and take down it minimizes the amount of instructional time that's available for students to utilize what they're trying to do on the highest levels," Whittle said.
Bumping up against that continuity within a trimester schedule there is also the unavoidable issue of students running into one-three splits where they could have to take a class during the first semester and then have to wait a semester to continue taking it during the last part of the school year.
"It reminds me of going away for the summer and then coming back and not remembering any of it," said Wendy Viehmann, a parent in attendance at Whittle's presentation on Monday.
While Whittle said for some students one-three splits will be unavoidable, he added that they should be sparse during the scheduling process and that the depth of learning that students will benefit from longer classes will partially make up for divisions in classes taken.
"There is only one key difference, and that is where they leave off, I would argue, will be with a greater understanding because they will have had increased instructional time," Whittle said. "So they'll have a stronger base when they leave. Now does that eliminate the problem for some kids? Absolutely not, it will be very real, so one of the trainings we'll have to have with teachers will be how to get them back up to speed and how we use the first week or three days to get them there."
Other parents were concerned about the cost of making the change to a five-period day, which would cover an increased stipend for one teacher to continue contributing more time to senior projects, and keeping an additional physical education teacher CHS shares with the middle school on.
If the levy the school board is running in February passes a part-time drama teacher will also be brought on at the high school.
"How will you be able to maintain this? If this is more expensive I don't want to switch over to a five-period day and then a few years from now have to switch back because of how expensive it is," said Besty Petrick, another parent at Monday's meeting.
Whittle said his staffing needs will also revolve around the Advanced Placement opportunities at the high school. Under a trimester schedule, AP classes would either be offered all three semesters or for only two semesters with an AP-test preparation class offered during the last semester before the test in May, depending on what the school board decides on Thursday.
"The question of sustainability is really a question of being open and honest about what our needs are now. I think we've got a plan that will ensure as far as 2017-18 that we're staffed to a level that makes this sustainable," Whittle said.
The cost and the logistics of making the potential change weren't the only aspects of a five-period day that parents were worried about. Some were concerned that electives could be harder to fit into their students schedule, but Whittle said by offering three trimesters of five periods rather than two, seven-period semesters students can actually take more credits in a year, but that in no way means graduation requirements will change from the current 27.5 credits needed.
Amy Kasenga, a Spanish teacher who works with English-language learners, made the point at Monday's meeting that if the board goes with the five-period day on Thursday ensuring that students make it to school every day will be more essential than ever.
"Missing one day in a five-period schedule is like missing a day and a half or two days in a seven-period day," Kasenga said. "In learning language, consistency of instruction in a full year is really valuable, so missing days in there can be a huge crunch. Can I change my teaching style to be effective? Absolutely, and we're going to do a fair amount of enrichment with the kids, but if they're not in school I can't do anything to help them."