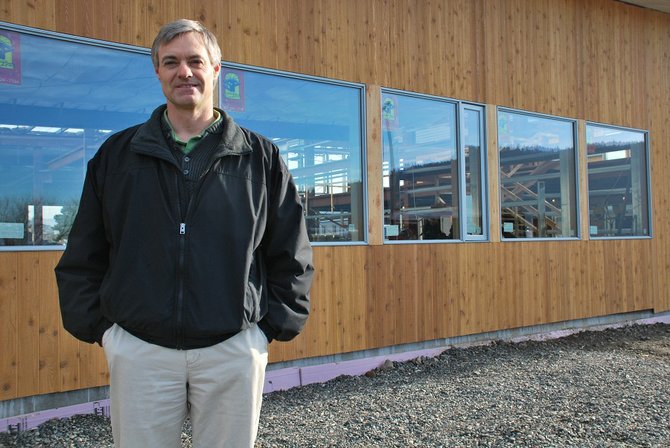 Like some other technology companies in the Gorge, Zepher, Inc. is looking to expand its horizons.
Andy Mack and his wife, Jaime, started Zepher in 2002 as a resource for engineering consulting, but these days the company employs 18 people as its capabilities have grown over the years.
Of course, with that growth comes the need for more space. Zepher is currently housed in two buildings coming to 10,000 square feet of warehouse and office space, but since the company has matured into a full-on contract manufacturer the time has come to move on to a bigger, better space.
"The space right now is an office and shop facility and we're pretty cramped. We've definitely gotten by as best we could with the space we have," Mack said.
Zepher is currently in the process of building a new 24,000-square-foot workshop and office at the Port of Klickitat in Bingen with the same hope of many technology companies throughout the Gorge: to make the move from defense contracts into those more commercial in nature.
The current location is the second place Zepher has called home. The company started taking off in the two-bay carwash building off of Main Street in White Salmon four years ago and then moved on to the two buildings it currently occupies in Bingen, that is until the new building is finished, which is on schedule to happen in July or earlier.
"In order to keep up with demand for the type of work we're doing now and the size of the equipment we're working with we needed a larger facility that's more appropriately designed to accommodate the equipment we're manufacturing. There's just not much available as far as buildings in the area for manufacturing; everything is either too small or too big or not tailored to the type of work we need to do," Mack said.
Like other local companies, Zepher got its start in assembly consulting with Insitu and continues to work with the aerospace company's launch and retrieval systems, but also focuses on trailer-based ground support equipment.
"We've touched it, but we don't do all of the actual launcher assembly work, some of that is done at another company, but we do integrate all of it together on the trailers," Mack said.
Now Zepher operates as a contract manufacturer focusing on project management, mechanical assembly, equipment testing, and procurement. But just because Zepher is looking to diversify doesn't mean there isn't still interest in working in the aerospace industry. Mack said his company recently obtained a small contract with another large aerospace outfit from outside of the Gorge.
Sticking around the Gorge and settling into the new workspace is the long term goal, however.
"We'd certainly like to stay here, that's our goal. We'll continue to grow the company so it's sustainable and well diversified. While we do primarily work in aerospace and defense right now we're looking for commercial assembly work, as well," Mack said. "We're very encouraged with the way things are going and the way it looks for the near future."