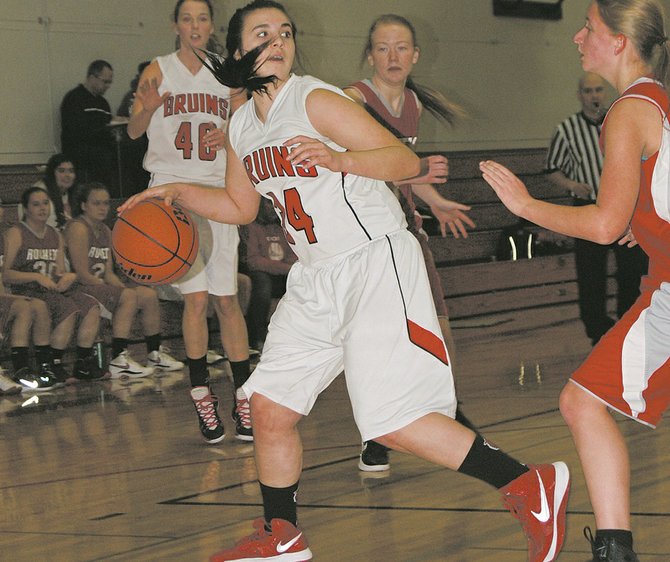 A second three-game winning streak of the season has vaulted Columbia High's girls basketball team into a tie for fourth place in updated Trico League standings.
The Bruins made it three in a row here Monday night when they downed the Castle Rock Rockets for the second time this year. Their seventh Trico win followed convincing victories over Toledo here on Jan. 14 and at Seton Catholic last Friday in Vancouver.
At Columbia 43, Castle Rock 36: A 13-point run to start the second quarter staked the Bruins to a lead they never relinquished.
Columbia won that second quarter 17-6 and built a 15-point lead at 26-11 before Castle Rock rallied to within 26-15 at halftime.
Kirstin Hylton and Jaleh Kermani both scored nine first-half points to spark the Bruins.
In the second half, Castle Rock got within three points on three occasions — the last time at 36-33 with seven minutes remaining in the game.
The Rockets had their chances to get even closer but missed four free throws in a 24-second span (from 5:56 to 5:32).
Columbia finally got on the scoreboard in the fourth quarter when Jaleh Kermani scored on a drive to make it 38-33.
Kirstin Hylton pushed the lead to 42-35 with a couple of low-post baskets. Michaela Enyart settled the final score at 43-36 by sinking the front end of a double bonus with 26 seconds left.
Hylton led the Bruins with 15 points on 7-of-12 shooting from the floor. She also collared six rebounds.
Kermani finished with 13 points (5/12 from the field, 3/5 from the line), nine steals, and seven rebounds.
Enyart scored six points (4/5 free throws) and shared the team lead in assists, with three, with Savannah Story and Kayla McClain.
For the game, Columbia tallied 13 assists and 20 steals, and converted 10 of 23 from the foul line and 18 of 60 from the field (27 percent).
Bruins Coach Howard Kreps said, "When you win you can't be too upset," though the Bruins' performance left something to be desired.
Save for the start of the second quarter, "we just didn't play well and couldn't get into any kind of rhythm," he noted, and added, "Our trip to Ilwaco [on Jan. 24] will show how far we have come."
At Columbia 41, Toledo 22: Kirstin Hylton scored as many points as the Indians in a Trico game played in Miller Gym.
The Bruins opened up a 17-6 lead in the first quarter and increased their advantage to 22-8 by halftime and 34-16 through three quarters.
Savannah Story played a strong floor game for Col-umbia and finished with 10 rebounds, five assists, and four steals. Cheryl Reetz ad-ded eight rebounds and five assists.
Jaleh Kermani chipped in eight points for the Bruins, who began last week with a tough loss at Toledo on Jan. 13.
Columbia 59, at Seton Catholic 36: Another strong defensive effort and a balanced offensive game plan carried the day for the Bruins.
Kirstin Hylton scored 16 points, Cheryl Reetz had a season-high 13, and Jaleh Kermani added 10 points and a team-high nine rebounds.
CHS also helped its cause by making 18-of-25 free throws.