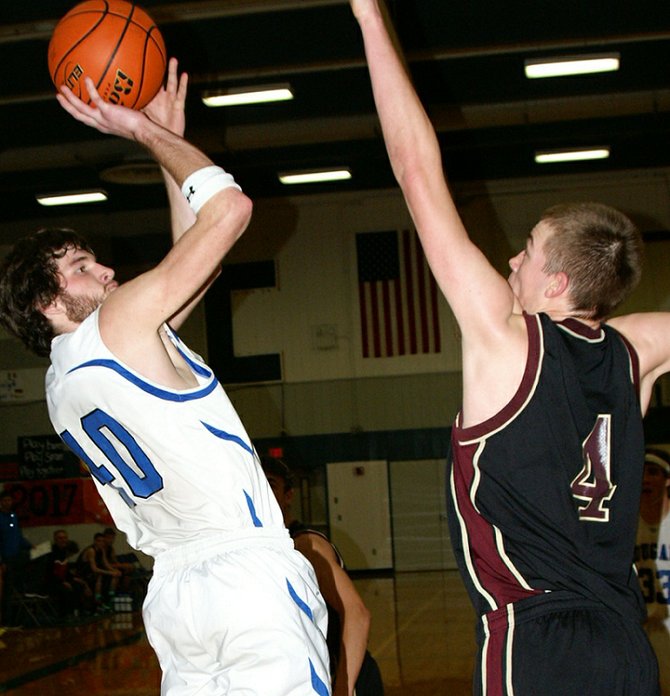 After scoring a hard-fought Greater Columbia 1B League girls basketball victory on the road last Friday, Lyle/Wish-ram looked to maintain its hold on first place at home last Saturday against undefeated Sunnyside Christian.
It wasn't to be, though, as the second-ranked Knights soon overwhelmed the Cou-gars with their height and athleticism.
Sunnyside Christian scored the game's first four points and never trailed. The closest Lyle/Wishram got all night was 4-3 in the first quarter on a top-of-the-key 3-pointer by Kiya Childers.
The Knights poured it on after that, holding a 17-4 lead after one quarter and a 31-4 lead at halftime.
"It was a tough outing for us," Cougars Coach Joe Bales said. "They are a good team and their defense stifled most everything we wanted to do. Our defense wasn't bad but we also struggled stopping the ball."
Childers' three points led the Cougars. Suzanne Mc-Conville and Ellie Smith each scored two.
Trout Lake 55, at Bickleton 27: Led by Caitlin Scott's career-high 27 points, the Mustangs recorded their second GCB victory last Satur-day.
Trout Lake put the game away in the second half, out-scoring Bickleton 37-17 overall and 19-2 in the final quarter.
Maggie Baker chipped in a career-high 13 points for the Mustangs.
Noted Mustangs Coach Doug Dearden, "We got up 87 shots on the night, which exceeds our season average by a good 20 to 30 shots. It was nice to see the volume."
Sunnyside Christian 76, at Trout Lake 35: The Knights outscored the Mustangs 45-13 in the middle quarters of last Friday's GCB matchup.
Trout Lake trailed 18-11 after one quarter but fell behind 39-15 by halftime.
Beyyine Ozkan tallied a career-high 14 points, plus seven rebounds and four steals, to lead the Mustangs. Caitlin Scott scored nine and Kayano Nakazawa had six.
Lyle/Wishram 41, at Yakama Tribal 38: The Cougars trailed 25-20 at halftime last Friday in Toppenish but won the second half 21-13 to re-main unbeaten in league play.
Lacy Carse had 19 points and 10 rebounds, and Mandy Solomon finished with 10 points and 13 rebounds to lead the Cougars.
Cougars Coach Joe Bales said "it was a game of runs" in which neither team led by more than 10 points.
The Cougars jumped out to a 7-0 lead in the opening quarter, but the Eagles re-sponded with a 9-0 run. Tribal held a 10-point lead at one point in the second quarter but Lyle/Wishram ended the half on a 5-0 run in the last 11 seconds to pull within 25-20.
Early in the third quarter Tribal pushed its lead to seven points, and it looked like Lyle/Wishram might lose contact, "but then we responded with three 3s to take a lead we would never surrender," Bales said.
The Cougars led by seven with a minute left but had to contend with an amped-up Eagles defensive pressure down the stretch. The pressure created a variety of shots for Tribal but only two of them fell as Lyle/Wishram hung on for its fourth league win.