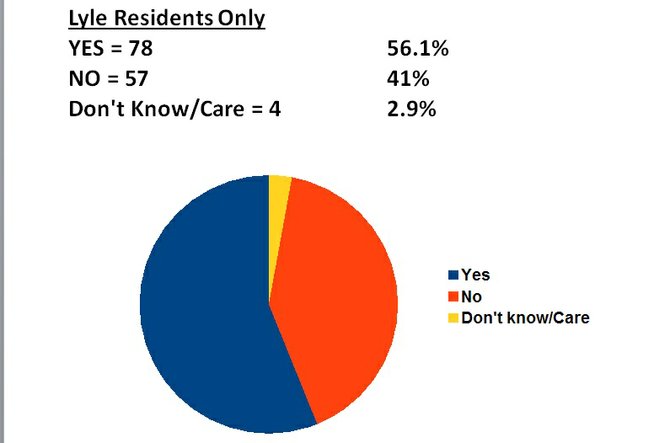 The results of a survey aimed at evaluating local interest in an expanded non-motorized trail system on the Lyle Cherry Orchard property show that a little more than half of Lyle residents who responded support more trails in the area.
The Friends of the Columbia River Gorge owns the 550-acre Lyle Cherry Orchard property and obtained a Rivers, Trails, and Conservation Assistance (RTCA) grant through the National Parks Service to bring in Dan Miller, a community planner, to develop an outreach plan and see if there are interest or concerns regarding more trails near Lyle. Eventually, the expanded trail could be part of the Gorge Towns to Trails (GT2T) project, which would link a trail system to urban areas throughout the Gorge.
The survey, which was available online and in hardcopy for a month, consisted of 18 questions ranging from where the respondent lives, if they use the trails currently near Lyle, how often, what activities they prefer, and so on.
At a meeting at the Lyle Activity Center on Jan. 22, only question 11 was discussed, which honed in on a point of contention for those who have attended previous meetings on more trails: Would you like to see a legal, expanded, non-motorized trail system developed on willing landowners' property in the Lyle area?
Looking at the survey results provided by Miller, the answer to that question appears to be "yes," not only from residents across the Gorge, but also in Lyle.
According to the results of that question only, 56 percent, or 78 individuals, of respondents from Lyle said they would support an expanded trail system in the Lyle area. Forty-one percent, or 57 individuals said they would not support more trails and about 3 percent said they don't know or care.
The survey results for question 11 were also broken down to reflect responses from the Lyle School District. Miller said that this category included responses from residents of Lyle, Appleton, High Prairie, Dallesport, Smithville, and Murdoch.
Of those surveyed in those areas, 56 percent, or 113 people, said they would support more trails and 40 percent, or 82 individuals, said they would not. Another 4 percent said they don't know or care.
While the survey results for Lyle and areas surrounding show a little more than half of those who responded in favor of more trails on the Cherry Orchard property, attending meetings surrounding the idea revealed polarized opinions and high emotions.
At Wednesday's meeting, which was originally meant to go over the results of whether or not more trials are desired and discuss a plan moving forward, Lyle residents rehashed many of the issues brought up previously and questioned the validity of the survey. One audience member went as far to exclaim that the survey was "completely invalid" because there is no way to tell if those who responded were truthful about where they live.
"This isn't some sort of election. This is merely a way to gauge the level of support. You can take 5 or 10 percent and flip it any way, it doesn't matter, this clearly shows that there are a lot of people in Lyle, in Klickitat County, in your school district, and in the Gorge that would like to see the trail system," Miller said.
Broken down to Klickitat County residents, 67 percent, or 222 people, said they would like more trails near Lyle and 30 percent, or 95 people, said they would not. Four percent said they don't know or care. In the Columbia River Gorge as a whole 77 percent, or 364 people, said they support an expanded trail system, and 21 percent, or 99 people, said no to the idea.
Despite the positive sway of the survey, many of the residents at the meeting yet again brought up issues of encroaching on landowners' rights, compromising Lyle's tax base, and the potential for trails bringing in disrespectful outsiders into the area.
Candace Chase, who has lived in Lyle her whole life, said her family's land along the Klickitat Trail has seen littering and theft since the trail went in and that more trails would only bring more unwanted activity. She, along with others in attendance, also believes that if the 10 acres of urban growth area within the 550 acres owned by Friends is not developed or the organization sells the property Lyle will lose valuable taxes on that land.
"It just seems like it's a burr in everybody's saddle and you guys are going forward with this like 'oh, yay, let's have cake' and it's not that kind of a deal for the people who own property here, live here, and are enduring these jerks that are coming onto their property saying 'I'm with Friends of the Gorge, I have permission, this is a public trail' when they're misinformed. You're only going to have more people hating you," Chase said.
Renee Tkach, GT2T project manager, has stated multiple times that Friends pays taxes on the Cherry Orchard even though the organization is technically exempt because it is a non-profit. Even the land bordering the Cherry Orchard owned by the Department of Natural Resources would not be in danger of compromising the activities that can occur there now, according to Larry Leach, Klickitat District Manager for DNR.
"There will be no impact on the revenue-generating capabilities of the trust, so that really is a moot point," Leach said at the meeting.
During the meeting Miller attempted to go over the survey results of only question 11because he said he didn't think there would be enough time during the two-hour meeting to cover the rest of the survey results, which he added will be examined at the next planning meetings.
"(Question 11) showed that there was support for an expanded non-motorized trail system in the Lyle area, which was what opponents were arguing-that Lyle residents didn't want more trails. That is not what the survey data showed," Miller wrote in an e-mail after the meeting.
But there were still questions from the crowd regarding why there is a need for more trails near Lyle when so many currently exist. Tkach said members of Friends have been asking for a legal trail system on the Cherry Orchard property for years.
Maxine Thompson, of Lyle, said a legal trail system could lead to fewer illegal trails being built.
"People ask 'why do we have these trails' and 'why do we need all of these trails' and things like that and as a person who does live in the area and hikes one of the things that a managed trail system would do that would be a benefit would be cut down on a whole bunch of those unauthorized trails that are really so bad for the landscape," Thompson said.
Moving forward, Friends will continue to hold planning meetings for an expanded trail network on their Cherry Orchard property. The next one is on Feb. 26 at the Lyle Activity Center from 6 pm to 8 pm but before any more trails can go in Friends will have to submit an application to the Columbia River Gorge Commission.
Angie Brewer, a planner with the Gorge Commission, was at Wednesday's meeting and said once an application is submitted another public comment period will occur via the commission.