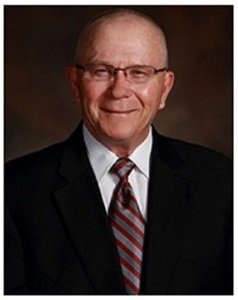 Now that Sheriff Rick McComas has cancelled his retirement plans, the question of who will complete the remaining six months of his second 4-year term is moot.
Still, when the process for replacing McComas was initiated by the Klickitat County Republican Cen-tral Committee last month, the required qualifications listed in the public notice raised questions about whether 2014 candidate for sheriff Robert L. "Bob" Songer is qualified to run for and eligible to serve as sheriff, if elected. (Songer was ineligible for the appointment because he could not meet the requirements set forth in the announcement, while his opponent, Undersheriff Marc Boardman, could.)
The short answer to the questions about qualifications and eligibility is Yes. The long answer is complex, but the result is the same: If he wins the General Election in November, Songer can be sworn in in January 2015 as the county's new sheriff and perform all the general duties assigned to the job of sheriff, per RCW 36.28.010, right away.
Upon assuming office, though, Songer would have 12 months to apply to the Washington State Criminal Justice Training Commis-sion for a certificate of completion of the Basic Law Enforcement Academy (which Songer did in 1972) and submit to and pass the required criminal history check, psychological examination, and polygraph test administered under the auspices of the Criminal Justice Training Commission. Because he completed his basic training before the Washington Peace Officer Cer-tification program began in January 2002, Songer is exempt under a section 139 of the Washington Admini-strative Code from further training before obtaining certification.
According to Greg Baxter, records officer for the Criminal Justice Training Commission's human resources division, Songer has been in contact with the Training Commission concerning his status and expressed his intention to apply voluntarily for certification, if elected.
"Although he graduated from our Basic Law Enforcement Acad-emy in 1972, Mr. Songer never received Washington Peace Officer certification, solely because he was no longer employed as a Washing-ton law enforcement officer when the certification program began in January 2002," Baxter noted. "Had he been a full-time Washington deputy or officer at that time, we would have 'grandfathered' him with certification, as we did hundreds of other officers and deputies."
But because Songer never returned to full-time employment as a law enforcement officer in Washington, he never applied for certification, Baxter said, and added, "While he recently served as a reserve deputy, we have no authority to certify reserves." (Songer ran for Clark County Sheriff in 1990 and lost. He moved to Elko, Nev., in 1991 to become police chief of that city. He held that job until being dismissed by the city council in 1995, over what the mayor described as "professional differences" with Songer. He came to Klickitat County and in 2000 took a part-time job with the Klickitat County Sheriff's Office as a range and timber deputy. He filled that patrol position for 13 years but lost it when McComas pulled his commission last January because McComas and county legal advisers felt the contract they were operating under had to be rewritten to better define the program and responsibilities of the contract deputies, and to protect the county from potential labor liabilities.)
In RCW 36.28.025, the Legislature established only one qualification for sheriff: obtaining with 12 months of inauguration a certificate of completion of the Basic Law Enforcement Academy or an Equivalency Academy. The statute reads: "A person who files a declaration of candidacy for the office of sheriff after September 1, 1979, shall have, within 12 months of assuming office, a certificate of completion of a basic law enforcement training program which complies with standards adopted by the criminal justice training commission pursuant to RCW 43.101.080. The requirement does not apply to persons holding the office of sheriff in any county before September 1, 1979."
RCW 36.28.025 does not set peace officer certification as a qualification for sheriff, while RCW 36.28.010 grants sheriffs – whether certified or not – the powers of arrest and incarceration and general law enforcement authority immediately upon assuming office.
According to RCW 36.28.010, "the sheriff is the chief executive officer and conservator of the peace of the county." In the execution of his or her office, the sheriff and/or his or her deputies shall:
Arrest and commit to prison all persons who break the peace, or attempt to break it, and all persons guilty of public offenses.
Defend the county against those who, by riot or otherwise, endanger the public peace or safety;
Execute the process and orders of the courts of justice or judicial officers, when delivered for that purpose, according to law;
Execute all warrants delivered for that purpose by other public officers, according to the provisions of particular statutes;
Attend the sessions of the courts of record held within the county, and obey their lawful orders and directions;
Keep and preserve the peace in their respective counties, and quiet and suppress all affrays, riots, unlawful assemblies, and insurrections, for which purpose, and for the service of process on civil and criminal cases, and in apprehending or securing any person for felony or breach of the peace, they may call to their aid such persons, or power of their county as they may deem necessary.