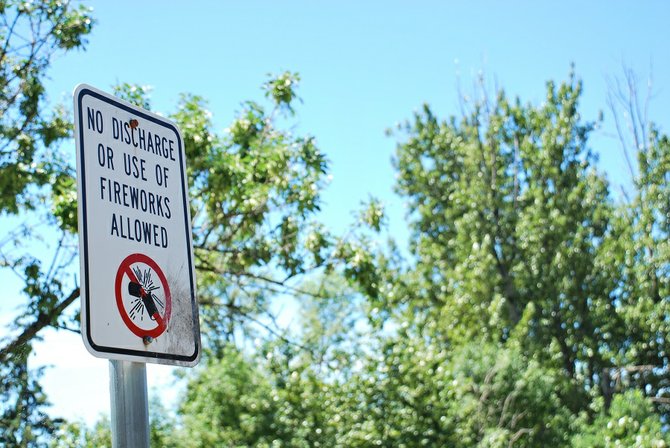 It's that time of year again to observe the independence of the United States via the ignition of the veritable rockets and their red glare, at least in White Salmon, anyway.
While White Salmon's municipal code allows the use of fireworks in city limits on Independence Day between the hours of 9 a.m. and 11 p.m., Bingen maintains a strict ban on fireworks that has been in place since the city council passed an ordinance making it so in 2006.
Anyone who is caught igniting fireworks in Bingen could face a fine that ranges between $55 for a first offense to $1,000 and imprisonment for as much as 90 days for repeat offenders, according to Bingen's ordinance.
Last summer, the White Salmon City Council voted to amend its municipal code pertaining to fireworks to lessen fire danger during the Fourth of July holiday. In accordance with state law, previous city code allowed fireworks displays from June 30 to July 5, but that was reduced to the current, 14-hour timeframe when fireworks are permitted within city limits.
This is the first year the reduced timeframe for permitted fireworks displays in White Salmon has been in effect, as the amendment to the ordinance could not be enforced until "one year following passage and publication, as provided by law," according to municipal code.
Bingen-White Salmon Police Chief Tracy Wyckoff said most years July Fourth celebrations are on the tame side in both towns, for the most part. He has noted three locations, one in White Salmon and two in Bingen, where fireworks are being sold illegally, but said his officers don't have jurisdiction to enforce White Salmon's laws in those areas because the land is owned by Indian Trust USA.
"They even go outside of the parameters of when they're allowed to sell them. It's kind of screwed up, but that's the way the law is set and there's nothing we can do about it," Wyckoff said.
He also noted that while the White Salmon park-and-ride is a popular spot to view Hood River's fireworks display, lighting fireworks for personal use in the parking lot is prohibited.
Those enjoying the July Fourth holiday also need to be aware of fireworks and campfire restrictions outside of city limits. The Port of Klickitat, for example, will allow the ignition of fireworks on Independence Day between the hours of 8 p.m. and 11 p.m.
Fireworks of all kinds are prohibited in the Gifford Pinchot National Forest, as is building a campfire outside of rings provided at national forest campsites. Leaving a campfire unattended without extinguishing it first and possession of fireworks both carry fines of $100, according to Diana Perez, acting public affairs officer for the Gifford Pinchot National Forest.
That fine can come with a maximum penalty of $5,000 or up to six months in jail, according to a press release by the Columbia Gorge National Scenic Area
Anyone who causes a fire on national forest lands is also held liable for the costs associated with putting it out.
"Cost of suppression has a huge, huge range depending on size, so it could be the simplest cost, which would be a one-day engine crew cost or up to millions depending on the size of the fire," Perez said.
The National Scenic Area notes that firefighters extinguish one or two abandoned campfires every weekend. To ensure a campfire is completely out, drown it with water, stir the embers after they are soaked, then feel the coals and embers with your hands to confirm that they are cool to the touch.
On lands managed by the Washington State Department of Natural Resources, fireworks are prohibited year-round, but last year, fireworks caused 27 wildfires on public and private lands DNR works to protect from wildfires.
Beginning July 1, a burn ban also took effect on all DNR-protected lands in eastern Washington State, including Klickitat County, but may be extended to the western part of the state if conditions call for it. Fires in approved fire pits within designated state, county, municipal or other campground and gas or propane stones and barbeque grills are still permitted, however. So far in 2014, DNR has had 172 wildfire starts that have burned approximately 779 acres throughout the state, according to a press release from DNR.