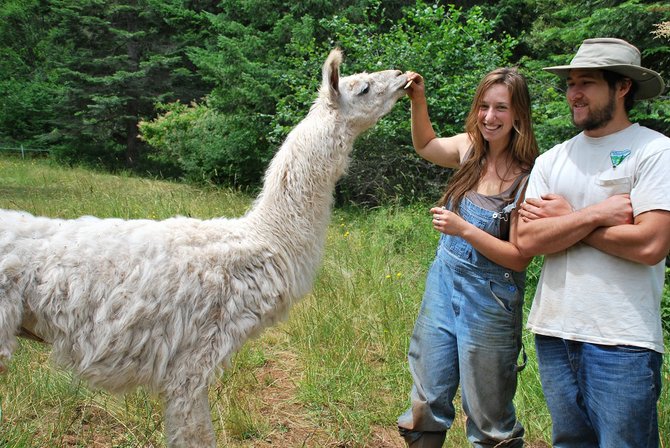 A merchant marine and two archaeologists decide to start a farm…
So goes the story of Stonework Farm, one of the newest vendors at the White Salmon Farmer's Market, which held its first gathering of the season at Feast Market and Delicatessen on Tuesday, July 1.
The farm in this story is the labor of love shared by John Washburn, the aforementioned merchant marine, along with Daniella Dipol and Colin Vaughan, the archaeologists-turned-agriculturalists now of Snowden.
Like many other farms, Stonework boasts rows of greens, tomatoes, herbs, beets, radishes, and more. A rambunctious dog, Zoe, lopes around the 14-and-a-half-acre plot among a flock of chickens, a few rabbits, adorable ducklings, and Bianco, the friendliest of llamas who will hopefully soon be joined by a few sheep.
"He's good company right now and a really good compost manufacturer," Vaughan said.
If it seems like a lot for three people to handle, Dipol and Vaughan agree, but that's because in their first year they hope to figure out what works for them. Hopefully, that will include plenty of vegetables, eggs and meat from their ducks and chickens, as well as meat from the New Zealand and Californian rabbits.
Along with fresh vegetables, Stonework Farm also currently sells handmade feather earrings by Dipol.
"This season is just an experiment, if you will, just testing the soil to see what we can grow," Dipol said.
Up until recently, it's just been Dipol and Vaughan at the farm while Washburn spends a month or so at a time working at sea, but hopefully that changes soon.
"Ideally he wants to keep that at a minimum and be here most of the time, but right now it's a transition where his work can finance the farm, because God only knows archaeology would not finance it. It takes a few people to start something," Dipol said.
The three came together by luck. Dipol, a native of California, met Washburn at a bonfire in her home state after attending college for anthropology and living on a farm for six years in Sonoma County. She always joked with Washburn about starting a farm and was surprised when he contacted her within the year to say he was looking for property.
In the meantime, Dipol and Vaughan started working together as archaeologists contracted by the Bureau of Land Management in Utah. It was while they were working on the Grand Staircase-Escalante National Monument that Dipol decided to move to the northwest, though she had never been here before.
Luckily enough, Washburn needed someone who had the time last winter to help him start a farm just outside of White Salmon. The transition was a surprising one, however.
"It was winter and I had never lived in the snow before, so I was completely in shock and I really love people and this was the first time it was just me. It was cold and there was tons of snow," Dipol said.
The isolation gave her time to start crops from seed and about three weeks ago Vaughan joined her followed by the return of Washburn from a stint at sea. In addition to figuring out which produce and livestock will work best for Stonework, implementing an aquaponics system using trout to boost plant growth is also in the works.
"It's more or less a little, tiny ecosystem. You've got your water with trout in it and the fish eat worms or maggots that we're going to grow, so that feeds the fish, the fish poop, and the water is continuously filtered out by the plants, so it constantly pumps water out of the tank through the plants and then back so the fish have fresh water," Vaughan said.
All of the hopes, dreams, desires and schemes are about forming a solid foundation that the three want to build the rest of their lives on, hence the name "Stonework Farm." Only time will tell where the farm will go and what that foundation will become.
"Check back in a few years. This place is going to be incredible," Dipol said.