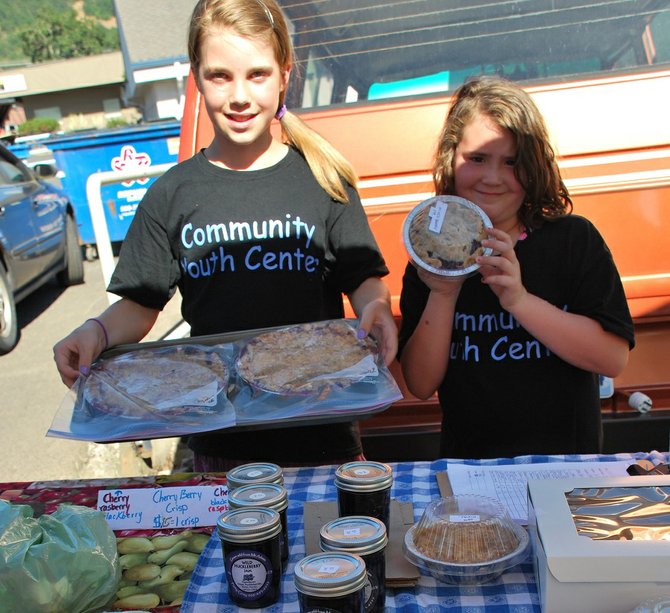 Even the youngest members of the community are helping out at the White Salmon Farmers Market.
Every Tuesday, vendors from all over the area and both sides of the river will continue to visit Feast Market and Delicatessen to sell fruits, vegetables, meat, wine, crafts, and anything else they've grown or made, but not everyone has enough to fill an entire stand.
That's where the community table comes in, where you can usually find all manner of baked goods, like White Salmon Mayor David Poucher's breads made with yeast dating back to 1981, or vegetables grown by the White Salmon Community Youth Center.
But that's not the only way the youth center contributes to the farmers market. Each week, the community table is managed by kids between the ages of seven and 17 who go to the youth center.
As payment for helping out, the youth center receives 15 percent of whatever is sold at the community table. Liz Paulson, director of the youth center, said in its first year $700 was brought in to benefit the center by managing the community table.
"It seemed like a good fit. We're open for kids between the ages of seven and 17, so they see the seed planted, we're planting our own food, then we get to sell it, so they learn customer service skills and they get to see that they really do need to learn their math," Paulson said.
Last year the youth center obtained a grant through United Way to purchase a dehydrator that allowed kids to sell dehydrated apples at the market. At the first market of the year, Anona Haley, 10, not only helped gather payments, but also sold two mixed berry pies she baked herself.
Usually, around 15 kids from the youth center are circulated in and out of helping at the community table from week to week.
In addition to bringing in a little funding to benefit the youth center, Paulson said it's a good opportunity to develop important life skills and meet positive mentors who are involved within the community.
"They're getting involved with their own community, they see we can grow local food, and meet people in the community and identify with them. There are a lot of good role models here, I think," Paulson said.