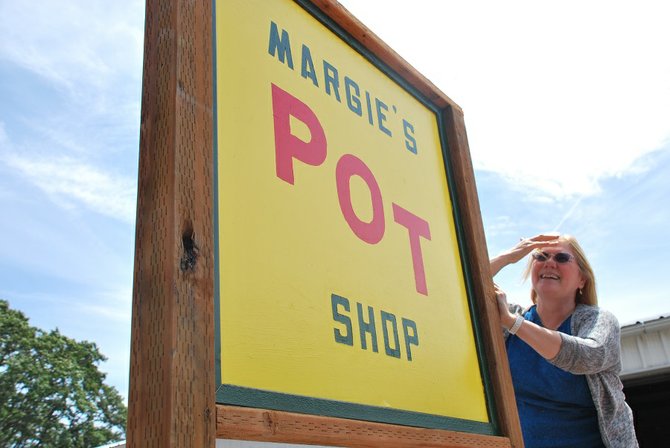 After years of working as a pharmacist, Margie Lemberger finally has her own drug store.
As of this week, Margie's Pot Shop at 405 E. Steuben St. in Bingen is one of 24 retailers licensed to legally sell marijuana to adults in the State of Washington, according to a list of approved retailers by the Washington State Liquor Control Board (LCB) released on Monday.
Of those retailers approved by the LCB, two are located just an hour away in Vancouver and another is set to open in Kelso, according to the list.
Navigating New Rules
Finding out that she managed to successfully navigate the intricacies of Initiative 502, which legalized the sale of up to one ounce of recreational marijuana plant material or 72 ounces of marijuana-infused liquid to adults in Washington, was a moment of elation for Lemberger, who left her job as a pharmacist a few weeks ago to focus on setting up her Bingen business.
"I've always believed that pot should be legal because I think we waste so much money putting people in jail over pot. It's just not smart to waste all that money over all these people who get 10 years in jail for smoking or selling pot," Lemberger said.
The LCB capped the number of retail stores in the entire state at 334 with four allotted for Klickitat County. Of those, one is reserved for Goldendale with the other three going to businesses throughout the rest of the county.
Though Lemberger is one of few retailers to obtain a license first, she ran into issues trying to stock her shelves in her first week as a licensed retailer as approved growers struggled to meet a demand with a supply that just isn't there yet.
"I've put feelers out to people and I'm waiting for call-backs," Lemberger said.
Originally, the LCB received 1,174 applications for retail licenses from across the state, requiring lotteries to determine which applicants would be in the running to ultimately receive a license, though, due to a small applicant pool, Klickitat County was one of 47 jurisdictions that did not require such a lottery.
Finally obtaining her license this week signified the end of a long process Lemberger started 18 months ago when she first submitted her application to the LCB. Since then, she has dedicated her entire retirement savings towards opening Margie's Pot Shop in the building she bought in Bingen.
"I could not find a building at first and would have had to build something or buy this one, which was very expensive, but then I thought at least I'd be ready, so I decided to just jump in and do it," Lemberger said.
If it wasn't for the sign, Margie's Pot Shop might blend in with its surroundings. Under I-502, Lemberger can't advertise any further than the sign indicating where her shop is, but that rule is simple to follow compared to everything else she has had to comply with.
For example, when Lemberger took out an insurance policy for Margie's Pot Shop, finding a company that would work with her was difficult enough. Even when she finally got the documentation she needed, the LCB required that their name be stamped on the policy, forcing Lemberger to resubmit her paperwork and nearly miss the deadline for when it needed to be turned in.
The security system was also an ordeal. Lemberger searched high and low to find a company that would outfit her building with the security cameras and alarm system specifically detailed in I-502, including alarms on all entry points and windows and a complete video surveillance system with minimum camera resolution of 640x470 pixels that must be internet protocol compatible, according to WAC 314-55-083.
The only problem was the company Lemberger finally contracted to set up her security system almost backed out at the last minute before getting the go-ahead to install the alarms that will sound if anyone enters her building without disarming it first and keeps track of everyone who manages it.
"Every single step has been like that for me because it's all new," she said.
When LCB inspectors did the final walkthrough of her shop, Lemberger said they checked for any blind spots her security cameras might have missed, correcting only one. She also had to install a new bathroom that met the standards of the Americans with Disabilities Act in order to satisfy all of the requirements to get a business license through the City of Bingen.
But actually obtaining a space and getting it to comply with I-502 was just part of the puzzle. Lemberger also had to pass a background check and fingerprint screen before she could obtain a license, the only problem being that initially the Federal Bureau of Investigations would not assist any potential I-502 business with either.
"That was initially the case. They were hesitant to do so because you've got to remember that this is still illegal federally, but thankfully the Department of Justice has been flexible enough to allow us to move forward with this," said Brian Smith, communications director with the LCB. "In the end they said they'd do it because as far as their goals and public safety concerns go it's to everyone's benefit to do those background checks nationwide."
Then there's also all of the rules that apply to actually selling marijuana. No one under the age of 21 is permitted in any pot shop in the state of Washington and customers cannot sample or even touch the product before buying it, though smelling the samples provided by retailers is permitted.
And, of course, any marijuana purchase can only be consumed within the confines of a private residence.
"They have rules that change all of the time. If you're easily frustrated it would have been easy to give up, but I'm not easily frustrated," Lemberger said.
For those who want to cross the Hood River Toll Bridge and buy marijuana and use it in a private residence in Washington, Limberger welcomes the business, but reminds customers that it is still illegal to possess marijuana in Oregon. Possession of less than an ounce of marijuana in Oregon carries with it a presumptive $650 fine. Possession of more than an ounce but less than four ounces is a Class B misdemeanor and possession of more than four ounces is a Class B felony.
"They have to realize that they have to follow their Oregon laws, so if they take it across the bridge that's really on them," Lemberger said.
Investigating Inventory
Even as early as a week before obtaining a license, opportunity knocked at Margie's Pot Shop.
As soon as Lemberger unveiled her sign, the lone form of advertising she is permitted to take advantage of, potential customers started knocking on her door asking if she was open.
"I had an older gentleman stop who wanted to buy just one joint because he never tried it before. He was from Chicago and was really excited because it's going to be legal here. So many people have stopped, but that's my favorite," Lemberger said.
The only problem is, she hasn't had any product to sell. The shelves of the glass cases in Margie's Pot Shop are lined with a colorful array of glass pipes, bongs, jars, and all manner of smoking devices, but no marijuana when she was first licensed.
Lemberger intends on purchasing the bulk of her product from W.O.W. Weed in Dallesport. W.O.W. Weed was the first marijuana producer and processor to obtain a license from the LCB in Klickitat County and one of the first in the state, but Susy Wilson, co-owner of W.O.W. Weed, said she doesn't anticipate her first grow to be ready to go to retailers until at least July 15.
Growing and taking care of the 66 strains of marijuana she intends on selling to retailers is labor intensive enough, but Wilson and her business partners have also been struggling with the traceability system put in place by I-502 while weighing and processing the weed they have so far.
"If you have just a small yield you have to harvest it, attach a tracking number to the plant, weigh it wet, then dry it, then weigh it dry, document the bud weight and the trimming weight, then retain all of those records for yourself and then load it all onto the slow and tedious Web site the Liquor Control Board has developed," Wilson said.
She also added that retailers from all over the state, even some who have not gotten a license yet but are anticipating one, have been calling her nonstop.
Even when W.O.W. Weed is ready to begin selling to retailers around the middle of July, the first grow will be around 20 or 25 pounds, which is "a drop in the bucket" compared to the demand that will come with opening day for some shops, according to Wilson.
She also wants to ensure that her product is ready and sold at a fair price, no matter where it's sold.
"Really I'd like to do business with everyone I've talked to; they've all been really nice. This is our first grow and for me in a million years I can't say this is the yield I'd hoped it would be. I'd hoped for a much greater yield, but now I'm hoping for maybe 20 or 25 pounds and I don't know yet if I'm going to have that much yield," Wilson said.
In the meantime, Lemberger searched for other suppliers, though Wilson said she intends on getting product to Margie's Pot Shop as soon as it's ready.
"Unfortunately of the other two growers here in this area one doesn't have a license yet and the other is growing outside, so we have to wait for Mother Nature," Lemberger said.
She would also like to add edibles to her list of inventory at Margie's Pot Shop, but approvals for kitchens that could produce such products haven't been given the go-ahead by the LCB yet.
"I'm a great cook, but I don't get to cook anything here. I'm sad about that," Lemberger said.
For now, Margie's Pot Shop remains as just that, a pot shop, and that's all it can ever be under I-502, as selling anything else that is not marijuana-related is prohibited, but given the size of her building and that a wall now separates it into two large rooms, Lemberger has plans to have a small retail shop on the other side that would sell clothing.
Of course, that's all pending her first day of business and the first legal sale of recreational marijuana to ever take place in Bingen.
"The only thing I can do is put up my sign," she said.