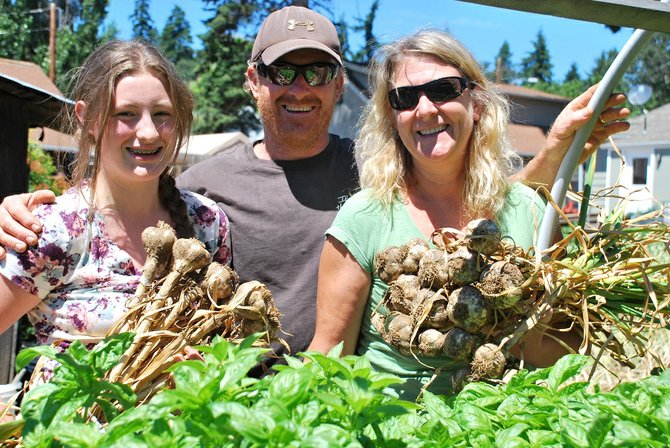 Columbia Gorge Garlic has been with the White Salmon Farmers Market since the beginning.
Ian and Dawn Glasser and their 14-year-old daughter, Leah, live on a half-acre of land off of Wisconsin Street in White Salmon that is absolutely inundated with growing herbs, fruits, and vegetables. Their small plot of land is so full of life that one must tread carefully so as not to step on an unassuming melon vine or cucumber.
Another three acres off of Orchard Lane in Underwood is where the Glassers grow the bulk of their garlic. Operating under a sort of "Italian theme," as Ian says, the Glassers primarily focus on tending to their 300 tomato plants, rows and rows of basil, and, of course, lots and lots of garlic.
To top it all off, it's all organic. Columbia Gorge Garlic has been certified as an organic farm by the Washington State Department of Agriculture for 15 years.
"We do it because we both really like eating it and all the different varieties. It's an easy crop to grow, but all the different varieties are kind of fascinating with all the different colors and flavors and different shapes of the plants," Ian said.
Though the Glassers grow most of the 38 varieties of garlic they offer in Underwood, their business tends to spill over into the rest of their lives, even out from the small shed where the garlic is hung and clipped before it is sold to a nearby restaurant or at market. Bundles of garlic and bags of garlic scapes sometimes make their way into the living room or the car while the Glassers work on harvesting what they believe will come to more than 7,000 pounds of garlic this year.
"It's a pretty easy crop to grow. It's a nine-month gestation, so it goes in the ground in the fall and then you don't harvest until summer. One big advantage of growing garlic is that the deer don't come and graze on it and you don't have to do much to it. It's not as finicky as growing tomatoes," Dawn said.
Making their way through the rows and rows of tomatoes in July makes for an exciting time of the year for the Glasser family. Dawn and Leah walk through rows of towering tomato plants, training them to grow within their cages as they go along while Ian explains how his family's farm came together.
His logic is best summarized in bumper stickers Dawn designed sometime back that simply read "feed the soil and the soil will feed you."
"We try to build the soil up and then just let it take care of the plants. It's kind of a simple idea, but it works well when everything is in place," Ian said.
That philosophy mixed with a pretty perfect area to grow garlic has made for one successful harvest after another since the Glassers ramped up their operation in 2008.
"It's gone from a green growing vegetative plant to a bulbing plant, so it most certainly doesn't want any more rain, so we turn the watering off so it goes into its bulbing cycle. This is really touted as an ideal climate to grow garlic in, while southern or northern California can be too hot whereas a lot of these hard-neck garlics like cooler, colder winters to sort of invigorate them a little bit, so this is a really good latitude area to grow," Ian said. "Any further west around Stevenson or Home Valley may be too wet, more restrictive because of some of the dynamics of the Gorge."
Walking into the shed where garlic is stored on the Wisconsin Street property is slightly chaotic, what with bundle upon bundle of garlic stacked on top of each other, but there is a method to the madness there.
Each bundle features a small sliver of duct tape of a different color or pattern indicating the garlic's variety. A notebook stashed nearby shows the master list of garlic varieties and which type of duct tape they correspond with, be it bright purple, blue, or even a pattern of flying pigs used to indicate Polish hard-neck garlic.
"We're lucky there are so many different duct tapes out there," Dawn said.
Along with selling their produce at market, tomatoes and basil from Columbia Gorge Garlic can be found on Double Mountain's heirloom pie that comes out every summer and their butternut squash is used to make Solstice's BLBB (bacon, leeks, blue cheese and butternut squash) pizza.
The Glassers also keep up with all of the paperwork that goes into maintaining their status as a certified organic farm, including a yearly interview and inspection by the state.
"We don't do it because they tell us to. We do it because we believe in organic farming," Ian said.
But having that "certified organic" label on their farm also plays into the economics of selling one other thing they produce: seeds. While conventional garlic seed can typically sell for $18 per pound, organic seed tends to go for around $20 per pound.
"To tell you the truth, the certification is a lot of paperwork that you have to keep up with, but it is worth it for us I would say most certainly because of the extra value we can sell seed stock for," Ian said.
Though Columbia Gorge Garlic has become the Glasser's bread and butter, they still get a certain enjoyment out of their work that shows itself the most at the market they've attended since the beginning in White Salmon.
"We're selling them produce, but we're also meeting people and connecting. I love spending time there at the table because it's not like it's a job. The table is the most fun part of the day," Ian said. "When you're actually there at the farmers market it's a really enjoyable scene because of that connection with all the people and telling them how you do it and having them come back to say that was the best tomato or best cucumber they've ever had. That makes it worth it to be a farmer right there."