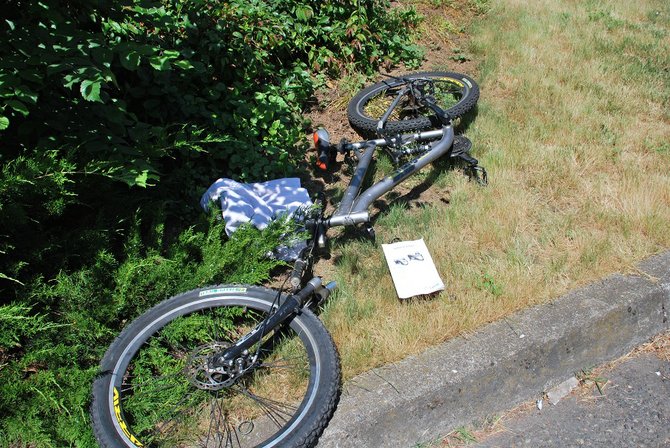 A Bingen-White Salmon Police officer will face no corrective action following an incident in which he used a stun gun to subdue a local man last month.
According to Bingen-White Salmon Police Chief Tracy Wy-ckoff, the Skamania County Sher-iff's Office headed up the investigation on the incident, which occurred around 9:53 p.m. on June 5 when Miguel Elizondo-Villa, 22, of White Salmon, was riding a bike down Snohomish Avenue and slammed into a parked car near the intersection of Washington Street.
Witnesses who live near the scene of the accident said they heard Elizondo-Villa moaning in pain and that a group of teenagers tended to him before Skyline Hospital paramedics arrived. According to Wyckoff, Bingen-White Salmon Police Officer Steve Shields also responded to the accident.
Following the accident, Wyckoff said Shields immediately filed a report stating that Elizondo-Villa's head was bleeding and that he became combative while paramedics were attempting to assess his injuries and load him into an ambulance.
At one point, Shields reported that Elizondo-Villa tried to bite paramedics, prompting Shields to warn him to calm down, but when he did not comply Shields removed the cartridge from his stun gun and applied it to Elizondo-Villa's neck and shoulder area before handcuffing him.
Elizabeth Vaivoda, marketing director for Skyline Hospital, confirmed that one 22-year-old male patient was treated and released following a bike accident on the night of June 5.
As with any incident that results in the use of force by a police officer, an investigation into the actions taken by Shields was carried out. Wyckoff said the Skamania County Sheriff's Office conducted the investigation and that he was not surprised that it was determined that Shields was justified in using a stun gun on Elizondo-Villa.
"I felt from the beginning that he took the appropriate action, but it's always good to go through an outside source to confirm that there is no doubt in anybody's mind that an officer's actions are appropriate for the events taking place that day," Wyckoff said.
According to the conclusion of the Skamania County Sheriff's Office investigation as read by Wyckoff, the amount of force Shields used in applying his stun gun was "reasonable and necessary to ensure control of the situation and preserve human life" and therefore no recommendation for corrective action was made.