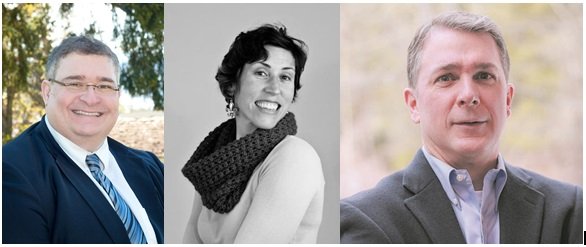 The field of candidates for the non-partisan office of Klickitat County West District Court Judge comprises three first-time candidates for the position. Jeff Baker of Trout Lake, Dave Brown of White Salmon, and Elizabeth (Liz) Hallock of Murdock are seeking to replace retiring nine-term West District Court Judge Robert (Bob) Weisfield.
Under a recent change in state election law (House Bill 1474), the Legislature repealed the requirement that allowed the judicial candidate who received the majority of votes (50.1 percent or more) in a contested Primary Election to be the only candidate listed on the General Election ballot. The amended law requires that the top two candidates who receive the greatest number of votes in a Primary (and at least 1 percent of votes cast in that race) will advance to the General Election.
The winner of the Nov. 4 General Election will begin serving a 4-year term in January 2015.
Only registered voters who reside within the West District Court boundaries are eligible to vote in the Primary and General Elections. As of July 10, the district had 6,851 registered voters. Eligible voting precincts are: Bingen, White Salmon, North White Salmon, North Fruit Valley, Mt. Brook, Husum, Trout Lake, Glenwood, Lyle, East Lyle, North Dalles, High Prairie, Appleton, and Centerville. According to Brandie Sullivan, Klickitat County's elections administrator, Glenwood, Trout Lake, Appleton, and Centerville are split, or partial, precincts.
The Enterprise submitted a questionnaire by e-mail to all three District Court judge candidates last week. Because Primary Election ballots will be mailed to voters July 18, The Enterprise is covering this judicial race this week to help voters decide who the best candidate for the job is.
Jeff Baker graduated with a law degree from the University of Minnesota in 1987 and has practiced law for 27 years; his practice is based Hood River, but he resides in Trout Lake, where he has been involved in everything from coaching boys high school soccer to helping the Trout Lake Community Foundation select scholarship recipients.
"I am the first person in my family to become a lawyer," Baker said. "I got into the legal profession be-cause I felt I would be good at it and could make a positive impact in my community."
The 53-year-old Baker has been preparing himself for the office of West District Court Judge in a variety of ways. Though he lacks prosecutorial experience, Baker has worked in West District Court as a defense attorney the past 18 years, and been appointed to serve as judge pro tem in both of the county's district courts, Skamania County District Court, and Klickitat County Superior Court. In addition, Baker has served as a court-appointed arbitrator in Klickitat County Superior Court and Oregon's Seventh Judicial District. In that capacity, Baker has arbitrated more than 75 civil cases.
"My service as a pro tem judge and arbitrator in courts throughout the Gorge has provided me with the essential experience to immediately transition into this position," Baker said. "In addition, having endorsements from the vast majority of lawyers that work in Klickitat County courts, the probation officers, and Judges Weisfield, (Ron) Reynier, and former Judge (Tom) Reynolds, I have the support of the legal community necessary to effectively operate this court from my first day on the bench."
As judge, Baker said he will up-hold the "independence, integrity, and impartiality of the judiciary," as required by the state's judicial code of conduct.
"I am running for judge to ensure that these values are maintained so that all who enter West District Court know they will receive the same treatment regardless of their circumstance or background," he noted. "My experience in this court and service in our community have shown me that these are important priorities, and I will work every day to make sure they are enforced."
To ensure the court is providing the best services possible, Baker said he hopes to implement "a more vigorous probation system based on the 'swift and certain' sanction model that has shown promising results in several courts."
"This program is based on research that has found that swift and certain probation measures have the greatest impact on preventing probationers from abusing drugs and alcohol while on court supervision," Baker explained. "Stopping this destructive behavior is one of the most important things our District Court can strive to do."
All said, Baker is hoping the voters of the West District will let him put his skills and experience to work for them, to provide the best courtroom services possible.
"I will work every day to be thoroughly prepared, even-handed, and courteous in applying the law in my courtroom," Baker said, "and I pledge to work diligently to make sure that West District Court is operating efficiently and equitably for the entire community."
Dave Brown is a former deputy prosecutor for Klickitat County who ran for the partisan office of Klickitat County Prosecuting Attor-ney in 2010. He previously served in Skamania County as its chief deputy prosecuting attorney, and in Lewis County as a deputy prosecutor.
Brown, 49, is currently a private practitioner, though he has worked as a public defender on felony cases and as the attorney representing parents in dependency cases and other family law matters, according to information posted on his campaign Web site, davebrownforklickitatjudge.com. He has been a member of the Washington State Bar since 2000, and a practicing attorney since 2001.
Said Brown, "I got into the legal profession as I wanted to be a part of our system of ordered liberty. I also liked the idea that one person could make a real difference."
Brown is running because he thinks he can make a difference based on his years of experience as a prosecutor and defender.
"I believe that the judiciary, like the rest of the system under Washington's state constitution, exists to safeguard individual rights. People would know that their rights would be respected, and the matters in dispute decided would reflect such," Brown said.
He noted that many other courts of limited jurisdiction have effective mental health and substance abuse treatment programs that could work in West District Court. Brown recognizes, however, that "the judge is also a department head with a limited budget, so with our current fiscal issues it may take a while to make any broad changes."
On the campaign trail, Brown said he lets people know that he is "the same guy, with the same core values before I started running for judge. I also am sensitive to many being scared of the judicial process and want to help defuse some of those feelings."
Brown said he is "not responsible for anything that would reflect negatively on the court or the office of judge." That said, Brown is currently the defendant in a sexual harassment lawsuit in Clark County Superior Court. Brown is being sued by four women who used to work with Brown in the Klickitat County Prosecutor's Office. The allegations against Brown first surfaced in 2010 during his campaign for prosecutor.
Brown maintains his innocence of the allegations and is working to clear his name. Last month, though, Brown's case suffered a couple of legal setbacks when the Division II Court of Appeals denied his motion to disqualify the plaintiffs' principle attorney for a conflict of interest, and when the state Supreme Court, by an 8-1 majority, upheld the trial court's denial of a change of venue to Klickitat County.
Elizabeth (Liz) Hallock studied classical art and archaeology at and graduated from Princeton University in 2002, and obtained her law degree from the University of San Francisco (USF) in 2009. In the summer of 2012, she was recognized by the Multnomah Bar Association, in its "Multnomah Lawyer" newsletter, for her work on behalf of the Pro Bono Community Collaborative, which is part of an effort to provide more comprehensive and high-quality services to low-income communities in Oregon.
After learning about the collaborative's opportunities for professionals through the listserv for Oregon Women Lawyers, Hallock "jumped right in and led a seminar focused on the financial issues faced by victims of domestic violence," the newsletter noted. "Recognizing that financial pressures can be an obstacle to escaping abuse, the seminar provided participants with information on steps and documents involved in taking legal action, such as divorce."
Thirty-something Hallock said she is running for West District Court Judge to combat domestic violence in the judicial district that comprises most of western Klickitat County.
"I have practiced, lectured, and volunteered in this field since I graduated from Princeton in 2002," Hallock noted. "I grew up in a domestic violence household and understand the devastating effect it has on children and families."
Hallock said the community is under-served when it comes to providing domestic violence (DV) resources, and that the penalties for domestic violence do not include enough required mental health treatment.
"I have spoken with state-certified domestic violence counseling agencies, and they agree that more mental health treatment, at the convicted's cost, and alternative sentencing are required," she said. "I also understand how economics keeps people in abusive relationships and increases DV recidivism."
Hallock asserted that West District Court does little to segregate the victims from the perpetrators and prevent intimidation. "In my courtroom there will be resources, including moving an advocate to the Pioneer Center, a private waiting room for victims, and childcare during the restraining order docket."
Hallock also has been no stranger to public interest work. She has worked for a number of organizations, including the Marin County (Calif.) District Attorney's Office, California Reinvestment Coalition, California Death Penalty Appellate Project, USF Child Advocacy Project, and the Karnataka State Department Child Trafficking Program in India.
She also worked for several non-profit special education law firms in New York and Oakland, Calif., and is licensed before the Veterans' Federal Board of Appeals, maintaining a legal practice that helps individuals obtain their veteran benefits.
Moreover, Hallock has been a legal adviser to the Alliance of Forest Workers and Harvesters since 2009, and is the founder of Cancer Rights Northwest, which provides legal resources for cancer patients, survivors, and their families. Hallock also has worked extensively with two other organizations focused on sustainability issues, Lawyers for Food, Justice, and the Friends of the Hood River Waterfront.
Hallock said she doesn't just talk about the possibilities of progress "without putting my money where my mouth is."
"If elected, I will take a $1 salary,"she said. "I will donate the rest of my term salary to taking DV seriously in our court and to our local DV advocacy programs and shelters."