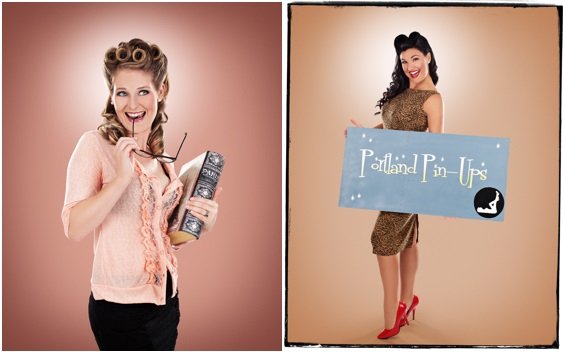 Most people in White Salmon know Katie Layne as the bubbly owner of Katie's MoJava in Bingen.
What they might not know is that Layne is a Bombshell.
Layne works with Mike Long, the Portland photographer behind Portland Pin-Ups, along with several other Bombshells on a team to promote Long's business and act as an inspiration for his clients.
"Being invited to be a Bombshell for Portland Pin-Ups has been huge for me. It has raised my confidence in myself and allowed me the opportunity to do something I'd never dreamed I'd get to do," Layne wrote in an email. "Being paid to work and model and play dress-up as an adult is so cool. Working for Mike Long is fun, and his unique personality and specialty in photographing beautiful, unique women from every walk of life has been awesome for me."
Layne is one of four Bombshells who work with Long and will be a judge at the upcoming Miss Portland Pin-Ups, set for July 24 starting at 8 p.m. at Dante's in Portland, which will feature Carol Alcock, a former White Salmon resident going for the title of Miss Portland Pin-Ups.
"Being a Portland Pin-Ups Bombshell means that Katie is part of a team, a team that produces stunning pin-up artworks, and helps push me to create better each time. She also helps show the public (my main clients) what's possible. It also means she gets to be part of things like going to Vegas each year to help model for me when I present on stage in front of hundreds of photographers at the annual Wedding and Portrait Photographers convention," Long wrote in an email.
Like his other Bombshells, Layne was previously a client whose work inspired Alcock to contact Long for a photo shoot of her own.
"I first saw Katie Layne's photos and knew that was something I wanted to do because it was done in a classy way without being too revealing. Shortly after she became a Bombshell, I booked a session. I wanted something that I could show my grandmother or be on the Internet without being embarrassed," Alcock wrote in an e-mail to The Enterprise.
The inspiration Alcock garnered from Layne has led her to go from being just a client to going for the title of Miss Portland Pin-Ups that would lead to a guest-Bombshell session valued at more than $6,500.
Miss Portland Pin-Up is an annual competition with more than 200 entrants this year alone. Long said after looking over applications that number was whittled down to 30, all of whom either made the trip to Long's Portland Pin-Ups studio or, as with Alcock, spoke with Long and his panel of judges via Skype to deliver a one-minute monologue about themselves and answer three random questions.
"Being a Bombshell is as much about who you are as it is about what you look like, in fact, more so. To enable me to create the artwork I do, a Bombshell needs to be sassy, intelligent, funny, imaginative and be able to take direction," Long wrote.
After that step was complete, just 10 finalists remained. Alcock is one of those finalists, meaning she'll be making the trip from her current home of Monterey, Calif. to participate in the final step of the competition.
"I always loved the style of the clothes that the women wore, but never had any of my own until I worked with Portland Pin-Ups. The style can be fun and flirty as well as being sophisticated," Alcock said.
For the final Miss Portland Pin-Ups competition, each contestant will be tended to by the creative team at Allure Salon and Spa in Camas before being taken to the show via limo. Later, the judging panel will ask each contestant questions and be posed by Long to see how well they take direction.
"We are looking for the whole package—how they look and move as a pin-up, what their personality is like. The audience will account for 20 percent of the final voting and we will have four judges on the night all with 20 percent voting each," Long wrote.
More like this story