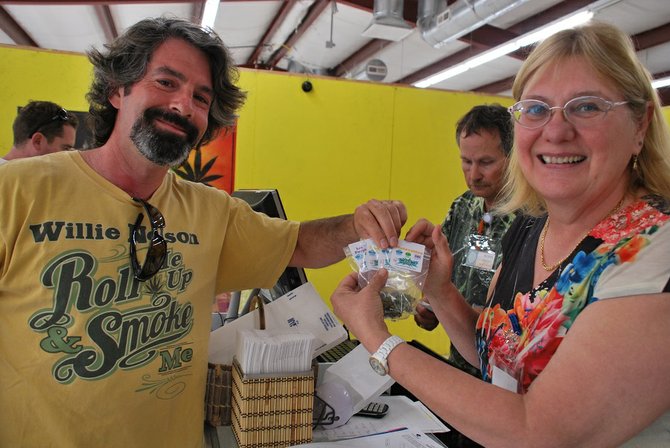 On Tuesday, July 15, Bart Cohn strolled into Margie's Pot Shop in Bingen and became the first person to ever purchase legal recreational marijuana in Klickitat County.
After days of waiting for her first shipment to come in, Margie Lemberger was able to open her doors at 405 E. Steuben St. with two pounds of multiple strains of marijuana available for anyone at least 21 years of age to purchase.
For Cohn, Washington State's passage of Initiative 502, which legalized the sale of recreational marijuana to adults in 2012, was a long time coming.
"It's something I've sort of daydreamed about for 30 years and had always hoped would get there. I don't know that I needed to buy marijuana right now other than I want to support the cause. I was pleased they were able to open and it seems like she's got a pretty good selection," Cohn said.
As he walked out of Margie's last Tuesday, Cohn examined the five grams of marijuana he was able to buy, including one gram each of Motivation, Train Wreck, and Las Vegas Purple Kush, plus a two-gram bag of Berkeley Blues.
His total came to $151.
"I'm sure it's going to be a boost to the local economy and going to be a business that sells quite a bit of product," Cohn said.
Lemberger said that while her first few days of operation were steady, she only sold out of one strain—Train Wreck—on opening day. The different strains vary in potency, which is tested by a lab, and cost partially depends on the amount of Tetrahydrocannabinol (THC) and cannabidiol (CBD) are present, among other dynamics that can cause prices to fluctuate.
For example, a gram of Berkeley Blues at Margie's comes to about $27, with tax. Another strain called CBD Critical Mass, which contains less THC and is generally used for medicinal purposes, comes to $24 per gram.
Then there is always the 25 percent excise tax at each stage of distribution and the average sales tax to take into account.
Unofficial estimates provided by the Washington State Liquor Control Board show the state bringing in around $318,043 in excise taxes as of the end of last week, which was the most up-to-date data available at press time. The LCB won't release official figures on excise taxes for another few weeks.
The main factor that could drive price down from current levels is getting a more steady supply.
"Everybody that came in had something to say. They were proud to be here and just ecstatic that pot was available at a store. A lot of them said 'yes, the price is high, but I want to make a statement,'" Lemberger said. "We need more product. We need to have the growers giving us all the product we can use so we can have a good supply and know we're going to have more tomorrow."
Margie's Pot Shop is currently a cash-only business. Since selling recreational marijuana is still against federal law, banks have shied away from opening accounts for I-502 businesses, requiring pot shops, growers, and processors to hold large amounts of cash, making them potentially susceptible to robbery or worse.
In February, the Financial Crimes Enforcement Network (FinCEN), which is a bureau of the U.S. Department of the Treasury, released guidelines meant to provide banks with ways to provide services to marijuana businesses, but at the time local financial institutions said constantly monitoring accounts for suspicious activity, as required by the guidelines, would be too large of an undertaking.
Jim Pishue, president of the Washington Bankers Association, said at the time that even if they wanted to, many small banks lack the resources to devote one employee to marijuana-related accounts.
"The general consensus is that these guidelines are just that, guidelines, but they aren't law, therefore I find that most banks are reluctant to get involved with these businesses until federal law changes and says that they can do so," Pishue said after the guidelines came out.
Though I-502 requires specific security requirements, including 24-hour surveillance and alarm systems, local law enforcement have taken notice of Margie's Pot Shop. Bingen-White Salmon Police Chief Tracy Wyckoff briefed the Bingen City Council recently on his concerns regarding the sale of legal, recreational marijuana.
"Am I thrilled? No, I'm not, to be honest with you, but they have the legal right to have their business and we will serve them just like we would serve any other business. We'll make sure they're as safe as possible and we'll do what we need to if any crisis occurs," Wyckoff said.
Wyckoff also noted that he saw many out-of-state license plates at Margie's Pot Shop. While it is legal for any adult over the age of 21 to purchase marijuana in Washington, it cannot cross state lines and must be consumed inside a private residence.
That said, law enforcement officers must still have probable cause to search a vehicle, leading the Hood River Police Department to continue on with business as usual.
"We're not doing anything more than we normally do. We're just going to keep working. We still have to have probable cause to stop a vehicle, so we can't stop and search a car based on that they're coming from Washington to Oregon," said Hood River Police Chief Neal Holste.