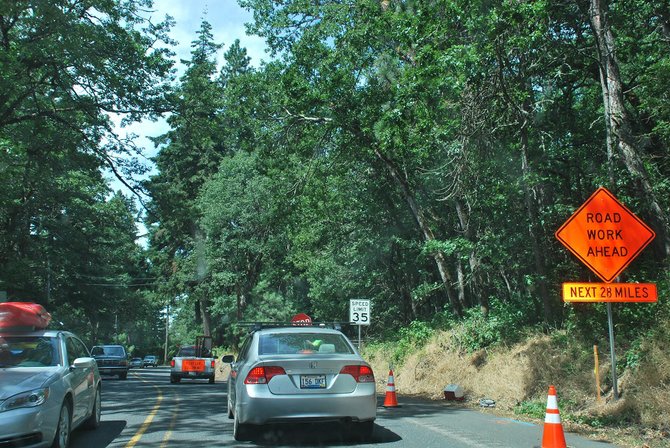 Motorists traveling State Route 141 Monday got a feel for what they can expect to experience in coming weeks.
Contractor Granite Construction of Dallesport used the day to pave over the rumble strip along SR 141 (W. Jewett Boulevard) that delineated the walking surface from the driving surface. The project covered a distance from just inside city limits to where the walking path cuts across Washington State Depart-ment of Transportation (WSDOT) right-of-way next to the LDS Church.
Christopher Tams, WSDOT's Columbia Gorge Area engineer, said the rumble strip was paved over to level the road surface for chip sealing in August.
Noted Tams, "The rumble strip will not be replaced and the delineation will be just a white fog stripe."
Tams said Granite's current plan is to start chip sealing on the north end of SR 141 at the Skamania County line starting Aug. 11 and to work its way south to the intersection in Bingen. All told, 29.3 miles of pavement will be preserved through chip sealing, a rock-and-oil treatment, during the approximately three-week-long project. Tams said SR 141 was last chip sealed in phases between 1998 and 2003.
From now until Aug. 11, construction crews will be performing pavement repair (grinding out asphalt and replacing it with undamaged asphalt) and pre-leveling (paving asphalt and removing the ruts).
Also on tap this summer are projects to improve portions of SR 14, SR 14 Spur, SR 141 Alternate, and U.S. 197. The $5.1 million contract awarded to Granite calls for im-proving 35 miles of SR 14 (mileposts 67.10 to 102.32, or Bingen to the U.S. 97 intersection), on SR 14; more than 2 miles of SR 141A (4.69 to 6.85); 2.5 miles of U.S. 197 (0.63 to 3.18); and about a mile of SR 14A (100.66 to 101.05, to the Maryhill interchange couplet). Tams said SR 14 was last chip sealed in 1998.
"This is a roadway preservation project," Tams said of the chip sealing of these state highways in Klickitat County. The work being done, he noted, "helps to extend the usable life of the underlying roadway, which extends pavement life, provides a smoother ride, improves drainage and reduces maintenance."
The current schedule posted on WSDOT's Web site called for daytime single-lane closures with flaggers and pilot car on SR 141, SR 141A, SR 14 and U.S. 97 on Thursday and Friay.
During construction on SR 141, Tams said traffic will be handled in a variety of ways, "but the majority of it will be through piloted traffic control."
"Vehicles will be stopped by a flagger and then have to wait for a pilot car before they are alllowed to traverse through the work zone," Tams continued. "The amount of time a vehicle will wait for a pilot car will be 20 minutes maximum."
Traffic control measures will remain in place for at least 72 hours after the initial application of rock, Tams added. "This is done to ensure a safe work zone for the traveling public, and this will minimize the amount of loose rock vehicles encounter."