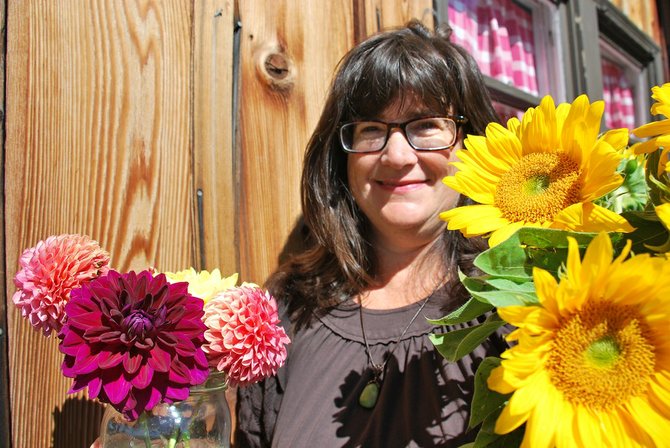 Beautiful things come out of Susan Coulon's basement.
As the most consistently cool part of her White Salmon home, Coulon's basement serves as the studio for Eyrie Road Flowers, which will be making an appearance at the White Salmon Farmers Market during the last two Tuesdays of July and in September.
"I love farmers markets. I say I don't garden because I like to support the market. It's so fun to be part of that and support the farmers," Coulon said.
Originally from Iowa, Coulon moved to Portland and owned a clothing boutique for 20 years before moving to the Gorge 10 years ago. Though she got the inspiration to start Eyrie Road Flowers from a friend in Portland, Coulon's business is only in its third year.
"It was just one of those things that happened. I had a neighbor in Portland and she was a florist and I loved watching her," Coulon said.
Once she moved to White Salmon, Coulon noticed an abundance of her friends were engaged to be married, leading her to volunteer to arrange the flowers at her first wedding.
From there, Eyrie Road Flowers was born.
"I thought it would be fun and I enjoyed it and it just grew from there," Coulon said.
When Coulon works a wedding or event, some of her flowers are sourced from the Portland Flower Market, but when she visits the farmers markets in the Gorge all of the flowers she sells there are grown locally.
For the last markets in July, Coulon will feature arrangements from Wildwood Farm in Hood River and Green Mountain Ranch in Underwood.
"I'm just going to go with whatever the farmers have and work with that. It'll be interesting to put them together and work with them," she said.
Though she spends time arranging the flowers prior to market, Coulon said she doesn't prune or change their appearance too much, but instead lets the natural beauty of the flowers stand on its own.
"Usually it comes from the flowers and the colors and the shapes and the textures. I have a very natural style. I don't fiddle with them too much. I just let the flowers shine," Coulon said.