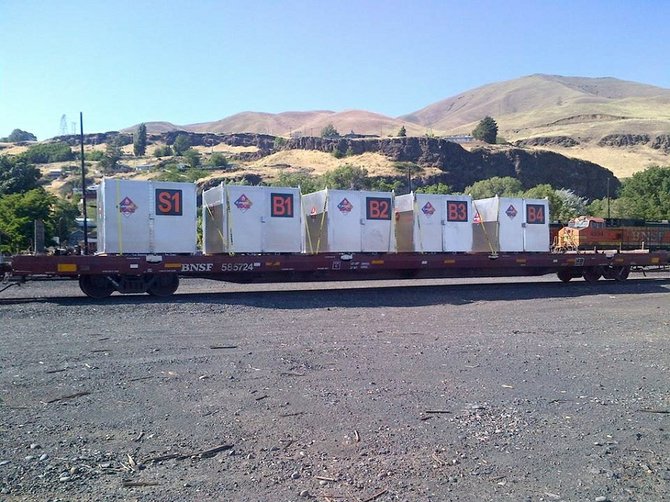 The same day White Salmon residents heard from the Federal Railroad Administration, Washing-ton State Department of Ecology, and Burlington Northern Santa Fe Railway Corporation on oil train transport through the Gorge, the U.S. Department of Transportation made moves on changing standards governing tank cars nationwide.
The Notice of Proposed Rule-making released for comment on July 23 includes new operational requirements for high-hazard flammable trains, including braking controls and speed restrictions, and would phase out the use of older DOT 111 tank cars for the use of transporting Bakken crude oil, the type currently carried through the Gorge, over two years, according to a press release by the U.S. DOT.
An additional Advanced Notice of Proposed Rulemaking calls to potentially expand spill response planning requirements for shipments of flammable materials, according to the release. Reducing operating speeds to a maximum of 40 miles-per hour through all areas is also included, unless tank cars meet enhanced safety restrictions, which would allow trains to go up to 50 miles-per-hour.
The entire Notice of Proposed Rulemaking and Advanced Notice of Proposed Rulemaking can be viewed at www.phmsa.dot.gov/haz mat/osd/chronology and both are open for comment for 60 days.
Thursday's meeting at the Mountain View Grange Hall, which was organized and sponsored by White Salmon resident Kevin Herman, fell just hours after the proposals were released. Matthew Brewer, deputy regional administrator for the Federal Railroad Administration, was able to alert those in attendance that the proposals were open for comment.
Brewer, like other presenters, was peppered with questions and speculations regarding the safety of the tank cars used to transport oil, as well as emergency preparedness. The next morning, five tank cars carrying crude oil derailed in Seattle, none of which leaked or caused injury, but increased concerns of environmentalists and activists, according to the Associated Press.
"There's a lot of misinformation going around and to say a tank car is like a tin can is a gross misrepresentation. These tank cars have been proven to be reasonably crash worthy for many years. This is a big, thick, heavy-duty piece of equipment that is currently authorized to carry this product," Brewer said.
Earlier this month, the Columbia River Gorge Commission passed a resolution that "strongly urges" Washington Gov. Jay Inslee and Oregon Gov. John Kitzhaber "to impose a moratorium on all new fossil fuel transport through the Gorge" until a "comprehensive risk assessment" is completed, according to The Hood River News.
Scott Ferguson, spills prevention manager with the Washington State Department of Ecology, was on hand at the July 23 meeting to go over the details of such a study that stems from a directive by Inslee that called for an examination of marine and oil transportation to analyze the risks to public health and safety and the environmental impacts associated with the transport of oil throughout the state, specifically focusing on Puget Sound, Grays Harbor, and the Columbia River, according to a scope of work released by the Department of Ecology in April.
The Washington State Department of Transportation, Utilities and Transportation Commission, and the Washington Military Department's Emergency Management Division have all come together to help the Department of Ecology, as well as Environmental Research Consulting, to conduct the study, the final findings of which are due March 1, 2015, according to Ferguson.
"My job is to produce a product that is a-political to provide findings, mitigating factors, and some righteous recommendations for our leadership to be able to decide how we want to proceed," Ferguson said.
The study will examine the current state of the oil transportation and safety picture, any changes that might be coming up regarding oil train traffic, such as the notice of proposed rulemaking, and make recommendations regarding public health and safety and environmental impacts of oil transport, according to the scope of work.
In addition to all of the state entities involved, Ferguson hopes to also gain input at the local level by engaging with stakeholders and local fire departments.
"We know that one of the key elements we're looking at are what equipment caches are established and how much and where. That's where all of the local fire chiefs have helped, but it's bigger than just equipment," Ferguson said. "We have to look at what training is provided and available to local responders so they can be safe and effective, then we have to go to the planning side. You all have emergency planning committees at the local level, but are those plans adjusted and equipped to be effective? This is all part of this process we're looking at to make sure we have a top-down, bottom-up approach."
While questions from the crowd at Thursday's meeting were extensive, many were answered by the last presenter of the night.
Patrick Brady, assistant director of hazardous materials at BNSF Railway, explained who would be ultimately responsible for any damage caused by a derailment on any part of BNSF's 32,500 miles of railways throughout 27 states and two Canadian provinces.
The short answer, according to Brady, is BNSF.
"For our response plan we do not rely on anybody. That may sound a little harsh, but with 32,500 miles of track, I can't pinpoint where a derailment may occur or what hazardous materials may be involved with that, so I don't know whether there will be any local resources at all, so my emergency response plan does not rely on anybody for that. We rely on the resources BNSF has and our contractor," Brady said.
That includes all costs associated with a derailment or spill. Brady explained that in the event of a derailment BNSF has no jurisdiction to call for an evacuation, but that local firefighters would inevitably be first on the scene who could then call on BNSF to send in their own emergency responders and equipment, including multiple 275-gallon containers of foam that is used specifically to douse fires caused by hazardous materials currently stored in Wishram.
In addition to covering any costs associated with a derailment, Brady said BNSF will also pay to send local firefighters to be trained on how to deal with fires caused by hazardous materials at the Security and Emergency Response Training Center in Pueblo, Colo. That would include all travel expenses and the cost of training.
"What we tell responders to do is to not necessarily focus on the derailment. Focus on protecting structures and making sure it doesn't get any worse than it already is," Brady said.
Following the meeting, White Salmon Mayor David Poucher said he, Bingen Mayor Betty Barnes, and Hood River Mayor Arthur Babitz conferred with Brady to get information on organizing a training event for firefighters from both sides of the Columbia River extending from Vancouver to Wishram and Troutdale to Rufus.
Barnes said Bingen has one firefighter who will definitely be attending a training event at the Security and Emergency Response Training Center as soon as possible.
In addition to preparing local emergency responders, Gus Melonas, spokesman for BNSF, said the railway company has also spent $235 million on track improvements in Washington state this year with a majority of those improvements occurring on tracks through the Columbia River Gorge. Melonas added that in the last three years BNSF has spent nearly $500 million on track upgrades throughout the state of Washington.
"When we look at crude-by-rail and all materials that are hazardous you have three different legs of a stool: prevention, response, and mitigation. Without one of those the stool falls over and then we have a problem," Brady said.