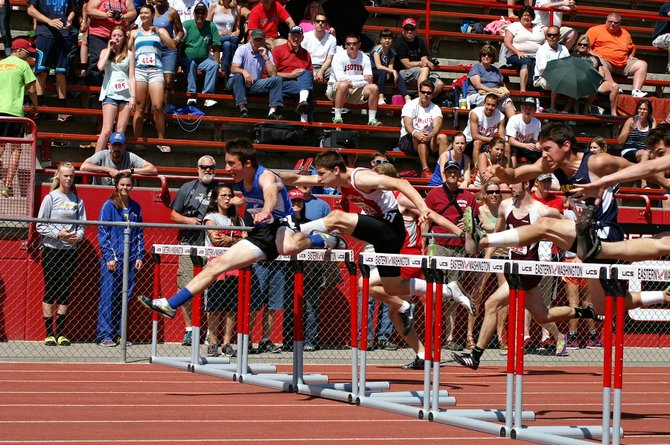 Senior Nathan Bell was involved in all three highlight moments for the Columbia High boys team at last weekend's WIAA small-school track and field champion-ships in Cheney.
Last Saturday morning, Bell matched his 2013 performance in the 1A boys 110-meter hurdles with a third-place finish. Some 3 hours later, he reset his eight-day-old school record in the 300 hurdles, coming in fourth in the finals in a time of 39.82 seconds.
In the final event of the day, the 1A boys 4x400 relay, Bell ran lead-off for sophomores Shawn Tardiff and Ulices Isordia, and the Bruins' anchor man, junior Isaac Bell. The team posted the fifth-fastest qualifying time on Friday (3:29.68) and finished fifth in Saturday's final with a new personal record (PR) of 3:29.21.
Tardiff also ran in the open 400 dash but did not make Saturday's final. He clocked a PR time of 51.88 in his heat on Friday, which was 10th fast-est in a field of 16.
The CHS boys finished 16th in team scoring with 15 points.
Columbia's girls team scored 4 points over the weekend. They came with sophomore Lauren Thiesies sixth-place effort in the 1A girls high jump (she tallied a PR of 5 feet, 4 inches on her third attempt) on Friday and with the 4x200 relay's eighth- place showing on Saturday. The foursome of junior Sofia Terner, sophomore Claire Anderson, junior Savannah Story, and senior Mariah Rawding turned in a time of 1:49.36.
Check this week's print edition for more photos from the WIAA small-school track and field championships.