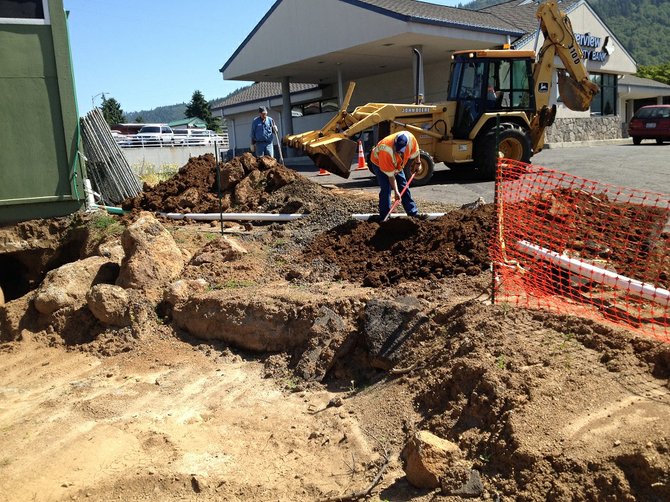 The crater next to Feast Market and Delicatessen will not prohibit the White Salmon Farmers' Market from opening there next month.
For the past eight months, the hole in front of White Salmon's natural market and deli at 320 E. Jewett Blvd. has been in a state of stagnation similar to the gray water that has pooled in its bottom. A rusty, decommissioned oil tank rests on its side among the disturbed dirt and rock. It was exposed in an attempt to clean up a more subtle mess that lies within the contaminated earth.
Obviously, this setting is no business owner's dream. Shawn Simmons, co-owner of Feast who is leasing the property and doesn't own it, expressed some relief on Monday as the City of White Salmon's Public Works Department began taking steps to install a fence around the hole, but is still dismayed by a process that was only supposed to take a week.
"It was a one-week project and it's turned into eight months now. It's insane," Simmons said. "It hasn't helped, that's for sure. We've been steady, which is nice and we're still growing, so that's great to see because we've been super supported by all the locals and that's what's keeping us going, but it's hard to tell how much better we'd be doing by now if the hole wasn't there."
In addition to Simmon's woes as a business owner, the White Salmon Farmers' Market, which called Feast home last summer, has been watching the developments regarding the hole with anticipation.
Debi Budnick, co-manager of the farmers' market, said moving the farmers' market to Rheingarten Park was considered, but that the market will still be held at Feast in the west parking lot when it opens on July 1.
Keeping the market in a consistent location that is easily recognized and viewed by the community and those passing through White Salmon was of concern when moving the market was considered.
"We just really want to make that spot work. We love being there and we love being front and center," Budnick said.
The hole stems from an attempt to clean up soil contamination left behind from the days when the building that currently houses Feast was a gas station and convenience store. Howard Kreps owns the building and started the process by working with the Washington Department of Ecology and removing a 12,000-gallon gas tank from the west end of the property last fall.
"We tested the soil around it and everything was hunky dory, so that was relatively slick," Kreps said.
Complications arose when Kreps turned his attention to the other side of the property where the pavilion is located that previously covered gas pumps, but is now occupied by a few picnic tables.
When Kreps dug into the soil under the pavilion, contamination from oil and petroleum was found. After replacing the pavilion's foundation, more contamination was found, plus a tank previously used to hold oil.
After removing the tank, Kreps thought he was done finding contamination in the soil, but was disappointed when more was uncovered along with, unfortunately, another small tank.
By this time, the cost to clean up a mess that Kreps views as the fault of previous landowners had reached "a substantial amount," so he turned to Kenneth Dobson, an attorney with Chenoweth Law Group, for help.
"I realized that this is not entirely my problem because I didn't do this, so I went searching in the legal world to find out if I could get some help with it," Kreps said.
In the meantime, the hole remains untouched, except for the fencing that was erected by the City of White Salmon. According to Fred Simonson, operations manager with the city's Public Works Department, Kreps will be asked to reimburse the city for the fence and no work on the hole will be conducted by the city.
Simonson added that fencing is necessary for safety reasons as more tourists come into town.
Until Kreps resolves whether or not he is responsible for the cost of cleaning up the contamination of the soil on his property, the hole will remain.
"We're stopping because I ran out of money, to be honest with you, and I'm looking for relief from the previous owners and businesses that were there. We're on that stage as we speak," Kreps said.
That means Simmons will have to continue playing the waiting game and answering what seems like an endless stream of questions from customers curious about the hole right next to the front door of his business. For the summer, he'll have the farmers' market to keep him busy every Tuesday and hopefully a resolution to a problem that is out of his hands.
As uncertain as the situation may be, one thing is for sure: Feast will continue to call White Salmon home.
"We thought about it, but White Salmon is our home. We live two blocks away from here and we love this community, we love being on this side of the river, and we want to make it work. I think a lot of people would be really bummed if we went over to the other side," Simmons said.