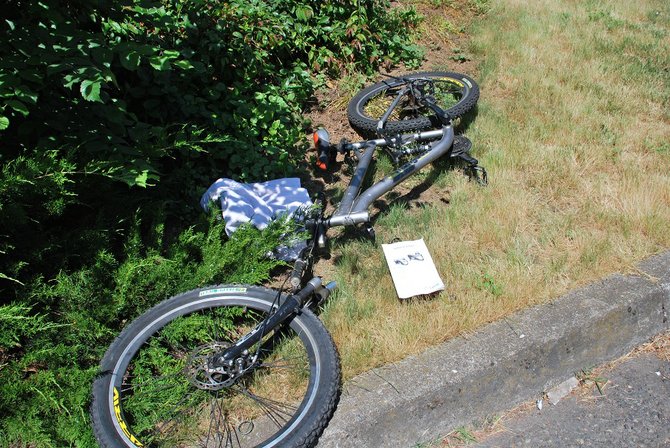 A stun gun was used on a 22-year-old White Salmon man after he became combative with police and paramedics following a bike accident in town last week, according to police reports.
According to White Salmon Police Chief Tracy Wyckoff, Miguel Elizondo-Villa, 22, of White Salmon was riding a bike down Snohomish Avenue last Thursday night when he slammed into a parked car near the intersection of Washington Street.
Wyckoff said a call regarding the accident was received at 9:53 p.m. and that Bingen-White Salmon Police Officer Steve Shields responded along with Skyline Hospital paramedics. Betsy and Mark Wilhelms, who live next to the scene of the accident, state that they heard Elizondo-Villa moaning after colliding with the parked car and that four Columbia High School students tried to keep him alert before paramedics arrived.
"It sounded terrible. We didn't hear anything right away, but then a couple of minutes later he was moaning. You couldn't really understand what he was saying, he was just moaning and oh God, it was horrible," Betsy Wilhelms said.
Wyckoff said Shields reported that Elizondo-Villa's head was bleeding and that he became combative while paramedics were attempting to assess his injuries and load him into an ambulance.
At one point, Shields reported that Elizondo-Villa tried to bite paramedics. Shields then removed the cartridge from his stun gun and applied it to Elizondo-Villa's neck and shoulder area before handcuffing him, according to Wyckoff.
"Steve made the choice to apply a taser and it appeared to be effective so the paramedics could give him some medicine, calm him down, and get him to the hospital," Wyckoff said.
Even the next morning, the mountain bike Elizondo-Villa was riding lay in the grass next to the intersection of Snohomish Avenue and Washington Street. A bloody towel and a neck immobilizer pamphlet were next to the bike and a splattering of blood remained on the side of the road.
Ron Oliver, who lives in the house closest to where the accident occurred, said he only saw the aftermath of the accident, including Elizondo-Villa struggling with police and paramedics.
"Once they showed up they tried to get him on a backboard, but he wasn't going for it and was being resistant. They ended up handcuffing him and having quite a battle before getting him into the ambulance," Oliver said.
Betsy Wilhelms said she heard Elizondo-Villa asking to call his father repeatedly before she heard the stun gun being used.
"When the medics showed up he went from being quiet and calm to completely out of control. He was screaming 'ouch, that hurts' and 'I want to call my dad.' Then I heard the unmistakable sound of someone being tasered, then I heard it again, and then he was completely quiet," she said. "It was awful."
Elizabeth Vaivoda, marketing director for Skyline Hospital, said one 22-year-old male patient was treated and released following a bike accident Thursday night.
As with any incident that results in the use of force by a police officer, an investigation will take place following Thursday's accident, according to White Salmon Mayor David Poucher. Wyckoff will head up the investigation.
"That's standard. It doesn't make any difference. If we use force we go ahead with an investigation and the chief sets that up," Poucher said. "As mayor and as the city's administration we want to know what happened and to make sure our officers are doing everything properly."