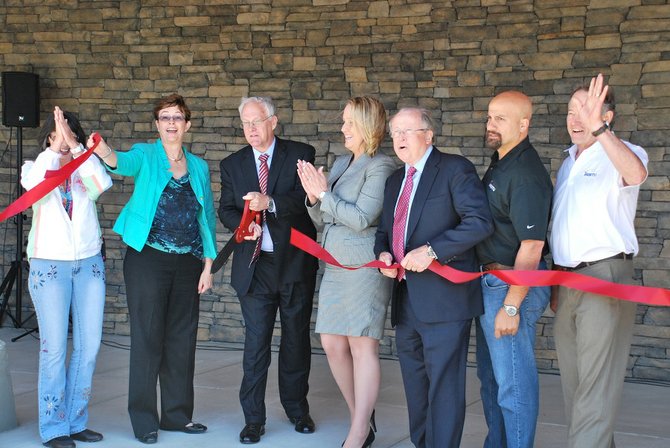 A little more than a month following its 20th anniversary, Insitu opened the doors to its new facility last Thursday.
The 127,525-square-foot Eagle Point hosted all manner of Insitu employees, executives from the Boeing Company, and elected officials and their representatives for a ribbon cutting that marked the consolidation of multiple buildings Insitu has leased throughout the Gorge over the years.
With the capacity for up to 180 employees, the facility will serve Insitu's production needs with office space on the second floor. Jenny Taylor, facilities director for Insitu, spoke at Thursday's event and said by 2009 the company's employees worked in 29 buildings totaling some 300,000 square feet spread across 167 miles throughout the Gorge.
"Our intention is to be more cost efficient and competitive in the (Unmanned Aircraft Systems) market by providing an efficient, sustainable, and technologically advanced facility for our workforce," Taylor said.
Insitu CEO Steve Morrow drew parallels between Insitu and the Boeing Company in his opening remarks, saying that he hopes innovation by the company he's led for the past three years can one day match that of Boeing's.
"We haven't changed the world yet, but we're only 20," Morrow said.
Multiple elected officials, including the Klickitat County Board of Commissioners, state Sen. Curtis King (R-14th District), representatives from Congresswoman Jaime Herrera Beutler's office (R-Wash-ington 3rd), and more were in attendance at Thursday's ceremony, which was held on Eagle Point's vast production floor, complete with a ScanEagle and Integrator on display.
Boeing Vice President and General Manager of Unmanned Airborne Systems Mike Kurth thanked Klickitat County's administration for helping evolve Eagle Point from vision to reality.
"I think we owe a huge debt of gratitude to our elected officials who stood by our progress here and we have some of the most innovative and thoughtful employees on the planet, so I think this partnership between our elected officials, the local community, and the talent that's here is really something special," Kurth said.
With the snip of the ribbon by Morrow on Thursday, Eagle Point opened its doors to its employees and, as Taylor pointed out, a continued era of progress for both the company and Klickitat County as a whole.
"Over the past two decades the Gorge has been focused on reconstructing its economic foundation and industry base to better protect its natural resources and empower its entrepreneurs. According to census data, 10 years ago Klickitat County was one of the most economically distressed regions in Washington. Now in 2014, Klickitat County is one of the highest in the region for per-capita income," Taylor said. "We hope that trend continues and we play a valuable role in shaping the future of our community."