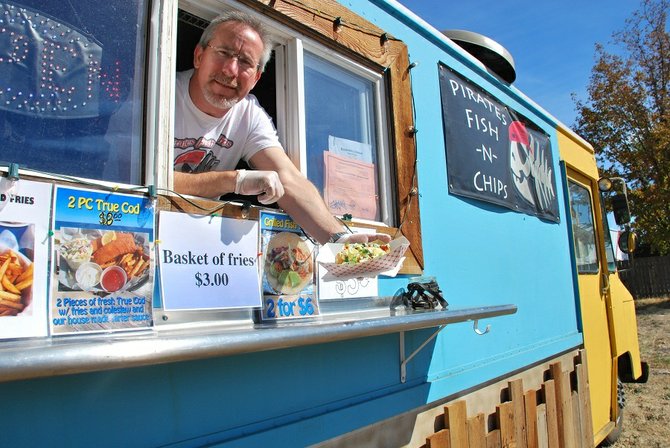 Bingen city officials have started examining how to regulate new mobile restaurants that might roll into town.
At the June 17 Bingen City Council meeting, the panel held a brief discussion on putting together an ordinance that would address food trucks. A workshop dedicated to pulling together the specifics of a food truck ordinance is scheduled for the next Bingen City Council meeting on July 1.
The council began analyzing food truck ordinances from several other cities at last Tuesday's meeting, including those from Kent, La Cen-ter, Grandview, Bremerton, and Walla Walla.
"Typically for this council we tend to pick and choose a little bit from every one. I would recommend you identify what it is you want to achieve here, whether it's just having vendors on the street or having vendors on city property," said Bingen City Administrator Jan Brending.
At the beginning of last summer, the lone food truck to appear in Bingen was Pirates Fish and Chips, which has since stopped its mobile operation in lieu of a brick-and-mortar location in Carson. The brief appearance of the food truck and the popularity of food trucks in the Portland area were reasons enough for city councilors to begin taking steps to prepare in case more decide to locate in Bingen.
Currently, mobile food vendors only have to obtain a business license and must be located on private commercially zoned property, according to Brending. A letter showing agreement between the vendor and the property owner must be provided to the city, as well.
"Some of the things we need to be thinking about are what kind of vendors we want, stationary vendors versus mobile vendors, merchandise vendors or just food vendors," said Councilwoman Isolde Schroder.
Of all the moving parts that could go into the new ordinance, where food trucks will be permitted to post up within Bingen will be one of the biggest concerns for the council. The city administration becoming a "landlord" is a venture that Bingen Mayor Betty Barnes has voiced disapproval of in the past.
"The city can designate where you want to allow them on the streets, you could say this is the only place they're going to be allowed, but I would recommend you be specific about where you're going to allow them," Brending said.