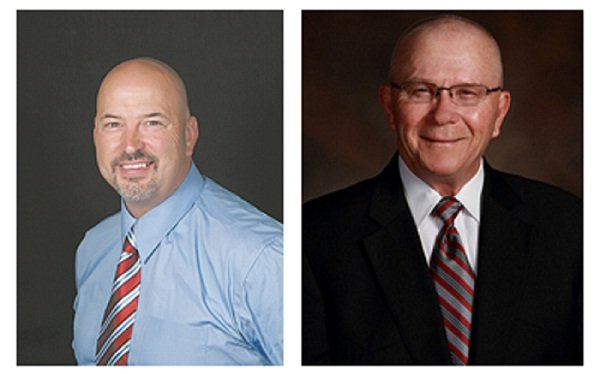 A pair of veteran law enforcers who have nearly 70 years of combined law enforcement experience have entered a wide-open race that will determine who will be Klickitat County's next sheriff.
Robert L. "Bob" Songer Sr. and Marc E. Boardman, both of Goldendale, have announced their intentions to seek the partisan office of sheriff currently held by Rick McComas, whose second 4-year term expires at the end of 2014. Both candidates list Republican as their political party of preference.
Songer is not a newcomer to the rough-and-tumble of partisan politics. He ran for sheriff of Clark County, Wash., in 1990, and lost. Boardman is making his first run for partisan office.
Songer got a head start on his opponent because he declared his candidacy and filed with the Washington Public Disclosure Commission in December 2012. The move allowed him to begin campaigning and raising funds for the upcoming primary and general election seasons. Earlier this year, Songer's contract and commission with Klickitat County as a timber/range deputy were terminated by Mc-Comas because he and county legal advisers found the contract deficient. A new contract has been negotiated and is now being reviewed by key stakeholders in the two-decades-old timber and range patrol program, according to Boardman.
Boardman, a former Washington State Patrol trooper, went to work for the Klickitat County Sheriff's Office (KCSO) last spring in the position of undersheriff. Boardman's last posting with the State Patrol was in Klickitat County. He made his intention to run for sheriff known in January during a Goldendale radio program interview.
The office of Klickitat County Sheriff pays $69,664; the filing fee is $696.64. The filing period for all Primary Election candidates runs May 12-16. The 2014 Primary Election will be held Aug. 5. The General Election is set for Nov. 4.
Why are you running for sheriff?
SONGER: I believe the Klickitat County Sheriff's Office needs to grow in a new direction to adequately address the law enforcement needs of our communities. This requires management skills that I have acquired in 40-plus years of law enforcement experience, including 141/2 years in top management. Better management will result in better use of money budgeted and personnel deployed. This will result in more deputies on the road to respond to 911 calls.
BOARDMAN: I enjoy the challenge of managing so many different responsibilities. This is my opportunity to give back to the community. I've raised my children here, I hunt and fish here. I want to preserve the peaceful, rural life that so many of us were drawn here for.

Why do you want to be sheriff?
BOARDMAN: I have made many friends in the law enforcement profession as I have attended various schools on supervision and management. The common thread seems to be the satisfaction in making things better for your family, your friends, and your community. I know I have the ability to represent our county well when I attend legislative hearings with the fellow sheriffs to protect our Constitutional rights when there are so many bent on removing them.
SONGER: I believe my blend of management and police experience, and 13 years of work as a range/timber deputy in Klickitat County qualifies me to lead the department. My administration would focus on building and maintaining a positive partnership with citizens to jointly address criminal activity countywide. I want to build mutually beneficial relationships with our law enforcement partners throughout the county. I believe a combined law enforcement effort better serves our citizens.
Did you choose law enforcement as a career, or did it choose you? What's the backstory of how you got into law enforcement?
SONGER: I chose law enforcement as a career after being honorably discharged from the United States Air Force. I focused on making my way from a skilled tradesman to a deputy sheriff in Clark County, Wash. I was attracted to law enforcement as a young man because it was exciting, interesting, and provided me an opportunity to serve my community in a way that suited me personally. The same remains true to this day.
BOARDMAN: As a child, I was influenced by a state trooper who came to my school to present a safety program. I was in awe of his personage; the command he exuded, the sharp creased uniform, and yet the kindness that he demonstrated when he would stoop to answer a question of one of my classmates. He was a gentle giant. Years later I happened to move next door to a trooper and we became friends.
What does your résumé tell people about your qualifications to hold this office?
BOARDMAN: I'm 53 years old and have served the state of Wash-ington for 28 years. I have been serving as your undersheriff for the last eight months, rarely less than 10-hour days. So, I am reliable and committed to the communities I serve. I have a 14-page list of accumulated training from my career with the Washington State Patrol, a degree in criminal justice, and a numerous commendations for excellence in investigative work. So I am well qualified as a leader and experienced investigator. I have taught numerous times at the State Patrol Academy, so I am able to impart skills germane to the law enforcement profession.

SONGER: I was a range/timber deputy for Klickitat County for the past 13 years. I have over 14 years in top law enforcement management experience. I served as undersheriff for Clark County, Wash., managing 281 employees and a $14 million budget. I served as Chief of Police in Elko, Nev., a city of 18,000. I managed 52 employees with a $3.2 million budget. It tells people I am qualified for this position.
One of you has been endorsed by the department's employees union, the other has the endorsement of the outgoing sheriff. What should voters make of these endorsements?
SONGER: The Klickitat County Sheriff's Office employees consisting of sergeants, deputy sheriffs, corrections officers, jail control board operators, administrative support personnel, and 911 dispatchers of the Department of Emergency Management voted to endorse me for sheriff. Out of 43 employees, 41 voted to endorse me. The employees based their endorsement on my 14-plus years of law enforcement administrative experience and work ethic. The employees stated "We trust Bob Songer to be the next Sheriff of Klickitat County...It is our opinion that the citizens of Klickitat County should as well."
BOARDMAN: The union membership voted before I entered the race so my candidacy was not an option back in December when that endorsement was given. I believe the Sheriff endorses me based on my years of experience in law enforcement, reputation as a man of integrity, and performance since I have been in office. I think it is important that the voters evaluate the candidates based on the currency of their credentials and demonstrated administrative skills.
If elected, what do you propose and hope to accomplish with a four-year term?
BOARDMAN: Five things: 1. Improve public and employee safety; 2. Improve technology and efficiencies within KCSO; 3. Improve service and accountability to the public; 4. Improve internal communication; 5. Increase training and personnel development. When a KCSO deputy arrives on a call they bring the tools to investigate it professionally and a calm self-assurance that begins to spread over an often chaotic situation. People should be informed, reassured, and feel safer by the time the deputy leaves.
SONGER: The Sheriff's Office is too top heavy with managers. I will cut management positions, which will allow me to put more deputies on the road. This will result in a higher degree of officer and citizen safety, and provide faster responses to 911 calls. I will establish computers in the patrol vehicles for report writing; this will increase patrol hours. I will establish a drug task force and various community policing programs
Why should voters entrust this office to you?
SONGER: I am the most qualified person to be sheriff. The job of sheriff requires management skills that I have acquired in 40-plus years of law enforcement experience, which includes 141/2 years in top management. Sheriff's Office employees and 911 dispatchers know both my opponent and I, and they overwhelmingly endorsed me for sheriff based on my qualifications and their knowledge of my work ethic for the past 13 years as range/timber deputy.
BOARDMAN: In the eight months I have been the undersheriff, I have created a Significant Cases Log to keep all personnel informed. I e-mail it to the newspapers weekly. I have successfully coordinated several multi-agency investigations. I am currently working on a mobile computer project for our patrol cars. I have visited several different community meetings, listened to their concerns and emailed responses to those who furnished their contact information. I will continually work for you.