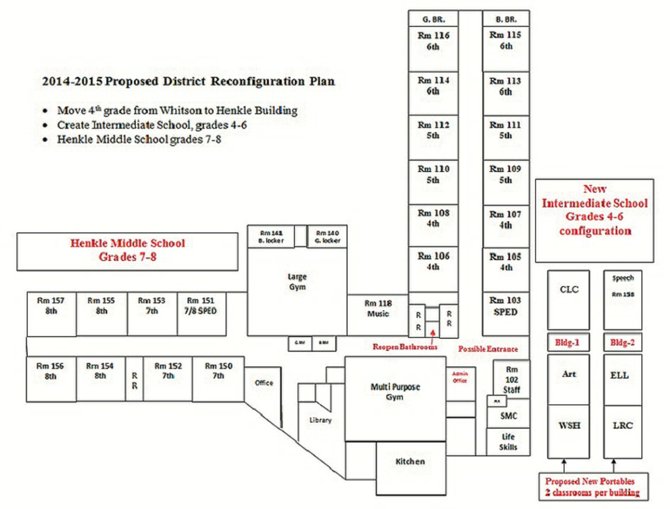 By the time the next school year rolls around the current third-grade class at Whitson Elementary School will move up as fourth graders to a new "intermediate school" that will be formed in the current fifth-and-sixth-grade wing at Henkle Middle School.
The White Salmon Valley School District Board of Directors unanimously approved that the district move forward with plans on bringing in two portables that will serve as four specialty classrooms for the new intermediate school.
It is projected that the intermediate school will be ready by Aug. 1.
"We want this to really be different. We see this as a rare opportunity to really be innovative about how our district is put together and hopefully at the end it's going to be more of a benefit to our kids," said Dr. Jerry Lewis, superintendent of the White Salmon Valley School District.
The decision to move Whitson's fourth-grade classes to the new, still unnamed, intermediate school is partially due to the district's ever-increasing enrollment. Whitson Elementary Principal Todd McCau-ley was on hand at Thursday's meeting and said his school is already "way beyond capacity."
"We are limited on our choices right now. I think of our (Commu-nity Learning Center) program as an excellent, incredible program that has a huge impact on our classroom teachers because we run it in classrooms after school and that means teachers can't be in there planning and preparing as effectively," McCauley said.
Whitson currently has 490 students, 86 of which are third-graders, according to Mindy Rude, the school's office manager.
White Salmon has seen a district-wide increase in its student population during the last three years. Last year the district projected a population of 1,120 but ended with about 1,192 students. This year, the district has 1,231 full-time-equivalent students, and those numbers are holding.
"When you have it one year you look at it as a bubble. When you see it continuing that's when it becomes a trend and we know with the industry and some of the demographic changes we've had we could see this as a trend, but this year it was a pretty significant bump," Lewis said.
The district's swelling enrollment also puts pressure on administrators who are working to cut class sizes. Lewis pointed out that the Legislature has its eye on class size reduction in the next session.
This isn't the first time Whitson's fourth grade has been moved to Henkle. In the early 1990s fourth-graders were placed in the middle school, but were moved back in a matter of years.
The Washington Office of the Superintendent of Public Instruction technically defines fourth, fifth, and sixth grades as elementary students. Board Member Paul Mosbrucker voted for the move, but said he would like to hear from any teachers who went through it once before.
"I think we are going about this much differently, I hope. There aren't a lot of staff still around to remember how it went and where the mistakes were made. I'm hoping we can maybe talk with them extensively to figure out where the problems were so we learn from our history and we don't make the same mistakes this time around," Mosbrucker said.
Lewis said an administrator would be hired specifically for the intermediate school and teachers and other staff would have to use the rest of the year to plan and prepare for the move.
The proposed and tentative plan for the new intermediate school breaks off the wing of Henkle Middle School currently reserved for fifth- and sixth-graders and adds fourth grade to the first four rooms in that hall. The two portables set to be brought in are planned to house English language learners, art, Washington state history, and a computer lab, but that could change as the intermediate school takes shape.
The two portables are projected to cost $400,000, while Lewis said building four additional classrooms would cost at least $1 million, which is not in the district's budget at this point.
Lewis said that a meeting just for parents was held last Wednesday and that a main concern was keeping the intermediate school students separated from the older students in the middle school. He added that after speaking with the district's facilities supervisor a separate entry for the intermediate school is "very doable."
Henkle Middle School Principal Mike Church said that while it is important to keep the younger students physically separated from the seventh- and eighth-graders, it can also be beneficial for younger students to be exposed to the positive activities of their older counterparts.
"You group the kids together at a time when it's good for them to grow by themselves without having the other elements there. I think we're moving in a positive direction and not just doing something to make space available," Church said.