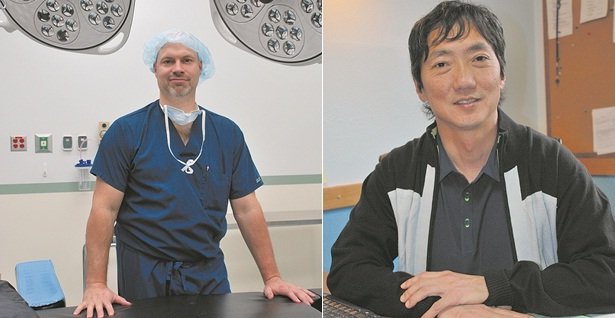 Skyline Hospital has hired two general surgeons to get to the bottom of those medical needs that require a special touch.
General surgeons tend to focus on matters pertaining to the belly from the diaphragm down, but will also take care of endoscopies, carpel tunnel, breast biopsies and mastectomies, and the list goes on. Kathleen Funk, operating room manager at Skyline, said the hospital needed to hire two surgeons to replace the one that left for a teaching position because of the variety of operations a general surgeon can perform.
"Having one general surgeon was really unique in that she took all of the calls, she did everything. She was on standby 24 hours, 365 days per year, so having a team that works together can back each other up," Funk said. "It's more typical to split it between two or three people."
The two that will be splitting the general surgery workload at Skyline are Dr. Paul Moon and Dr. Jeffrey Mathisen, both of Mid-Columbia Surgical Specialist in The Dalles. Moon holds clinics on Mondays while Mathisen holds clinics on Thursdays and the two take turns performing surgery on Wednesdays.
That might change as the patient load increases at Skyline and both surgeons will be available to assist in the emergency room from time to time.
Having the two surgeons closer to this end of the Gorge also makes a big difference.
"It's nice to be able to see your doctors and have your surgeries in the community where you live rather than have to travel long distances. A lot of what we do now is out-patient. You come in, you get it done, you go home. So it's convenient and it's easy and it's nice to just keep it local rather than having to run to The Dalles or Portland or Vancouver," Funk said.
For Moon, this is a bit of a homecoming. When he first started working in the Gorge 20 years ago he practiced in White Salmon for a short spell.
"This makes surgery available on a local basis and keeps everything coordinated between the medical and surgical teams at North Shore Medical Group and Skyline," Moon said.
This is Mathisen's first time working at Skyline and said over the years general surgery has changed for the better in that operations are less invasive and easy to recover from.
"I think it's fun and at times it has been challenging. The biggest change has been for the better, and that has been the change from big, open incisions to smaller ones that employ the use of cameras," Mathisen said. "So now patients can undergo surgery without terrible post-op discomfort and get back to normal work and recreational activities."
For Moon, general surgery is more about blending art with science, rather than taking a simple black-and-white approach.
"There's a listening aspect to helping the patient get their story out, because they're all different. All the diseases are the same, but trying to help the patient to get their story out so we can figure out what's going on is where the art and experience are very helpful," Moon said.
Funk anticipates Moon and Mathisen will have more work as the year goes on, but in their first month and a half on the job have risen to the occasion and grasped the opportunity in front of them.
"We have a unique patient mix out here and we do things a little differently sometimes. You have to be able to embrace the rural community and how people are and how things are done and adapt," Funk said. "These guys are great at that and they've been here in this area for a long time, so they're definitely familiar."