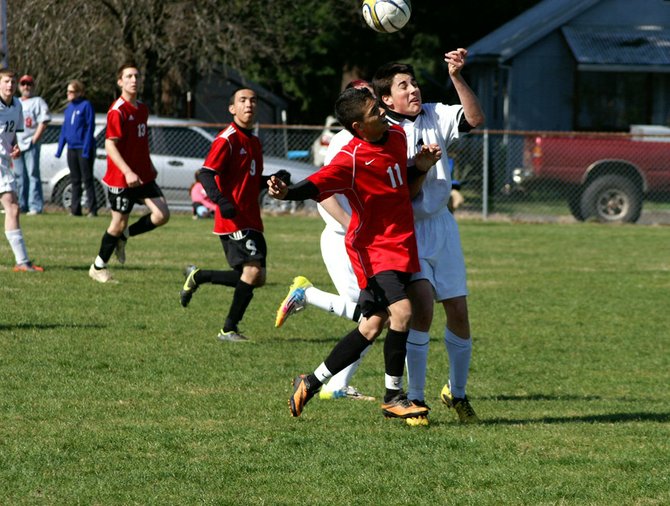 Trico League boys soccer schedules were shaken up recently with the announcement that Castle Rock is not fielding a varsity soccer team this season. Folks who show-ed up on March 17 at Bruin Stadium expecting to see the CHS varsity kick off its 2014 campaign against Castle Rock instead were treated to a friendly between the CHS jayvee and an undermanned Castle Rock side. The Junior Bruins won the match, 3-0.
Now, instead of playing 14 league matches this year, the Bruins and the other six Trico teams will play 12 (two per opponent) in the lead-up to the Southwest District Class 1A playoffs in mid-May.
Early results in conference play reveal that it will be a very competitive season in the Trico League this spring.
**
The Seattle Mariners made several off-season moves in their bid to compete for the American League West Div-ision title in 2014.
Seattle's biggest acquisition was the signing of All-Star second baseman and former Yankee Robinson Cano to a long-term deal.
The Mariners also brought in first basemen Corey Hart (formerly of Milwaukee) and Logan Morrison (Miami) to replace last year's most productive offensive player, Kendrys Morales, who opted for free agency rather than resign with the Mariners.
Cano gives Seattle a legitimate No. 3 hitter who can hit for power and has been one of the league's top run producers in recent years. Cano will hit, but will anybody else?
Dustin Ackley, Brad Miller, and Nick Franklin are having productive spring training at -bats so far. A bounce back from Ackley, a former first-round draft pick who finally appears to be figuring things out at the plate, would be welcome.
Finding at-bats for Miller and Franklin, who play the same middle infield positions, will be a challenge for new manager Lloyd McLendon, but it's a nice problem to have: two talented players with some offensive upside.
Third baseman Kyle Seager is turning into a decent everyday Major League player. Back-to-back 20 home run seasons have solidified Seager's position in the lineup for the time being.
The starting staff could be the team's strength. Felix Hernandez and Hisashi Iwakuma return at the top of the rotation. Add in exciting youngsters Taijuan Walker and James Paxton, and veteran Randy Wolf, and Seattle's starting pitching looks a whole lot better (at least on paper) than it did a year ago.
Of course, we've seen this all before from the Mariners, who've become pretty good at disappointing their fan base over the last decade.
But, hey, it's spring, the season in which hope springs eternally, right?
**
Tuesday's Trico League baseball and softball double-headers between CHS and Castle Rock were postponed due to the threat of rain. The teams were hoping to get the games in on Wednesday.