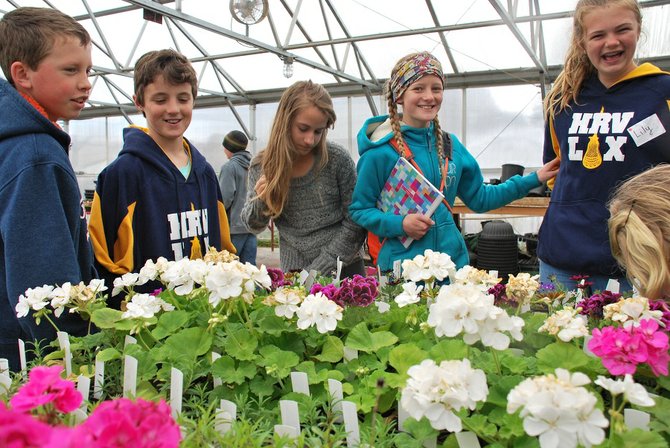 Students from multiple schools on both sides of the Columbia River got to learn about everything from sheep shearing and wool spinning to composting and garden planting at the Garden Symposium at Columbia High School on Earth Day.
This is the second year of the Cascade-Mountain-School-sponsored symposium, which consists of student-led workshops and presentations meant to inspire students to learn about gardening and where food comes from.
In the spirit of Earth Day, every participant walked away with a Douglas fir seedling to plant afterward and learned about the removal of the Condit Dam and the restoration effort some CHS agriculture and FFA students have taken part in.
Jeanette Burkhardt, watershed planner with the Yakama Nation Fisheries Program, went over the Whole Watershed Restoration Initiative, which is restoring a little less than three acres of land that was one the reservoir formed by the Condit Dam.
"The goals of our project are to reestablish native shrubs and trees, reintroduce culturally important plants, and to involve community to promote the ongoing stewardship of the basin," Burkhardt said.
After going over the history of the Condit Dam and its removal in 2011, Burkhardt went over the return of salmon to the river after almost a century.
"It's a unique environment. It's very diverse and salmon is a keystone species that's important to a lot more than just fishermen. There are over 100 species that rely on salmon for part of their lifecycle and there are ecological processes that are being restored because the dam is out and we need to have wood in the river to provide habitat," she said.
Through the Whole Watershed Restoration Initiative, CHS students and other members of the community have helped plant about 7,400 trees and shrubs with hopes of re-vegetating the now-exposed soil that was underwater for almost 100 years.
While there have been some failures, Burkhardt said that it was expected that at least half of the trees planted would die when working in such a severe environment.
"We're planting things that can handle those harsh conditions, plants that can survive in this really disturbed environment," she said.
Outside of the presentation about the restoration effort following the Condit Dam removal, students from Hood River Valley High School and middle school, Stevenson High School, The Dalles High School, the Corbett CAPS Program, and the Carson Nazarene After School Farm got to tour the CHS land lab, see a sheep shearing demonstration, learn about how wool is spun into yarn, and learn about composting and gardening. Later in the day students held presentations on gardening, aquaculture, riparian zones, and growing Moringa oleifera.