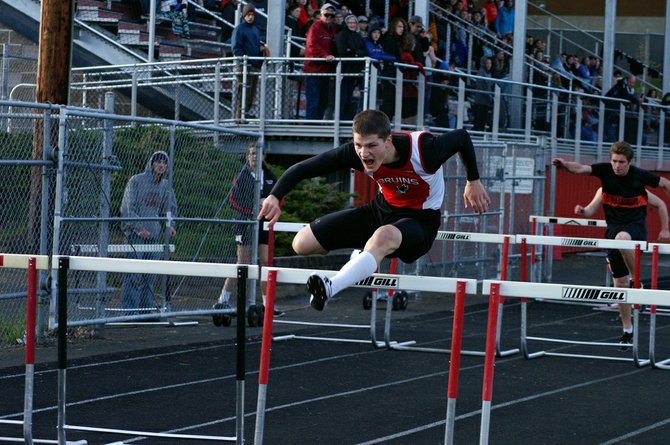 Last Friday's 22nd annual Bruin Invitational Track and Field Meet provided the setting for a number of outstanding performances by Columbia High athletes.
Top performers on the day included:
--Senior Nathan Bell, who set a new school record in the boys 300-meter hurdles of 40.10 seconds;
--Personal records (PR) for CHS's girls 4x200 relay and boys 4x400 relay;
--Sophomore Deven Jac-obs, who established a new PR in the long jump by more than 2 feet;
--Senior Claudia Cortez, who ran to victory in both the 800 and 1600 runs.
Said Bruins Coach Doug Miller of the CHS teams' combined efforts, "It was our best showing of the season. Period. Everyone came and competed hard."
The Columbia High girls won their half of the meet with 212 points, as they scored in nearly every event.
Cortez, for her part, set a PR in the 800 and posted her fastest 1600 time of the spring.
Senior Kirstin Hylton placed first in the shot put and javelin; Junior Savannah Story finished first in the 300 hurdles and the long jump (season-bests in both events); and sophomore Claire Anderson sprinted to victories in the 100 and 200 dashes.
The Bruins also scored first-place points in the 3200 run (sophomore Aidan Liddiard) and the high jump (sophomore Lauren Thiesies.)
"Our girls absolutely dominated that meet, nearly doubling the next best team and after competing with numerous teams, two of which are 2A," Miller said, and added, "I can't remember a meet in which we dominated the opposition so admirably. We have done it before with others, but it's been nearly 15 years."
The girls 4x200 relay broke 1:50 for the first time this season, finishing first on Friday in a time of 1:49.74.
"That puts them high in the state's top-five ranking and, with the other two relays, is coming together nicely," Miller noted.
The CHS girls, he added, have a well-stocked line-up, from throwers to sprinters, to jumpers. "Although there are only a handful of state-level girls, they are spread around the arena nicely."
Bell earned the meet's Most Valuable Boy award and helped the CHS boys place third in final team standings, thanks to his wins in the 300 and 110 hurdles, and a second-place time in the 200. He also ran a leg for the victorious 4x400 relay that cut its time from 3:38.00 to 3:35.24.
"Nathan's breaking a decade-long record in the 300 hurdles was awesome," Miller said. "He works so hard and is so deserving of this new record. His hard work demonstrates how it pays off."
Bell broke the record of 40.23 held by Levi Miller, who surpassed Landry Milnes' previous standard of 40.3 in 2003.
Just before the final race of the meet, Miller said he told Bell's 4x400 relay running mates, junior Isaac Bell and sophomores Ulices Isordia and Shawn Tardiff, that the senior was played out after running the 200, and that they owed it to their captain to get him a first.
"They went out and provided outstanding split times to make that happen for him and themselves," Miller said.
Columbia's head coach also praised Tardiff, who clocked a new PR in placing second in the 400 and raised his state profile in the sprinting event.
All in all, Miller saw plenty on Friday to lead him to a reassess CHS athletes' talent and potential for the post-season.
"My guess at the beginning of the season was we'd only take a dozen to state. That number has doubled by mid-season," Miller said.
Coming up: CHS hosted its final home meet of the season on Wednesday, April 30.
On May 2, the Bruins are at the Panther Twilight Invitational at Washou-gal High School. The eight-team meet will get under way with field events at 5 p.m.
Columbia's final meet of the 2014 regular season will be a 1A Trico meet at Kalama High School next Wednesday, May 7.
Post-season qualifying begins May 16 at the sub-district meet at Stevenson HS.