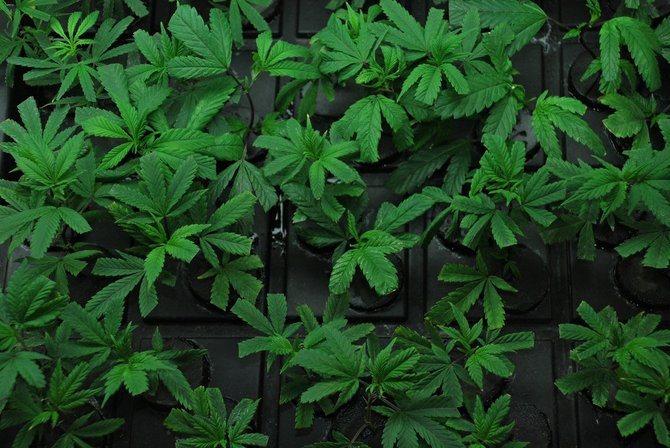 Klickitat County's first licensed marijuana production and processing facility is officially up and running.
W.O.W. Weed received its license from the Washington State Liquor Control Board to grow and process up to 7,000 square feet of marijuana plants in mid-April. The operation is the first of its kind to be licensed in Klickitat County and one of 17 producers and 16 processors in the entire state of Washington to successfully navigate the application and inspection process.
Susy Wilson, who established W.O.W. Weed, and her two partners have requested the location of their facility not be published for security reasons.
A self-described "warrior for legalized cannabis," Wilson said that while she consumes marijuana on a regular basis and holds a medical marijuana card, she didn't try it until she was almost 30 years old.
At first, she had no interest in even starting her own business under the voter-approved Initiative 502, which legalized the recreational sale of marijuana for adults in Washington. Then she realized the significance of what was happening in her home state and Colorado.
"I've consumed on a regular basis and I'm a very active and capable person and it never affected my life in any way, shape, or form, except in a positive way, in my mind," Wilson said. "I want to grow marijuana and I don't want to have to look over my shoulder. I feel like this is an amazing historical event for anybody that's been involved in this fight for a long time and I'm so excited to be part of it."
As much as she has been anticipating the day she would be able to grow her own marijuana, process it, and sell it to retailers, Wilson said her application process was not all smooth sailing, though according to her it was easier than the ordeals of other applicants she has spoken with.
Wilson said she was lucky in that the investigator assigned to W.O.W. Weed communicated with her on a semi-regular basis, but that she was in the dark for much of the application process. One of the most important criteria applicants have to meet is having a location to list, so Wilson and her partners got to work on renting a building, rewiring it, purchasing lights, soil, scales, insurance, and the rest of the equipment necessary all before they knew whether or not they would be granted a license.
Their attention to detail eventually paid off for a total cost of $62,000 to get their operation to meet the Liquor Control Board's standards.
"Our investigator told me the only way to get your license is to move forward and to be ready, so we took that to heart and were ready. We spent our money and were ready," Wilson said.
Wilson and her partners obtained the building that houses W.O.W. Weed in December. Now it holds a grow operation that consists of 66 varieties of pot of all sizes, including Maui Wowie, Northern Lights, Bubba Kush, Orange Crush, Skunk, and more.
Wilson moves about her plants, which she affectionately refers to as her "girls," watering and pruning where necessary and will soon move them to the 10,000 square foot outdoor area, though she will stick to only growing the capped 7,000 square feet of plants allowed under I-502.
It's a labor of love that is ongoing and won't pay off until retailers begin opening their doors, though money wasn't her main inspiration for getting into the business of growing and processing marijuana.
"I know there's a lot of money in this and I know we're going to make a lot of money doing this, but that's not the big deal for me. The big deal for me is to be able to grow this miraculous plant," Wilson said.
Now that her business is up and running, Wilson hopes to help other I-502 applicants get through the Liquor Control Board's investigation process. While her own application was finally pushed through, she has heard from other applicants that investigators have had little, if any, communication with them throughout the process and that what one investigator might require of one applicant might vary to the next.
Wilson said she is willing to share the route she took to obtain a license with anyone who needs help, including her business or operations plans she submitted. She also hopes to one day establish a Klickitat County growers' association.
"My feelings are that information is to be shared and the better this rolls out for each one of us individually the better it rolls out for all of us and the whole state and in turn for legalization across the country," Wilson said. "If it's all just totally messed up from the beginning it's not going to look so well to the rest of the country that's looking to Colorado and Washington as examples for this."
The Liquor Control Board is currently in the process of not only investigating and either approving or closing applications for processors and producers, but also held a lottery for those who submitted retail license applications last week. I-502 limited the number of retail pot shops throughout the state to 334.
Based on Klickitat County's population, the Liquor Control Board will allow four total marijuana retail outlets with one in Goldendale and three "at large" shops in the rest of the county. Eight applications were listed for retail marijuana shops in Klickitat County, three of which are for locations in Bingen, two for White Salmon, two for Goldendale, and one for Lyle, according to the Liquor Control Boards list of applicants.
Mikhail Carpenter, spokesperson for the Liquor Control Board, said retailers started being notified of the results of the lottery on Monday and that a list of results would be posted on May 2.
"It's not as easy as pulling names out of a hat," Carpenter said.
As for any ambiguities regarding the licensing and investigation process, Carpenter said the Liquor Control Board received a little less than 2,200 retail applications in the beginning, 744 of which were withdrawn for not submitting the required documentation and 252 were deemed ineligible for the lottery because they did not meet certain portions of the law, like passing a criminal background check or being at least 1,000 feet from parks, schools, and other areas young people might gather.
"There are no differing criteria. All licensees are required to submit the same documentation. We set requirements each licensee much meet to receive a license and it is their job to obtain that information," Carpenter said.
Elizabeth Hallock, a lawyer in White Salmon, was one of the applicants who received a rejection letter prior to the lottery occurring for the retail operation she hoped to open in Longview. Hallock went to Cowlitz County Superior Court last week to ask that the lottery pertaining to Longview be put on hold until she is able to appeal her rejection.
On Friday, the court ruled that no further lottery pertaining to marijuana retail licenses would be held for Longview until Hallock's hearing on May 7.
As retailers hold their breath in anticipation of lottery results, licensed growers and processors like Wilson will continue to maintain their plants and wait until there are businesses that can actually purchase the product they've so carefully tended.
"We're at the first part of this historic process and it remains to be seen, but I do believe once the doors are opened for retail shops they'll never be able to close them. I don't think citizens of the United States will let that happen after this. We just have to get there first, and that's going to be the toughest thing at this point in time," Wilson said.