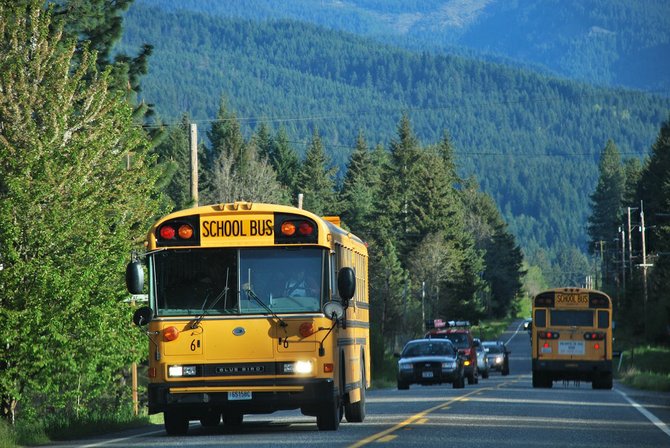 A swarm of officers were on the lookout for those who commit stop-paddle violations in the White Salmon and Husum area last week as part of Operation S.A.F.E.
Stop paddle violations occur when a motorist goes around a school bus from behind or drives past from the front while the red lights are flashing and the stop sign on the driver's side is extended. It is illegal to pass a bus if it is going the same direction or to drive past it if it is in the opposite lane while the bus is loading or unloading students and doing so can carry a $394 fine.
One motorist will be paying a ticket in that amount after Thursday's two-hour sweep by officers with the Washington State Patrol, the Bingen-White Salmon Police Department, and Klickitat County Sheriff's Office. Eight officers participated on Thursday making 35 stops resulting in 10 tickets, one of which was for a stop paddle violation.
The surge in law enforcement on Thursday is all part of Operation S.A.F.E., or Speed, Aggressive Driving, Fail to Stop, and Enforcement. Operation S.A.F.E. began in 2013 after the Washington State Patrol Commercial Enforcement Bureau and Field Operations Bureau noticed an uptick in reported stop paddle violations throughout Washington.
There have been 26 stop paddle violations reported by bus drivers within the White Salmon Valley School District since October of this school year, according to Washing-ton State Patrol Trooper Mike Wells. That's more than the last two years combined.
"This year there has been a huge increase in violations in this area," Wells said.
That increase in reported stop paddle violations might be due to efforts by Susan Tibke, transportation director of the White Salmon Valley School District. Earlier this year she instructed her drivers to note as many specific details about violators as possible.
In a previous one-day survey of stop paddle violations in 29 states 85,279 instances of motorists passing buses either loading or unloading students were reported. Of those, 1,523 occurred in Washing-ton State with 32 motorists passing the bus on the right side.
The problem is even when reported many stop paddle violations do not result in tickets because bus drivers are unable to collect all of the information necessary about a violator's car. A matching description and license plate number of a speeding vehicle can be difficult to obtain when a driver is watching out for a student's safety.
"The unique thing about Washington's law is that the law enforcement officer does not have to see the infraction, there just has to be enough information from a bus driver's testimony," said Washington State Patrol Sgt. Nate Hovinghoff.
When the fleet of various cop cars and even a motorcycle-bound officer took to the streets on Thursday the group kept watch for not only stop paddle violations, but also moving violations or aggressive driving. Tibke said most of the violations her drivers report occur on State Highway 141 near Husum.
White Salmon Valley School District Superintendent Jerry Lewis said while buses throughout the district are outfitted with cameras both inside and outside of the vehicle, it is still difficult to make out license plate numbers and vehicle descriptions just by looking at the video.
"What we're really monitoring is the very front of the bus and then there are two looking at the kids inside and another two outside," Lewis said.