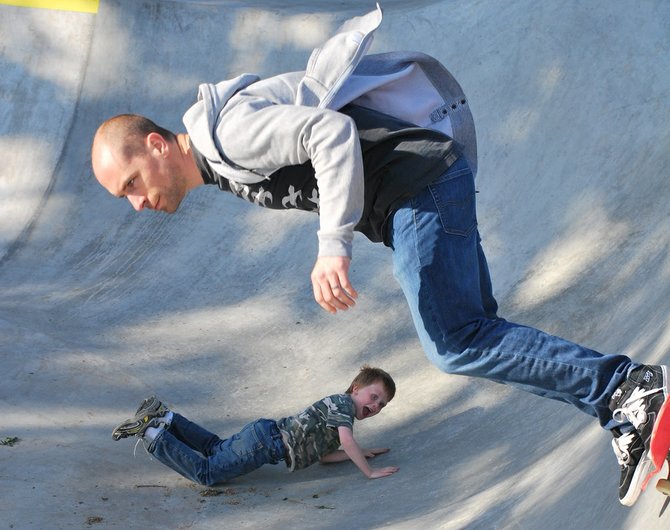 The scene at the Bingen skate park was joyous as kids of all ages skated, scooted, and explored the new addition that was finally declared complete last Tuesday.
Bingen Mayor Betty Barnes, current and prior members of the Bingen City Council, and others participated in a ribbon cutting before last week's city council meeting. Grindline Skateparks, of Seattle, had a presence at the ribbon cutting in lead designer Micah Shapiro, who dropped in for a quick ride.
It was the culmination of a process that has been in the works since 2009 when the design phase of the first half of the skatepark began. Construction on phase 1 of the park began in September of 2010 and wrapped up later that year, according to Bingen City Administrator Jan Brending.
By the end of the whole construction process, both phases of the Bingen skatepark come to $377,888, of which 57 percent came from city funds, 23 percent from donations, 11 percent from fundraisers, and 9 percent from grants, according to Brending.
All told, phase 1 came to $156,222, of which $136,222 came from the City of Bingen and $20,000 from a grant through Klickitat County. Design costs, which covered phase 1 and part of phase 2 came to $31,875.
Construction of phase 2 of the skatepark began in September of 2013. Cold, wet weather during construction held up the landscaping process, but officially wrapped up by the end of April.
The total cost of phase 2 came to $189,791, which came from multiple sources, according to Brending.
The largest chunk came from cash donations, which totaled $88,092 all for phase 2. Donors who contributed $5,000 or more include Insitu, SDS Lumber Company, White Salmon-Bingen Rotary, Innovative Composite Engineering, Mary Hoyt Stevenson Foundation, John and Laura Cheney, and Stevenson Family Trust, according to Brending.
The city paid for $46,339 and fundraisers brought in $40,360. A grant through the Tony Hawk Foundation provided $10,000 and another via the Firstenburg Family Foundation provided $5,000. Multiple other donors provided donations of $1,000 or less.