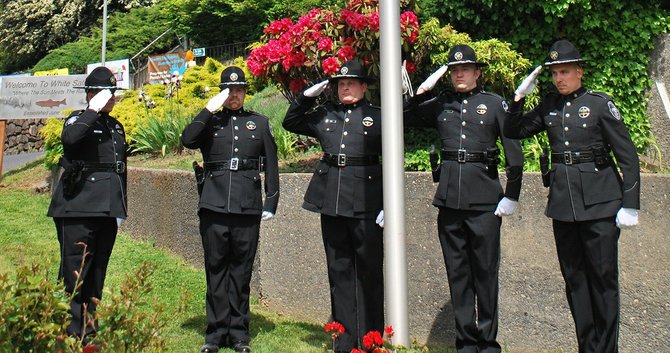 Law enforcement officers from across the Columbia River Gorge and members of the Bingen and White Salmon community gathered at Fireman's Park last week to honor those who protect, serve, and some who have made the ultimate sacrifice to do so.
Peace Officers Memorial Day and Police Week have been observed since 1961 and the White Salmon City Council passed a resolution to honor law enforcement officers throughout the week of May 11 to 17 and those who have fallen in the line of duty especially on May 15.
After an invocation and welcome by Chaplin Jamie Adams during last Thursday's ceremony, White Salmon Mayor Dave Poucher read the proclamation passed by the city council during their May 7 meeting.
"Whereas, it is important that all citizens know and understand the duties, responsibilities, hazards, and sacrifices of the law enforcement agencies and that members of the law enforcement agencies recognize their duty to serve the people by safeguarding life and property, by protecting them against violence and disorder, and by protecting the innocent against deception and the weak against oppression," Poucher read.
Following the reading of the proclamation, Skamania County Sheriff Dave Brown spoke to the small crowd of law enforcement officers, public officials, and community members about the responsibilities they share and remembering those who have lost their lives.
"It is an honor and privilege to speak before you today on behalf of the law enforcement community of the Columbia River Gorge," Brown said.
During his comments, Brown read from a speech made by Ohio State Supreme Court Justice Judith Ann Lanzinger during Peace Officers Memorial Day in 2011.
"We often forget to thank our good officers until circumstances force us to acknowledge how important their gift of service is. When a peace officer is killed, as the verse states, 'a part of America dies,'" Brown read. "In such a tragic event some of us stand up and take notice. We recall the risk. We remind ourselves that random violent acts can rip the heart from a family at any time. That bullet or knife or car or fist might bring down a defender of the law and order at any time. In a sense, they've made themselves targets, for as law enforcement they're expected to be there in the midst of violence."
Following Brown's remarks, Bingen-White Salmon Police Chief Tracy Wycoff read the names of the 14 law enforcement officials from across the Columbia River Gorge who have died in the line of duty. The Skamania County Sheriff's Office Honor Guard also conducted a salute as the flag was lowered to half-staff while TAPs was played by Stevenson High School student, Nicholas Heuker. A rendition of Amazing Grace performed by Columbia High School student, Justin Ellis, followed.
For each name read, a bell was rung.
The names are as follows:
Indian Agent Andrew J. Bolon, Tribal Police
End of Watch: Sept. 23, 1855
Cause of Death: Assault
City Marshall Charles H. Keeler
The Dalles Police Department
End of Watch: Sept. 5, 1867
Cause of Death: Gunfire
Town Marshal Ralph Gibons
The Dalles Police Department
End of Watch: May 7, 1919
Cause of Death: Gunfire
Trooper John Gulden
Washington State Patrol
End of Watch: Dec. 22, 1942
Cause of Death: Gunfire
Trooper Delmon Rondeau
Oregon State Police
End of Watch: April 25, 1947
Cause of Death: Gunfire
Trooper Leroy H. Spickerman
Oregon State Police
End of Watch: Jan. 17, 1948
Cause of Death: Vehicle Crash
Deputy Robert E. Forrester
Wasco County Sheriff's Office
End of Watch: Aug. 30, 1961
Cause of Death: Drowning
Deputy Arthur Wayne Skaar
Skamania County Sheriff's Office
End of Watch: June 13, 1966
Cause of Death: Gunfire
Control Officer Joseph A. Modlin
Washington State Patrol
End of Watch Aug. 15, 1974
Cause of Death: Struck by vehicle
Deputy Danny Kerr Vaughn
Klickitat County Sheriff's Office
End of Watch: Nov. 19, 1976
Cause of Death: Drowning
Deputy Douglas E. Smith
Sherman County Sheriff's Office
End of Watch: Aug. 27, 1978
Cause of Death: Auto Accident
Deputy Michael J. McNabb
Klickitat County Sheriff's Office
End of Watch: April 17, 1986
Cause of Death: Vehicular homicide
Officer Rod Henry
Columbia River Inter-Tribal Fisheries Enforcement
End of Watch: Sept. 14, 1988
Cause of Death: Struck by train
Sergeant Peter D. Garland
Klickitat County Sheriff's Office
End of Watch: July 18, 2007
Cause of Death: Vehicular homicide