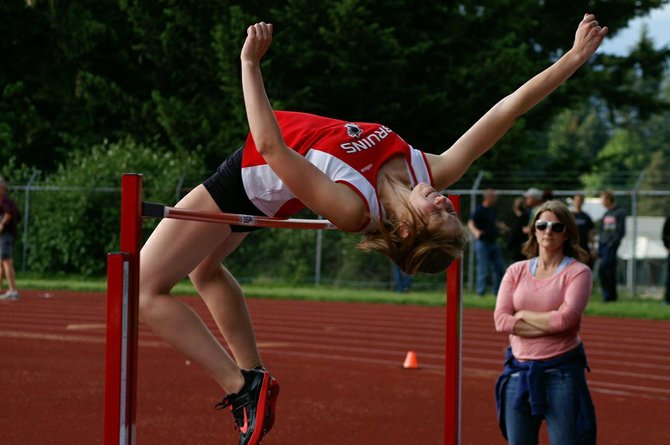 At least 14 Columbia High athletes will be making the trip to Cheney today for the WIAA Class 1A Track and Field Championships on Friday and Saturday at East-ern Washington University.
State qualifiers at last Friday's Southwest District Class 1A meet in Vancouver were senior Nathan Bell in the 110- and 300-meter hurdles, and the 4x400 relay; senior Claudia Cortez in the 800 and 1600 runs; senior Kirstin Hylton in the shot put; junior Savannah Story in the 300 hurdles and 4x100 and 4x200 relays; junior Sofia Terner in the 100 and the 4x100 and 4x200 relays; sophomore Stacia Bell in the discus; sophomore Shawn Tardiff in the 400; senior Mariah Rawding in the 4x 100 and 4x200 relays; and sophomore Claire Anderson in the 4x100 and 4x200 relays.
Junior Isaac Bell, sophomore Ulices Isordia, and freshman Aidan Trummel also are going to state, as members of the CHS boys 4x400 relay. That relay established a personal record (PR) last Friday, coming in fourth in 3 minutes, 30.67 seconds.
Columbia's lone district champion this season was Cortez. She won the 1600 in a rout, finishing nearly 9 seconds ahead of the runner-up, and took third in the 800, coming in nearly 3 seconds behind the winner.
Nathan Bell established a new school record in the 300 hurdles, placing second in 40-seconds flat to break his own mark set earlier this season at the April 25 Bruin Invitational by .10 seconds. His time in the 110 highs was also a personal record (from 15.19 to 15.13).
Terner also tallied a PR last Friday, running fourth in the 100 dash in 13.11 seconds. She notched her previous PR of 13.18 on May 2 at the Pant-her Twilight Invitational in Washougal.
Stacia Bell set a new PR in the discus by 2 inches, placing third with a throw of 107 feet, 5 inches.
Thieisies was 4 inches off her PR of 5-2, but matched the mark she achieved at the 2013 district championships (4-10) to earn a second consecutive trip to state.
Both girls relays posted PRs at the district meet. The third-place 4x100 relay bettered its time by .12 seconds, from 51.81 to 51.69. The 4x 200 relay claimed second place with a time of 1:47.57. Its previous best time was 1:48.28 set three weeks ago at the Panther Twilight Invitational.
Coming up: The state meet begins on Friday, at 9 a.m. The last event on Saturday is set for 4:40 p.m.