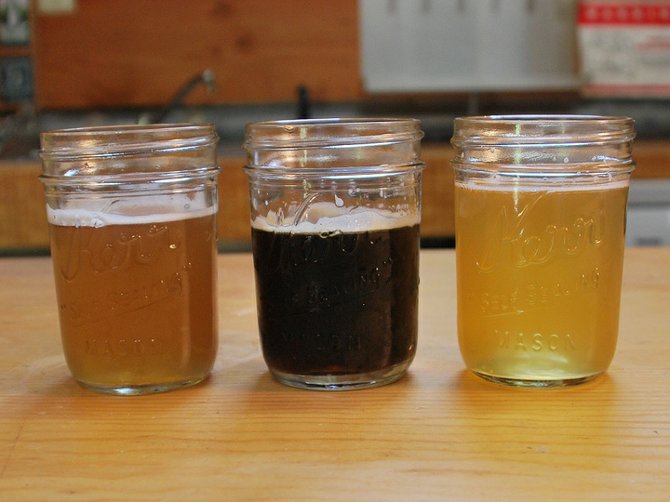 Like every other farm in the history of farming, Acadian Farm in Carson grows vegetables.
Berries and every variety of vegetable found on the typical farm can be found in the gardens at Acadian Farm, but there is one defining factor that makes it stand out.
That factor would be beer.
Benton and Nicole Bernard moved to the northwest in 2007 and established a small garden at their cozy homestead off of Carson Creek Road in 2008. A carpenter by trade, Benton had plenty of work in his home of New Orleans, La. following Hurricane Katrina, but after two years it was time to switch things up and move closer to Nicole's parents.
"We stayed for two years after Katrina and he did a bunch of contracting and renovating houses and we just wanted a change. Plus, my parents live right over that hill," Nicole Bernard said, indicating one of many hills surrounding her farm.
One winter, when things on the average farm slow down, Benton expressed a certain level of boredom that comes with not being able to work in the dirt around a frosty farm, so beer making seemed like the perfect activity to pass the winter months.
That was about four years ago. Today, the Bernards have a small tap room on their property with a sundeck and picnic tables attached. Up to five beers are usually on tap with an Indian Pale Ale, Porter, and a Pale Ale as the regulars, but Benton made the decision to branch out and try something new with Belgium and Farmhouse styles, like the Saison currently on tap.
Just because he wants to experiment with his beers doesn't mean he's willing to expand his operation, however.
"We would like to obviously grow in sales, but stay at this physical size. Everything we do is pretty small scale, so I couldn't imagine us doing anything on a big scale," Benton said.
Acadian Farm has had a community supported agriculture (CSA) program for the past few years, but the Bernards decided to let it go this year in lieu of making more beer.
Help around the farm and brewery has been on hand via friends and World Wide Opportunities on Organic Farms, but for the most part it's just been Benton and Nicole.
The taproom just reopened on May 2 and will likely remain open Fridays from 4 to 8 p.m. and Saturdays and Sundays from 2 to 8 p.m. through early October.
A little bit of color might be added to the mix at Acadian in the near future.
"My friend Molly is going to start planting flowers here. She has a little garden, so we're going to start trying to make this a little more flower friendly, as well," Benton said.
As a farm-slash-brewery, the Bernards and their tiny daughter and infant son, enjoy a unique lifestyle that Benton says is similar to that of Agrarian Ales, the hop farm and brewery in Eugene, Ore. Despite the amount of work, trial and error, blood, sweat, and tears that goes into the lifestyle they've made for themselves, the day-to-day on Acadian Farm is appreciated by its occupants, whenever they get the chance to breathe, that is.
"It seems like Heaven sometimes when you get a break," Benton said.