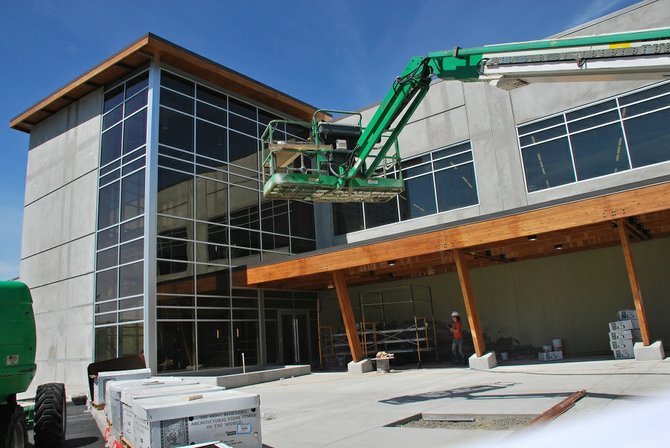 In a matter of days, Insitu employees will begin moving into the nearly complete Eagle Point.
A year in the building, Eagle Point is the 127,525-square-foot production facility and office space Insitu broke ground on last July. The first employees are set to start using the new building at the Port of Klickitat as of June 16.
Scott Pimley, Insitu's director of facilities management, hopes by Aug. 11 all of the employees from the multiple buildings that will close after Eagle Point is up and running will be moved in. The new building consolidates many of Insitu's facilities that are currently spread throughout the Gorge.
"By this time next year we'll be down to 11 buildings from 19," Pimley said.
Eagle Point has the capacity for 180 employees. A ribbon cutting and open house is scheduled for Thursday, June 12, at 1 p.m.
Until then, the final touches have to be put in place. The building was recently painted, accents of rock were fitted into place, and a "living roof" made up of succulents was placed near one of the south-facing windows.
As of last week work was still being wrapped up on landscaping, installing security card readers, and multiple other small projects that will be complete by the ribbon cutting.
"It won't all happen before June 2, but a lot of it will be done by June 11," Pimley said.
All in all, Eagle Point is difficult to miss on the Port of Klickitat. Its concrete façade and the lobby consisting of huge windows along the Columbia River is easy enough to pick out from the Oregon side and coming down the hill from White Salmon the building as a whole is distinguishable if only due to its size compared to the nearby Custom Interface and Zepher buildings.
Massiveness aside, Eagle Point also gained the silver certification under the standards set by the U.S. Green Building Council's Leadership in Energy and Environmental Design (LEED) program. A silver, gold, or platinum LEED certification depends on the amount of points a facility obtains by meeting prerequisites under certain categories, like materials and resources, water efficiency, indoor environmental quality, and more that promote the creation of a "green" building.
To obtain the silver LEED certification, Eagle Point needed between 50 and 59 points. Outdoor LED lighting, reclaimed wood on portions of the walls inside, designated parking spots for energy-efficient vehicles, and the building's web-based control system for heating and cooling all contributed to obtaining the LEED certification.
Going for gold or platinum would have been nice, but given the location of Eagle Point meeting some of the prerequisites, like providing access to a variety of public transportation, just wasn't possible.
"LEED is primarily set up to be in cities. Out here in the country, so to speak, it's hard to get LEED silver, LEED gold, or LEED platinum," Pimley said. "We were hoping to go for gold, but do we have a bus stop here? No, we don't have mass transit in this area, and that's how you get points."
The east end of the new building will serve as shipping and receiving with 5,000 linear feet of pallet racking and about 4,500 linear feet of small piece storage. The east end of Eagle Point is also where the new material management system is located.
"If you have any broken recycle products it gets stored here under lock and key and is then shipped to an appropriate location. The recycle program has reduced our waste by almost 60 percent," Pimley said.
Moving on from shipping and receiving is the production floor, where ScanEagle and Integrator will have separate product lines and a new kitting system that will allow workers on the production floor to build a plane only when it is needed.
"They'll only build it when they receive an order. Right now they don't have that system set up, so they'll have 50 planes set out on the floor in various stages of being built," Pimley said. "We're trying to streamline the process."
The west end of the building consists of engine test cells and to the front the naturally lit lobby boasts an incredible view of the Columbia River. Upstairs, 20,000 square feet is dedicated to offices and conference rooms.
That's also where the "living roof" and a breezy covered deck that also boasts a sweeping view of the river can be found. Below, a barbeque area is set to go in next to the employee cafeteria.
And the cost for such a building? Pimley can only admit that it's "a substantial investment in the community."
"It's more than your local cup of coffee," he said.