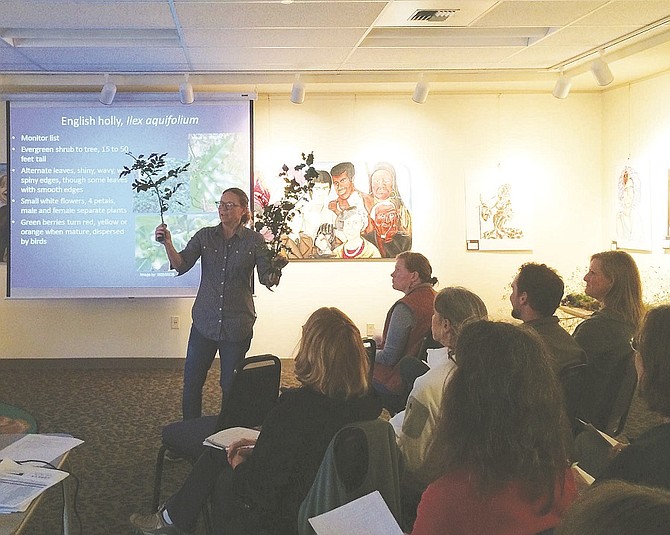 The Pacific Northwest Invasive Plant Council (PNW-IPC) held an Identification, Early Detection and Reporting (EDRR) Training session last Saturday at the White Salmon Public Library to inform citizens about invasive plants and how to manage them. The event was sponsored by Don Hardin of the Suksdorfia Chapter of the Washington Native Plant Society (WNPS) and Columbia Gorge Cooperative Weed Management Area (CWMA). Dr. Julie Combs presented the training session with the help of Emily Stevenson from Skamania County's Noxious Weed Control Board (NWCB), and Marty Hudson of Klickitat's NWCB.
Dr. Combs earned M.S. and Ph.D. degrees in invasive species and rare plant ecology and management from the University of Washington. She was awarded an NSF IGERT fellowship as a doctoral student and traveled to South Africa, China, and Chile to work with world renowned researchers on ecosystem services management, invasive plants, and plant-pollinator ecology. She has published her research in highly respected journals such as Ecological Applications, American Journal of Botany and in the American Naturalist. She has taught numerous courses related to ecology conservation and management at the University of Washington and has broad teaching experience in the field of conservation, ecology, and botany. This is her fourth year directing the PNW-IPC EDRR Citizens Science Program for the PNW-IPC.
The PNW-IPC is a nonprofit organization that was formed in 1993 with a mission "…to protect the Pacific Northwest's land and waters from ecologically-damaging invasive plants through scientific research, education, policy and an on-the-ground citizen science monitoring and eradication program," which is stated in the organization's mission statement. The organization sets out to "…facilitate communication, research and promote the exchange of information regarding all aspects of invasive plant management, control and status." Those who attended the training session in White Salmon ranged from experience botanists to general plant enthusiasts, and curious hikers wanting to help maintain and protect native ecosystems.
The idea behind EDRR training is to inform the public about an issue they can participate in managing. Emily Stevenson put it into perspective for everyone there when saying "weeds know no boundaries," and describing the best form of protection for natural ecosystems as prevention. Hikers can see an example of this method when touring trails in the Columbia Gorge as boot brushes. To prevent the spread of invasive weeds hikers and pedestrians are encouraged to scrub their boots against the placed brushes before and after hiking trails, in order to knock-off any stay seeds or plant remnants.
Dr. Combs stressed the importance of volunteers for the organization, with more "boots on the ground," the chance of finding invasive plants, and increases with each volunteer. In order to control nonnative populations the organization has a system for volunteers to report found specimens by first submitting a PNW Invasive Species Council EDRR Survey Form. Once this form is submitted it's reviewed by either Dr. Combs or another PNW-IPC member, and is both confirmed and published for public assess or corrected. But before submitting this form the participant must sign a document declaring their intention as a volunteer for the organization.
The remainder of the course consisted of learning about the 27 invasive species listed for volunteers to prioritize when surveying in National Forests and on public land. Such plants listed were the Butterfly Bush (Buddle davidii), Herb Robert also known as Stinky Bob (Geranium robertianum), Tansy Ragwort (Senecio jacobaea), and Giant Hogweed (Heracleum mantegazzianum) as well as many other species that were considered invasive. But why do these plants seem to take over when introduced to a nonnative habitat? Dr. Combs provided the answer for listeners, "when plants come from a new place they don't have the herbivores- the disease- to keep them in check." Dr. Combs then used the Butterfly Bush as an example, when they're in their natural habitat their population is sporadic, regulated by native herbivores, disease, and insects. But when introduced to an ecosystem outside of the one they naturally occur in there's a lack of controlling factors adapted to regulate their existence.
In some cases the invasive species can out-compete native flora by being more attractive to pollinators. Invasive species also experience success in non-native environments because they usually possess a trait that native plants lack, giving their chances of survival greater odds. Attendees walked away from the training session with a plethora of knowledge, while Dr. Combs and the PNW-IPC gained a few more volunteers.
To help the Pacific Northwest Invasive Plant Council's efforts join the Early Detection Rapid Response Citizen science Invasive Plant Program as a volunteer and help control noxious weeds and invasive species. Or donate to become a PNW-IPC member and receive discounts on workshops and trainings offered by the PNW-IPC, Listserv updates with new information in Oregon, Washington, British Columbia, Yukon and Alaska, and the benefit of supporting the PNW-IPC program.