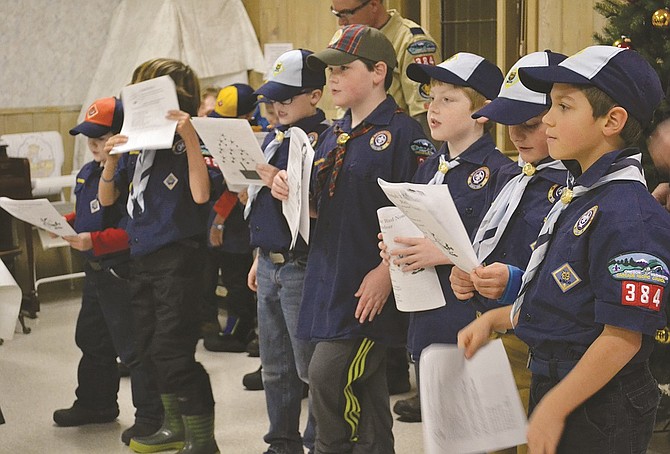 If you want to gain experience herding cats, become a Cub Scout Pack leader, joked White Salmon Cub Scout Pack Committee Chair and Tiger Den Leader Rayn Brock as he tried to mobilize Pack 384 last Monday for Christmas-caroling. The White Salmon Cub Scout Troop, Pack 384, sang Christmas carols for the residents of Beth-El Shalom Senior Citizen Center on NE Tohomish Street, Monday, Dec. 21.
"Normally where there's a Pack, there's a Troop for the boys to be able to graduate out of Cub Scouts, in to Webelos, and then in to Boy Scouts," explained Brock. "Locally, White Salmon had both Troop and Pack for many years but they just dissolved a few years ago for whatever reason."
This year Pack 384 is back in action after a few years of remaining dormant. "It's like the blind leading the enthusiastic," said Brock, who earned his Arrow of Light badge when he was a Cub Scout back in the '80s.
With the help of the Hood River Troop, Pack 384 was able to reclaim existence in White Salmon this past fall. "The district executive for the Boy Scouts started talking to [Hulan L. Whitson Elementary School] Principal Todd [McCauley] last year and then in the fall, when the school had their annual barbecue, we had some people come over from Hood River to hand out fliers," said Brock. "Then we had a big informational meeting held at the church and that's when we just decided."
The Pack has done well since it restarted in the fall, said Cub Master Jon Cole. During Pack 384's Christmas caroling experience scouts of all ranks made an appearance at the Methodist Church paling around with friends, first receiving awards for volunteer service and science projects, eating pizza, then heading out to sing.
"Some of us walked in there to get our kids signed up, and we walked out with them signed up as well as ourselves," said Brock. "That how it happened. We all just went in, various different parents stepped up."
The Pack charters through the United Methodist Church, which was where the original pack chartered before disbanding. "We just kind of formed our Pack Committee and with that you know there were other parents there that volunteered as Den leaders," said Brock. "If we wouldn't have been able to do that then, we wouldn't have had our Pack come back."
"We have a committee of five, and then we have four dens, so it took, nine parents right off the jump- well eight, because I'm playing a dual-role," explained Brock, "and the den leaders oversee anywhere from, like myself and the wolves, we have five to six kids in a group, and the bears have nine. I think we have a total of 18-19 kids, with more wanting to join,"
Cub Scouts is a part of the scouting program for Boy Scouts of America, and is available for boys enrolled in first through fifth grade, or ages seven to 11 years old. When first entering Cub Scouts, scouts must earn their Bobcat badge before advancing to the rank of Tiger, Wolf, Bear, or Webelos. To earn the Bobcat badge scouts must learn and say the Cub Scout motto, Scout Oath, and Scout law, and explained what they mean.
In order to earn the Bobcat badge scouts must also show the Cub Scout sign, salute, and handshake, and explain their meaning. Completion of paperwork is also needed before earning the Bobcat badge. Once the Bobcat badge is earned, Packs work in groups (Dens) to achieve the next rank of Cub Scout.
"Cubs Scouts start in the first grade as Tigers, and they all earn their Bobcat rank when they first get in, and by the time they hit fourth grade they would theoretically be in the last year of Cub Scouts is Webelos, with expectations, if they want, to go further in to Boy Scouts," explained Brock.
"It goes from Cubs all the way to Eagles, we have a couple of fathers who were Eagle Scouts," said Brock.
For the Cub Scouts, the major explorations of 2015 were concluded with Christmas caroling, but the New Year will bring in more events for the re-emerging Pack.
"We have our bonfire, which is for all three different age levels, you know first, second, third graders," said Brock. "So we have this bonfire and each one is going to be responsible for a certain event within [the bonfire] to help them earn their achievements toward the step of the next deal."
"In February we'll be racing our pine-wood derby cars, and we'll do that here in White Salmon," said Brock. The Pack will host their end-of-year Blue and Gold Banquet in May to acknowledge the first-graders who will move into the second grade and graduate from Tigers to Wolves.