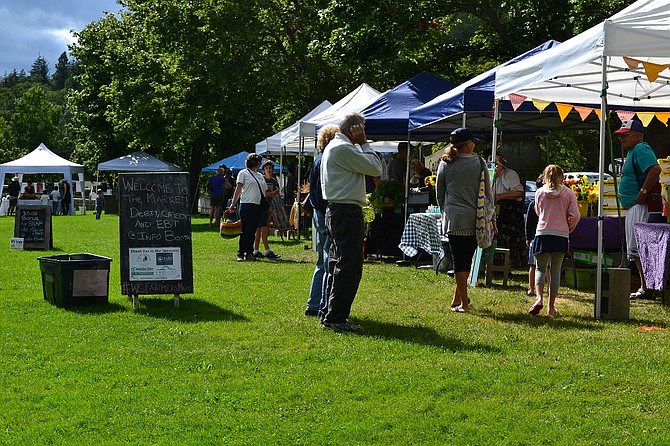 Tuesday evenings have been a busy affair at Rhinegarten Park this summer, since the move of the White Salmon Farmers' Market.
Earlier this week, the White Salmon Farmers' Market joined other Columbia River Gorge markets in celebrating National Farmers' Market Week. All nine Gorge markets celebrated with special events to commemorate the National week.
The White Salmon Farmers' Market had its regular spread of vendors, live music, and food from 4 to 7 p.m., with an additional event sponsored by the Library. The White Salmon Valley Community Library hosted a special kids' event, with lively readings of Katherine Pryor's "Sylvia Spinach" and veggie-themed crafts.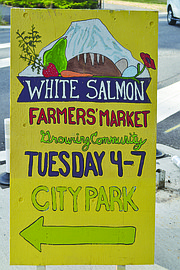 From Tuesday's turn out, it's evident the local market has blossomed with the community. Over the years, the Farmers' Market has grown from one vendor in front of the Guitar store, to over 20 vendors today.
This year, the market moved to Rhinegarten Park after outgrowing its Feast parking lot venue, where it catered to locals for the last three years. The City of White Salmon donated the rentable park space to the Market for Tuesday evenings during the Market's season.
"The move has been really positive, for both vendors and the community," explained long time vendor and owner of Columbia Gorge Garlic, Dawn Glasser.

"It was so great, having the market at Feast," said Glasser, "but we out grew the space at Feast, and it wasn't very kid friendly because it was on a very busy intersection. Families didn't feel comfortable bringing their kids, and it would be hard if family had a young child."
Now that the market is at the park, families make an event out of attending, said Glasser. "I even get customers coming to the booth who come across the bridge. I think it's such an amazing thing to have for our small community" Glasser added.
For the first time the White Salmon Market now has an onsite manager to help answer questions, organize vendors, and exchange EBT and cash for market tokens, noted Glasser.
In the future, Glasser hopes to expand the market's food vendors, and include another food truck for families to purchase snacks, and meals from. Glasser attributes the successful growth of the market to Debi Budnick, who helped sprout the once meager event.
"When the market expanded its management team in 2013, there was a great deal of work do to," Budnick explained in an email to The Enterprise. "We moved the location and changed the day of the market, knowing we would need a lot of publicity to draw in customers."
"The ease of the location at Feast allowed us to focus on things like branding, vendor recruitment, partnership building and outreach," said Budnick. "We've been able to build our food access programs, which include accepting EBT, WIC and Senior vouchers and offering a cash match for these customers."
"Our focus has been to build the market into a true community asset which functions as a safe gathering space, an educational opportunity, a strong contributor to our local economy and source of community pride," Budnick explained. "We are exceptionally grateful to our dedicated customers, the vendors who gave us chance, our sponsors who make the market possible and our kids' activity volunteers and local musicians who add so much value to the market experience."
Sponsors of this year's market includes Cascade Acupuncture, Skyline Hospital, Columbia River Wellness, Kula Chiropractic, McCoy-Holliston Insurance, and CenterPointe Community Bank.
Budnick stepped back from managing the Farmers' Market this season, and handed the task to Klickitat Public Health Educator, Megan Winn.
"It's gone really great," said Winn, "we're lucky to move it to the park. People enjoy more vendors, since we were limited at Feast, and can have more vendors offer more variety, giving farmers another space to sell."
Farmers' Markets are more than just an outlet for fresh produce, they help stimulate local economies, and increase access to regionally grown food.
According to a statement released by Gorge Grown, for every $100 spent at a farmers' market, $62 stays in the local economy and $99 stays in the state. If 20% of the fruit, vegetables and meat consumed in the Gorge were purchased directly from a local farmer, $9.6 million would stay in the local economy.