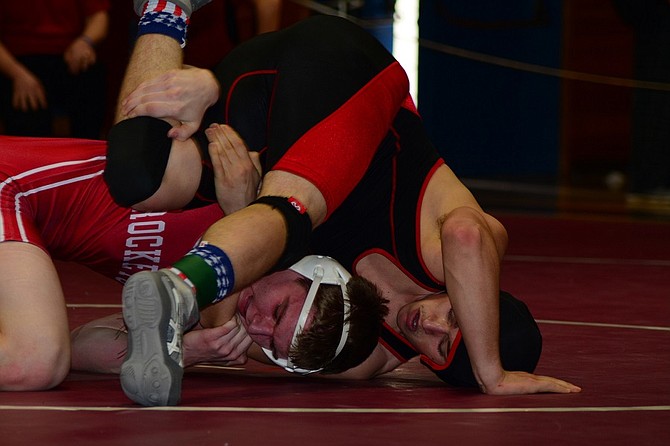 Led by newly crowned Trico League champion Alex Medina, Columbia High wrestling will be taking nine wrestlers to this Saturday's regional championships in Castle Rock.
Medina, a sophomore, soundly defeated rival Ha-zen Kapp of La Center in the 220-pound weight class final last Saturday at the 1A Trico League/Sub-regional tournament held at Stevenson High School.
Medina, who lost to Kapp twice during the regular season, racked up a victory by technical fall last Saturday, winning by a score of 16-1.
Medina's victory helped CHS slip by Stevenson and into third place in final team standings.
Castle Rock won the six-team meet with 355.5 points. Kalama was second with 199.5. CHS scored 127, and Stevenson tallied 125.
The Bruins picked up third-place points in the 132, 138, 195, and 120 weight classes.
Juniors Fletcher Andrews and Paul Demchuk qualified for the regional meet at 132 and 195, and sophomores James Bell and Eli Bell earned their regional berths at 138 and 120.
Senior Tristen Rosander and sophomore Myles Moon scored fourth-place finishes and regional berths at 160 and 126, respectively.
Senior Miguel Lemmon (145) and freshman Wyatt Shewey (170) were fifth-place finishers last Saturday. As such, they will go to the regional meet as alternates, with hopes that an injury or illness opens up a spot for them in a regional bracket.
Only senior Michael Wal-dron (138) failed to advance past the sub-regional level.
"I'm very pleased with the efforts of the entire team: 90 percent of the team advances to regionals, and 70 percent will be wrestling," said Bru-ins Coach Stoner Bell. "This is very impressive for a young team like ours. Everyone wrestled hard, and no one gave up."
Medina opened with a second-period pin (2:25) of Eric Baker of Castle Rock. The win sent him to the title bout of the five-man bracket.
Andrews won his opening match by fall at 1:54 of the first period. He lost a minor decision, 7-0, in his semifinal bout with Cody Miller of Stevenson.
The third-year wrestler battled back through the consolation bracket. He beat Braden Hegewald of Steven-son by major decision, 11-3, then defeated Castle Rock freshman Wayne Baker by minor decision, 7-3, in the match for third place.
The bracket for 195 had just four wrestlers. Dem-chuk lost his opening bout by minor decision, 9-7, to Nathan Halladay of Castle Rock.
Bell called the defeat the team's "toughest loss" of the meet. In Bell's opinion, "two poor, or questionable, calls by the ref cost [Paul] three points and an opportunity to wrestle in the championship match."
Demchuk bounced back in the match for third place, outscoring La Center's Carl Hausserman, 9-7.
James Bell won his first match with a third-period pin (4:49) of Castle Rock's Nathan Myklebust. CJ Baker of Castle Rock handed Bell his only defeat in the 138 semifinals, by a 13-4 major decision.
Bell beat teammate Wal-dron, 22-10, in a loser-out match to stay alive, then defeated Myklebust again, this time by minor decision (7-0), to capture a regional berth.
Eli Bell also posted a 3-1 record at the meet. He finished his day with a 9-6 minor decision over Drake Bowers of Kalama. He kept his bid for a regional position alive with an 18-3 major decision over Stevenson's Josh Sholes in consolation action.
Rosander won his first bout against Jesse Keehr of Stevenson by second-period fall, then fell to Stevenson's Noah Richart in the second period of their semifinal faceoff. Rosander secured a regional spot with a 7-5 minor decision of Castle Rock's Pryton Watts.
Rosander lost the bout for third place to King's Way's Chandler Wann, by minor decision (5-4).
Moon, who missed the first part of the season due to an injury suffered during football season, won two matches by fall last Saturday to position himself for no worse than a fourth-place finish.
Moon squared off with first-round opponent Isaac Johnson of La Center in the consolation final. Moon won the first encounter with a second-period fall (3:49), then lost the second by fall in the second period (2:10).
Lemmon secured an alternate's position at 145 by pinning Braden Waymire of Stevenson at 1:53 of their match for fifth place.
Shewey earned alternate status at 170 with a second-period pin (3:54) of Castle Rock's Russ Case.
Shewey pinned Case at 1:18 of their opening match and was leading his consolation match against JR Dow of Castle Rock, 10-6, before the referee flagged him for a handful of illegal holds. In the final issue, Shewey lost by technical default, 11-10.