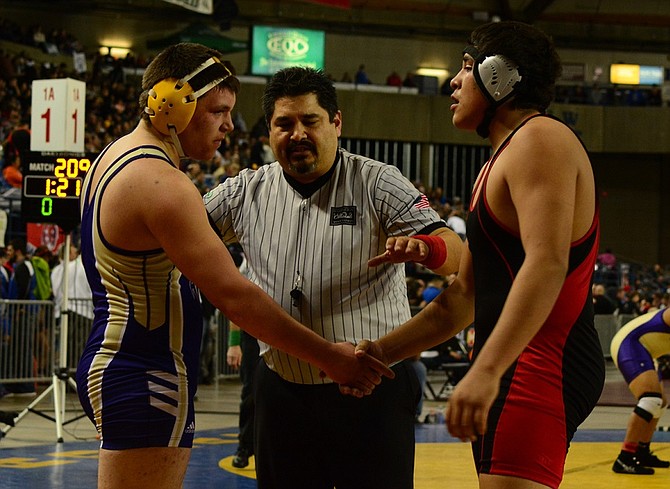 At the end of last Friday's consolation rounds at the 28th annual WIAA Mat Classic in Tacoma, senior Paul "Bubba" Demchuk was the only Columbia High wrestler still standing.
The 195-pounder dominated both of his loser-out bouts (the first in the afternoon, the second in the evening) to earn himself a medal in his second state tournament appearance. (He went 0-2 at 182 pounds in 2015.)
The four Columbia wrestlers who made their state tournament debuts – junior Fletcher Andrews and sophomores Alex Medina, Eli Bell, and James Bell – were eliminated either in the first or second consolation round. Still, they all were key members of CHS's largest state wrestling contingent ever.
Demchuk lost his opening match by fall to eventual state champion Sebastian Hyta of Freeman. He boun-ced back in the consolation bracket by first pinning sophomore Zac Worcott of Burbank 44 seconds into the second 2-min-ute period.
He clinched a medal in his second consolation bout by defeating junior Christian Miller of Bellevue Christian by major decision, 11-1.
Those wins put Demchuk on a track that could have taken him to the match for third place.
Late on Saturday morning, though, Demchuk fell in the second period to Chewelah junior Conner Krouse. The setback sent Demchuk to the match for seventh place, versus Deer Park junior Jared Boswell.
Andrews, CHS's entry at 132 pounds, won his opening match by pinning Cascade Christian freshman Henry Thompson at 3:03 of the second period.
He fell to eventual champion Dalton Young of Lakeside midway through the first period of their quarterfinal match Friday afternoon.
Castle Rock senior Alex Langdon ended Andrews' tournament with a pin at 1:56 of the first period.
120-pounder Eli Bell also won a bout at this year's state tournament. His win came in the first consolation round, when he beat freshman Skyler Issacson of Mt. Baker, 6-2.
For his first match, Bell drew 2015 third-place finisher senior Kiki Chabolla of Royal. Chabolla won by fall at 3:02 of the second period to start a run that resulted in his first state title.
Bell opposed Castle Rock junior Kaleb Carroll for his next challenge. Carroll controlled the bout from start to finish and won by technical fall, 17-2.
Medina competed in the 220-pound weight bracket but couldn't get anything going in either of his two matches. He lost by fall in the opening round to Deer Park senior Cody Devore, at 1:56.
Medina was more competitive in his second outing, but he couldn't score against Goldendale junior Cameron Read. The result was a 7-0 decision for the Timberwolf.
James Bell's first match at 138 pounds got tight at the end, when he closed a 12-7 gap to 13-12 with short time on the clock. Bell had to release his opponent, senior Johnathan Crise of Chewelah, to give himself a shot at a take-down. Crise countered Bell's moves and held on for a 14-12 decision.
In consolation action, Bell faced South Whidbey junior Hunter Newman. Bell battled into the second period, but Newman ended the loser-out face-off with a pin at 3:49.
Bruins coaches Stoner and Dev Bell attributed CHS's strong season to a season-long dedication to performing the fundamentals correctly, and to a team of volunteer coaches, Scott Mansur, Simon Weaver, Brandon Nakamura, and Kevin Kreps.
"This is the first year that we felt that we had a really strong team, rather than a group of that included a few strong individual wrestlers," Stoner Bell said. "Because of the experience of our large team of coaches, our wrestlers were more mentally prepared for post-season competition than any team that we have had to date."