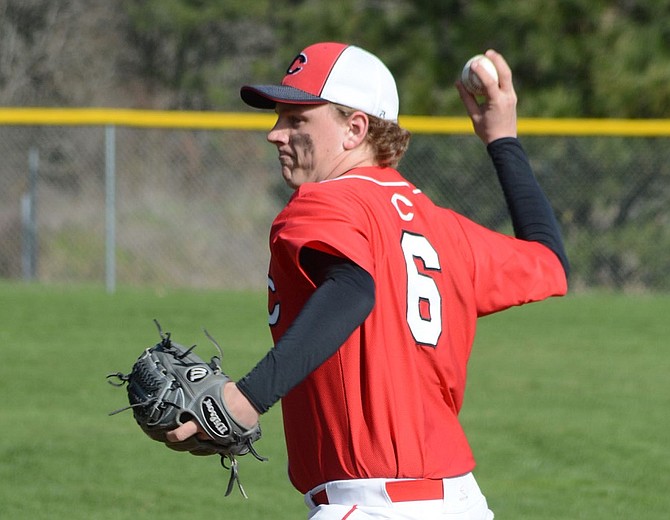 Junior Adam Goodwillie threw a complete-game shutout here last Friday to lead Columbia High past Fort Vancouver in non-league baseball action.
Goodwillie, a right-hander, tossed 21 first-pitch strikes, struck out seven, and didn't issue a walk in his seven innings of work. He hit a couple of batters, however, and yielded five hits in the 3-0 victory — the Bruins' third in a row and fourth in five outings.
Columbia is now off until its April 11 1A Trico League double-header here against King's Way.
Goodwillie faced 18 batters through five innings, but ran into trouble with two out in the fourth, when the Trappers put runners at the corners. A strikeout ended the threat.
Fort Vancouver threatened again in the sixth by loading the bases with no outs after two singles and a sacrifice bunt CHS could not make a play on.
Successive ground balls (first to shortstop William Gross, then to third baseman Jordan Trout) resulted in putouts at home by catcher Matt Changar.
Goodwillie got the third out with his sixth KO of the afternoon. He closed out the game with a 1-2-3 seventh.
Columbia tallied single runs in the second, third, and fifth frames.
Jarin Musgrove scored in the second on a wild pitch with two away after earning a lead-off walk on six pitches.
Tylan Webster came home in the third on Shad Curtis's two-out single. Webster walked with one out, stole second, and moved to third on Austin Bucklin's sacrifice bunt.
In the fifth, Gross led off with a single to left-center field. He stole second and third, then scored on a wild pitch. Gross went 2 for 3 with a double.
Gross doubled with one gone in the bottom of the first, and Webster got hit by a pitch to put runners at first and second. Successive strikeouts ended the scoring chance.
At Columbia 18-11, Corbett 2-5: The Bruins swept the Cardinals here on March 28 to get back on the winning track.
Curtis led the way in game one, going 2 for 4 with two doubles, three runs, and three RBI.
Davis Koester was 3 for 4 with a double and three RBI. Gross was 3 for 3 with a double, three runs, two RBI, and two steals.
Webster ended up 2 for 3 with three runs.
Goodwillie, Musgrove, and Dominic Raether combined to limit Corbett to two hits in the five-inning contest.
In game two, the Bruins trailed 4-2 before erupting for nine runs in the home half of the fifth.
Clean-up hitter Curtis put CHS ahead 5-4 with a bases-clearing double with one out that brought home Koester, Trenton Howard, and Gross.
Curtis ended up 2 for 4 with four RBI and a run scored. Webster (2/4) hit an RBI triple and scored two runs.
Howard was 2 for 4 with a pair of runs, and Koester was 1 for 3 with two RBI and two runs.
Gross, CHS's fourth pitcher of the game, got the win. He had a final line of three innings pitched, five hits, two walks, four runs (three earned), and five strikeouts.