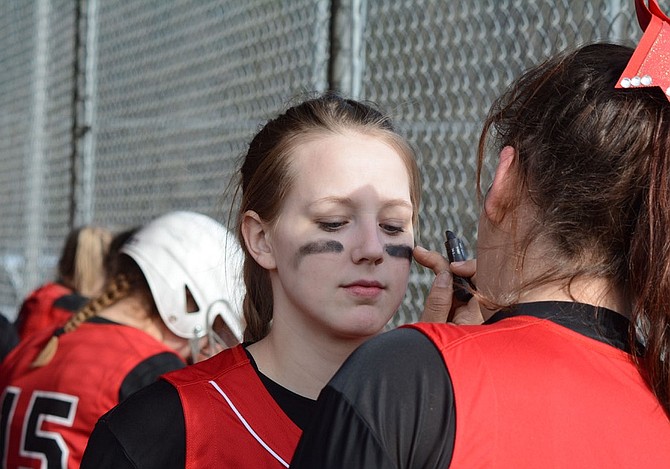 A wet month of March put a damper on the start of Columbia High's 2017 softball season.
Standing water on Bruin Ballpark's infield made conducting full practices outdoors impossible for the Bruins during the season's first weeks. Moreover, the team lost its first six games (three double-headers) to weather cancellation.
Just before spring vacation, however, the Bruins got a break in the weather and managed to get in a double-header (their first games of 2017) against Fort Vancouver. The results weren't good, but it beat being stuck in a gym.
"The 2017 season has felt a little different, as the weather had limited our outside practices to only one muddy experience," Bruins Coach Kaylene Herman said. "The rest of the practices have been inside the gym, and I know I can speak for all of the girls and myself when I say we were more than ready to be outside."
Columbia began the year with seven returning players and nine new players, though it lost its primary pitcher and lead-off hitter, junior Amanda Waldron, and its back-up pitcher, sophomore Makenzie Sutton, due to injuries suffered in an accident the third weekend of March.
"The team deeply feels the loss of these two girls and the experience they bring to the field," Herman said.
The injury to Waldron has been especially acute.
"Amanda has been our primary pitcher and lead-off hitter for two years, so we are trying to adjust our lineup without her leading the way for the 2017 season," Herman said. "However, I am so proud of the team's resiliency and dedication to having a 2017 softball season."
The Bruins will be competing in a depleted 1A Trico League. Stevenson did not field a team this year, so the Trico will be a three-way battle among Columbia, La Center, and Castle Rock.
"The girls set some goals this year, one of them being winning more games than last year, and making it to districts this year," Herman said. "La Center is again the powerhouse in our league, but we have all season to prepare for them and give them a run for their district title."
Senior center fielder Miranda Billette is most experienced player on the Bruins. She is now in her fourth season as a starter.
"I have seen Miranda develop each year, and this year year is her best year yet," noted Herman. "She is a leader to our younger players. I think center field is her niche, and she will do a nice job leading the charge in the outfield."
Juniors Kaycee Radke and Kathirin Hylton are now in their third seasons as starters for the Bruins. Both earned All-Trico Second Team recognition in 2016.
Radke can play third base or left field, and will bat first or second in the linep.
"Kaycee is an all-around player I could put anywhere on the field and she would exceed my expectations," her coach said. "She is excellent at reading the ball of the bat, and is quick to the ball. She also is an excellent bunter."
Hylton played mostly catcher her first two years but will see time at first base this year as well. Moreover, she will bat near the top of the order, either third or in the clean-up spot.
"Kathirin brings a strong arm and bat to our team," said Herman. "She has several years of softball experience, and brings a lot of enthusiasm, passion, and dedication to the sport."
Second-year players Gra-cie Vaughan and Katlyn Vermeire round out the list of returning players.
Vaughan, a sophomore, will again hold down second base defensively and likely bat fifth in the order.
"Gracie has really developed this past year as a player. She brings more maturity and leadership," noted Her-man. "She is one of my more vocal players, and she is quick to point out where we can improve. She pushes the team to raise their intensity and effort every single practice."
Vermeire, a junior, and senior Ashley Clark, a first-year player, will both see time at first base, according to their coach.
"They are both hard workers and extremely coachable," said Herman. "While they do not have a lot of softball experience, they both have the desire to learn and get better."
Junior Samantha Tardiff is a first-year player who will be holding down a key defensive position and spot in the lineup.
"I am so excited Sami decided to come out for softball this year," Herman said. "She is extremely athletic and brings speed and aggression to the shortstop position. She is dynamic on the field and has a wicked back- hand. She also has a powerful swing and will most likely be batting third for us this year."
Herman also is high on freshman Hayley Skaar, who will play right field or first base.
"Hayley continues to surprise me at every practice," her coach said. "She brings something new each week that makes me sit up and take notice. One week is was her powerful throwing arm. The next she is showing her vocal prowess and knowledge of situational awareness. I am really excited to see her continue to develop as softball player as the season progresses."
Freshman Ashley Crowder will find time at third base and provide catching relief for Hylton.
"Ashley has a strong arm and brings a few years of competitive softball experience to this team," Herman said. "I have a feeling that there is still untapped potential in her and I am excited to watch her discover how good of a softball player she really is."
Pitching duties have fallen to a pair of first-year players: freshman Aryah Nelson and junior Cristani Coe.
"Both of these girls will help us fill the pitching hole we are feeling this year," said Herman. "It's been several years since both of these girls pitched, but I am so grateful and appreciative of their willingness to step and rise to the occasion."
Nelson is a power pitcher who features different types of pitches, while Coe relies on speed and consistency.
"I am confident that with practice and game situations, both of these girls will exceed my expectations this year," noted Herman.
Off the bench, Herman will be able to call on sophomore Melody Nilson and freshmen Alexis Brock, Mad-die Deo, and Kiana Harmon.
"All four of these girls have improved significantly since the first day of practice," their coach said. "They continually work hard and impress me with their continual desire to learn."
COLUMBIA HIGH SOFTBALL 2017 SCHEDULE
April 11, vs. Lyle/Wishram/-Klickitat (2), 3 p.m.
April 18, vs. Boardman, Ore. (2), 3 p.m.
April 28, vs. Hudson's Bay (2), 3:30 p.m.
May 2, vs. Castle Rock (2)*, 3:30 p.m.
May 5, at Castle Rock*, 4 p.m.
May 9, at La Center (2)*, 3:30 p.m.
May 12, vs. La Center*, 4 p.m.
* = 1A Trico League games